Friday, January 26, 2018
Printer Friendly Version in PDF Format (9 PDF pages)
Research Progress on Alzheimer's Disease and Related Dementias
Richard J. Hodes, M.D.
Director
National Institute on Aging
Research Implementation Milestones: Our Central Driver
2011
2012
AD Summit
2013
ADRD Summit
2015
AD Summit
2016
ADRD Summit
2017
AD/ADRD Care/Services Summit
2018
AD Summit
2019
AD/RD Summit
The National Alzheimer's Project Act
(NAPA) was signed into law in January
-- updated annually
 
 
 
 
 
 
 
Recent Investments Allow Us to Accelerate Milestones - ADBB Timing and Appropriations
| | | |
| --- | --- | --- |
| FY17 AD/ADRD milestones -- $323M extra needed | FY17 ADBB Released July 2015 | $350M in FY16 supports acceleration of FY17 milestones |
| FY18 AD/ADRD milestones - $414M extra needed | FY18 ADBB Released August 2016 | $400M in FY17 supports acceleration of FY18 milestones |
| FY19 AD/ADRD milestones - $597M extra needed | FY19 ADBB Released July 2017 | FY18 TBD: 40% cut (PB) or +$400M (House/ Senate)? |
What Counts as AD/ADRD Research?
The AD/ADRD pay line applies to applications/awards that are coded as AD or Alzheimer's disease - related dementias (ADRD)
The ADRD RCDC categories that report related dementias specifically named in the National Plan to Address Alzheimer's Disease are:

Lewy Body dementia (LBD)
Frontotemporal dementia (FTD)
Vascular Cognitive Impairment/Dementia (VCI/D)
Diversity of AD/ADRD Research
Alzheimer's Research

Cognitive outcomes in Population Studies
Research on Disease Mechanisms
Geroscience
Aging metabolic changes in AD
Comparative biology of neurodegeneration
Basic Biological Processes of AD
Biomarkers
Research on Care and Caregiver Support
Disparities, Sex differences, and AD risk
AD/ADRD FOAs by Fiscal Year
AD and ADRD Research Investments FY14-FY17
Individual Research Grants
Clinical Trials
These figures show grants awarded with NIA funding. Some of the grants are in response to initiatives sponsored by NIH ICs other than NIA (e.g., NINDS, NIBIB, NIEHS, NIDCD).
Translational Programs and Infrastructure for AD and ADRD
ENABLING INFRASTRUCTURE FOR DATA DRIVEN AND PREDICTIVE DRUG DEVELOPMENT
AMP-AD, M2OVE-AD, Resilience-AD

Large scale systems/network biology approach
Predictive models for novel targets and biomarkers
Computational methods benchmarking
Open Data

MODEL-AD, AlzPED

Next-gen animal models for late onset AD
Deep phenotyping and staging relative to human disease
Methods development for efficacy testing/Transparent reporting
Open data and models distribution free of IP barriers

ACTC

Clinical trials infrastructure (Phase I, II, III)
Methods development for clinical trial design
New methods for recruitment and retention (emphasis on diversity)
Ongoing NIA AD/ADRD and Related Intervention and Prevention Trials
Over 140 active trials
40 Early-stage Clinical Drug Development (Phase I and Phase II Clinical Trials)

Amyloid (9)
Neurotransmitter Receptors (3)
Metabolism and Bioenergetics (4)
Vasculature (3)
Growth Factors and Hormones (1)
Multi-target (6)
Oxidative Stress (1)

8 Late-stage Clinical Drug Development (Phase II/III and Phase III Clinical Trials)

Amyloid (6)
Vasculature (2)

62 Non-Pharmacological Interventions

Exercise (16)
Diet (2)
Cognitive Training (20)
Combination Therapy (11)

7 Clinical Therapy Development for the Neuropsychiatric Symptoms of AD/ADRD

Pharmacological (5)
Non-Pharmacological (2)

37 Care and Caregiver Interventions
Specific Milestone-Directed Achievements
Milestone 6.D: Identify, characterize, and complete early validation for at least six novel therapeutic targets for AD (a minimum of three targets for presymptomatic and early-stage disease and a minimum of three for advanced disease). These efforts should include therapeutic targets for the neuropsychiatric and behavioral disturbances in AD. Validation based on availability of the following for each novel target: a systems-level understanding of the gene, protein, and metabolic networks within which they operate, one or more cell-based/animal models that are freely available to the research community, a quantitative assessment of the integrative response to the modulation of the target in one or more model organisms, and identification of pharmacodynamic biomarker(s) for target engagement. [2012 AD Summit: 1A, 1B, 1D, and 5A]
| 2012 | 2013 | 2014 | 2015 | 2018 |
| --- | --- | --- | --- | --- |
| RFA AG 13-013 Interdisciplinary Approach to Identification and Validation of Novel Therapeutic Targets for Alzheimer's Disease (R01) https://grants.nih.gov/grants/guide/rfa-files/RFA-AG-13-013.html | 4 R01 projects funded and converted into U01 mechanism | 2 additional R01s funded and incorporated into AMP-AD Target Discovery and Preclinical Validation Project/ Consortium | AMP-AD Knowledge Portal launched as a platform for sharing multi-omics data and analytical results/network models https://www.synapse.org/#!Synapse:syn2580853/wiki/409840 | Data generation completed, data and network models made available to researchers at large |
Milestone 6.F: Initiate first in human Phase I drug trials for therapeutic agents against at least six novel therapeutic targets. In addition to safety, these trials will provide evidence of target engagement. [2012 AD Summit: 3A, 3B, 3F, and 5E]
Milestone 6.G: Initiate Phase ll (proof-of-concept) drug trials for agents against three to six novel therapeutic targets. These trials will provide proof of mechanism and/or evidence of target engagement of the target being tested. [2012 AD Summit: 3A, 3B, 3F, and 5E]
2012
2014
2015
2018
RFA AG 13-016 Alzheimer's Disease Phase I Clinical Trials (R01) https://grants.nih.gov/grants/guide/rfa-files/RFA-AG-13-016.html
Funded a Phase I Trial to test the safety of Allopregnanolone as a novel neuroregenerative therapeutic for AD
PAR 16-365 Pilot Clinical Trials for the Spectrum of Alzheimer's Disease and Age-related Cognitive Decline (R01) https://grants.nih.gov/grants/guide/pa-files/PAR-16-365.html

Funded a Phase I Trial to test the safety of a first in class PDE4 allosteric modulator as a novel therapeutic for MCI

Funded a Phase II Trial to test the efficacy of a first in class P75NTR ligand as a novel neuroprotective AD therapeutic
LM11A-31 - first in class, small molecule modulator of the P75 Neurotrophin Receptor
PI -- Frank Longo MD and NeurotrophiX
The pre-clinical drug development and part of the IND-enabling studies for LM11A-31 were supported through NIA's AD Translational Research Program
The Phase II trial is being supported through NIA's Pilot Clinical Trials Program via PAR 16-365 https://grants.nih.gov/grants/guide/pa-files/PAR-16-365.html
Opportunities for Small Business -- AD/ADRD specific
Advancing Research on Alzheimer's Disease (AD) and Alzheimer's-Disease-Related Dementias (ADRD) (R41/R42/R43/R44)
Tools for Clinical Care and Management of Alzheimer's Disease (AD) and its Comorbidities (R41/R42/R43/R44)
Development of Socially-Assistive Robots (SARs) to Engage Persons with Alzheimer's Disease (AD) and AD-Related Dementias (ADRD), and their Caregivers (R41/R42/R43/R44)
https://www.nia.nih.gov/research/grants-funding/small-business-innovation-research-and-technology-transfer-programs
NIA SBIR/STTR Obligations
$ in Millions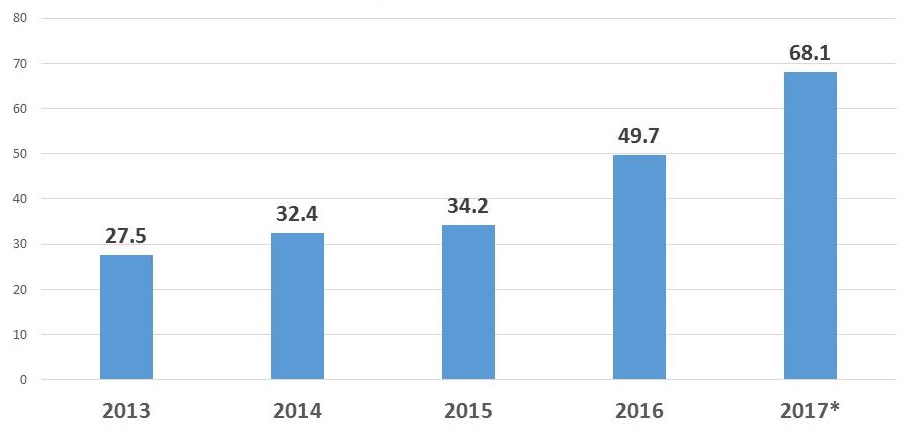 * Estimate
NIH AD Research Summit - March 1-2, 2018: Path to Treatment and Prevention
The program agenda is organized around seven sessions:
Novel Mechanistic Insights into the Complex Biology and Heterogeneity of AD
Enabling Precision Medicine for AD
Translational Tools and Infrastructure to Enable Predictive Drug Development
Emerging Therapeutics
Understanding the Impact of the Environment to Advance Disease Prevention
Advances in Disease Monitoring, Assessment and Care
Building an Open Science Research Ecosystem to Accelerate AD Therapy Development
https://www.nia.nih.gov/research/nih-ad-summit-2018-program-agenda#agenda
FY2018 NINDS ADRD Funding Opportunity Announcements
PAR-18-413 Mechanistic Basis of Diffuse White Matter Disease and Small Vessel Pathology in Vascular Contributions to Cognitive Impairment and Dementia (VCID)(R01) https://grants.nih.gov/grants/guide/pa-files/PAR-18-413.html

To support hypothesis-testing research to elucidate cellular and molecular mechanisms that underlie diffuse white matter disease and small vessel disease in the brain, the relationships between them, and their contributions to cognitive impairment and dementia
Application are due March 23, 2018

RFA-NS-18-017 Planning Grant to Develop Phase III Clinical Trials for Lewy Body Dementia (R34) https://grants.nih.gov/grants/guide/rfa-files/RFA-NS-18-017.html

To provide one year of support for planning activities necessary for initiating a Phase III clinical trial designed to treat patients with LBD
Applications are due March 20, 2018

NINDS is planning to release 4 additional new ADRD FOAs for FY18
Save the date!
ADRD Summit (III)
March 14-15, 2019
Location: Natcher on the NIH Main Campus, Bethesda MD
---
January 26, 2018 -- Advisory Council Meeting #27
The meeting was held on Friday, January 26, 2018, in Washington, DC. The Research Subcommittee took charge of this meeting's theme, focusing on the process from targets to treatments. The Council heard speakers on the preclinical pipeline, the clinical trial pipeline, and the industry perspective. The meeting also included discussion of a driver diagram to guide the Council's future work, updates and a report from the October Care Summit, and federal workgroup updates. Material available from this meeting is listed below and at https://aspe.hhs.gov/advisory-council-alzheimers-research-care-and-services-meetings#Jan2018.
Comments and questions, or alerts to broken links, should be sent to napa@hhs.gov.
---
General Information
Handouts
Presentation Slides
Videos