Friday, January 26, 2018
Printer Friendly Version in PDF Format (3 PDF pages)
Research Subcommittee Agenda: The Journey from Targets to Treatments
Brad Hyman and Allan Levey, Co-chairs
National Alzheimer's Project Act (NAPA) and the National Plans to Address Alzheimer's Disease
Prevent and Effectively Treat Alzheimer's Disease by 2025.
Optimize Care Quality and Efficiency.
Expand Supports for People with Alzheimer's Disease and Their Families.
Enhance Public Awareness and Engagement.
Track Progress and Drive Improvement.
NIH AD and ADRD Research Summits - Recommendations
AD 2015

Interdisciplinary Research to Understand the Heterogeneity and Multifactorial Etiology of Disease
Transforming AD Therapy Development: From Targets to Trials
New Strategies for Prevention
Innovating Disease Monitoring, Assessment and Care
Empowering Patients, Engaging Citizens
Enabling Partnerships for Open Innovation

ADRD 2016

Multiple Etiology Dementias -- Diagnosing Dementia in the 21st Century
Non-Governmental Organizations
AD/ADRD Health Disparities
Lewy Body Dementias
Frontotemporal Lobar Degeneration
Vascular Contributions to Cognitive Impairment and Dementia
The Progression of Alzheimer's Disease and Clinical Trials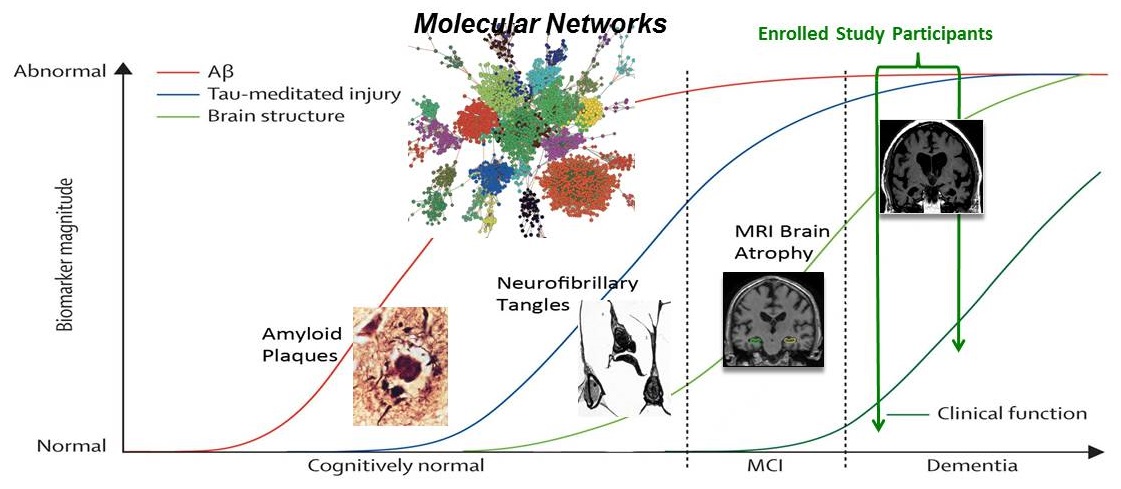 Modified from Jack et al., Lancet Neurol (2009)
Challenges of developing treatments for AD
Prevention, disease modifying, and symptomatic treatments may have substantially different therapeutic targets, and certainly require different clinical trial designs
Disease heterogeneity -- varied rates of progression -- make trials complicated to run with a typical trial having thousands of patients followed for 2 or more years, at a cost of hundreds of millions per trial
Complicated disease with potentially different "phases" -- may need a "right person, right time, right drug" approach, in analogy to chronic diseases like atherosclerosis or even cancer -- where different therapies are used to prevent illness or treat established disease
Recent high profile failures lead to caution in new investments
---
January 26, 2018 -- Advisory Council Meeting #27
The meeting was held on Friday, January 26, 2018, in Washington, DC. The Research Subcommittee took charge of this meeting's theme, focusing on the process from targets to treatments. The Council heard speakers on the preclinical pipeline, the clinical trial pipeline, and the industry perspective. The meeting also included discussion of a driver diagram to guide the Council's future work, updates and a report from the October Care Summit, and federal workgroup updates. Material available from this meeting is listed below and at https://aspe.hhs.gov/advisory-council-alzheimers-research-care-and-services-meetings#Jan2018.
Comments and questions, or alerts to broken links, should be sent to napa@hhs.gov.
---
General Information
Handouts
Presentation Slides
Videos