Friday, January 26, 2018
Printer Friendly Version in PDF Format (14 PDF pages)
Overview on NIA preclinical pipeline
Eliezer Masliah, M.D.
Director, Division of Neuroscience,
National Institute on Aging, NIH
NIA Translational research pipeline for AD and ADRD:The Team
Genetics and Epigenetics
ADSP, GCAD, NIGADS, ADGC
Marilyn Miller
millerm@nia.nih.gov
Target Discovery and Validation
AMP-AD Targets, M2OVE-AD-AD, Resilience-AD
Suzana Petanceska
petanceskas@nia.nih.gov
Drug Discovery and Preclinical Drug Development
Drug development (U01), MODEL-AD, AlzPED, SBIR's
Lorenzo Refolo PhD
refolol@nia.nih.gov
Clinical Drug Development
AMP-AD Biomarkers, ABC-DS, ACTC, Clinical trials, DIAN-TU
Laurie Ryan PhD
ryanl@nia.nih.gov
Dementias of the aging population
Mechanisms of toxicity in neurodegenerative disorders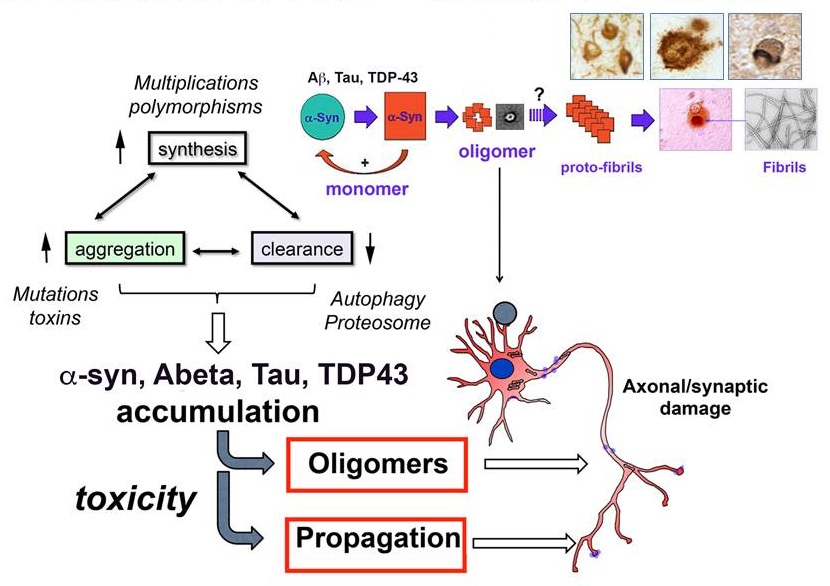 Masliah and Valera MDS 2015
Mechanisms of neurodegeneration in Alzheimer's Disease
Alzheimer's Disease drug development pipeline-2017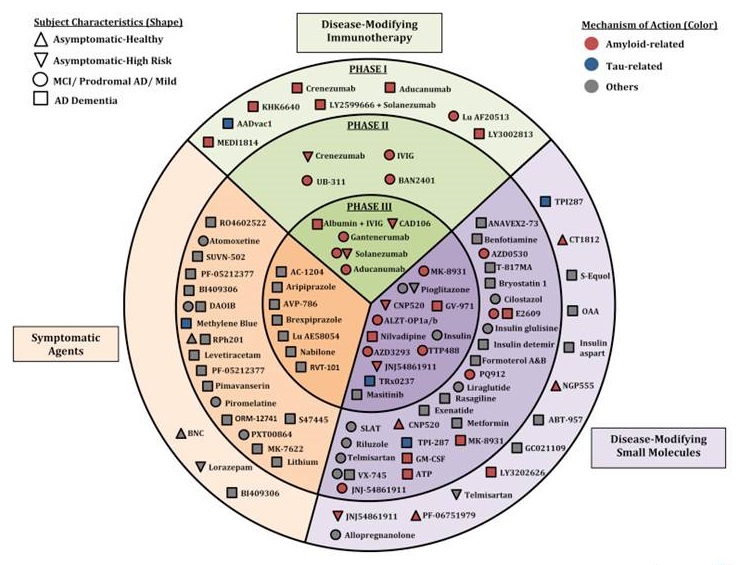 Cummings et al Alz Dem 2017
AD pipeline- how does it compare to others?
 
HCV
Alzheimer disease
MRSA
Industry average*
Preclinical
30.2
119.3
13.0
14.6
Phase I
10.5
33.6
4.7
8.6
Phase II
6.6
23.0
2.9
4.6
Phase III
1.7
5.8
1.8
1.6
Registration
1.1
1.0
1.1
1.1
Launch
1.0
1.0
1.0
1.0
Overall success rate
2.0%
0.5%
4.6%
4.1%
Nature Review | Drug Discovery
Failure in the Clinic- where does the fault lie?
Too late?

Drug interventions are started at the wrong stage of disease

Too little?

May need greater drug effects
Insufficient dose
Lack of BBB penetration

Lack of target engagement

Drugs do not engage with intended targets in patients
Lack of translatable pharmaco-dynamic biomarkers

Wrong target?

We are targeting the wrong pathophysiological mechanisms
We need to target networks rather than single molecules
Unclear which toxic species to target
Sperling, Jack and Aisen, Science Translational Medicine, 2011
Key AD Summits Recommendations
Recognize the heterogeneity and the multifactorial nature of the disease.
Support extensive molecular profiling of existing and establish new cohorts to fill the gaps in large-scale human data needed to build predictive models of disease and wellness.
Employ new research paradigms such as systems biology and systems pharmacology.
Enable rapid and extensive sharing of data, disease models, and biological specimens.
Develop computational tools and infrastructure for storage, integration, and analysis of large-scale biological and other patient-relevant data.
Build new multidisciplinary translational teams and create virtual and real spaces where these teams can operate.
Support and enable open science.
Develop new precompetitive public-private partnerships.
Change academic, publishing, and funding incentives to promote collaborative, transparent, and reproducible research.
Engage patients, caregivers and citizens as direct partners in research.››
NAPA Research Goal #1: Treat and Prevent AD by 2025
New Funding Opportunities and Public Private Partnerships
Implementation Research Milestones
NIH AD Research Summits Recommendations
NIH AD Research Summits: Path to Treatment and Prevention
May 14-15, 2012
Feb 9-10, 2015
March 1-2, 2018
Integrated NIA AD-Drug Development Program
NIA and Trans-NIH translational pipeline for AD and ADRD
Alzheimer's Disease Sequencing Project (ADSP)
PI: G. Schellenberg; L. San U Penn; NIA Contact: Marilyn Miller
New genomic variants contributing to Late-Onset AD (LOAD)
Identify genomic variants contributing to protection against AD
Provide insight as to why individuals with known risk factor variants escape developing AD
Examine these factors in multi-ethnic populations to identify new pathways
Associated Programs
ADGC- Alzheimer's Disease Genetic Consortium
GCAD- Genome Center for AD
NIAGDS- NIA Genetics of AD storage site
Now WGS in 10,000 controls and 10,000 AD, 10,000 diverse populations
From single target to networks approach for AD-drug development
Complexity of Drug Action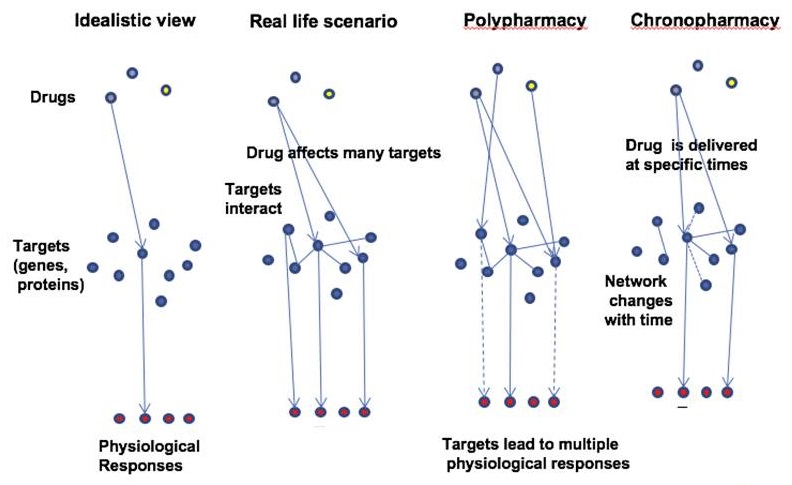 Accelerating Medicines Partnership (AMP)
Alzheimer's Disease Program
Foundation for the National Institutes of Health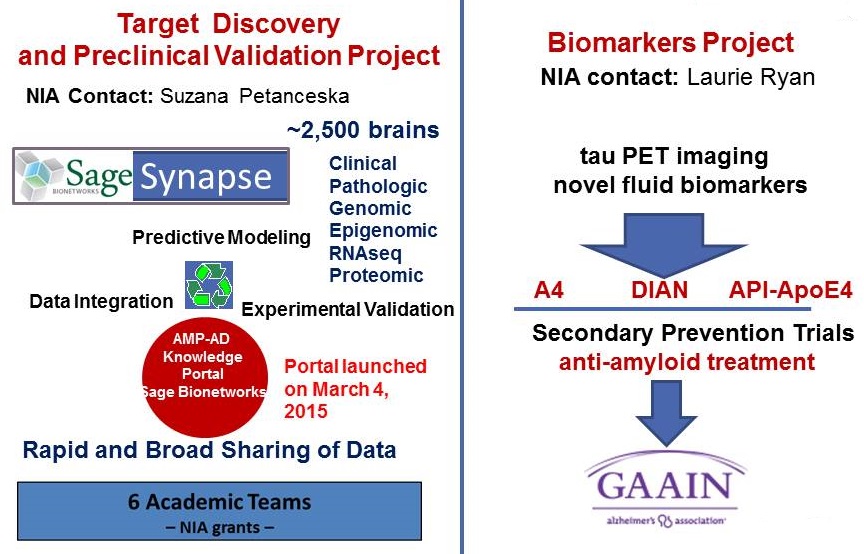 Progress over 4 years:

Centralized data resource established
All data deliverables/milestones met
Over 100 novel targets discovered; currently undergoing data-driven prioritization for further preclinical validation
A variety of experimental validation models developed
Novel biomarker discovery initiated
AMP-AD Partners

National Institute of Neurological Disorders and Stroke
Food and Drug Administration
Abbvie
Biogen
GlaxoSmithKline
Lilly
Alzheimer's Association
Alzheimer's Drug Discovery Foundation
USAgainst Alzheimer's
Foundation for the National Institutes of Health
AMP-AD Teams
Candidate Targets: preliminary list
SNRNP70
 
TGFBR1
 
CCDC85C
 
RGS4
U1-A
 
TGFBR2
 
CIC
 
SCN2A
U1-C
 
BMPR1A
 
CSRP1
 
OLFM3
SNRPN
 
BMPR1B
 
DAB2IP
 
SLC22A10
SNRPB
 
CRHR1
 
FAM63A
 
ENAH
PLCD1
 
TREM2
 
FURIN
 
WWTR1
PTRHD1
 
TYROBP
 
HMG20B
 
LRP10
SFRP1
 
S100A8
 
IGFBP5
 
SYP
PPP1R7
 
S100A9
 
ISYNA1
 
PCSK1
DNM3
 
P2RY2
 
KIF1C
 
KMO
RTN4
 
P2RX7
 
PADI2
 
PTTG1IP
EPB41L3
 
P2RY12
 
SLC38A2
 
MLIP
TUBB3
 
P2RY13
 
SNAP25
 
DLGAP1
PLEC
 
OSMR
 
STX1A
 
MOAP1
ANXA5
 
TLR4
 
STXBP3
 
PRKCB
MSN
 
CR1
 
SV2B
 
YAP1
CD44
 
CSF1R
 
SYT1
 
GNA13
LMNA
 
CX3CR1
 
SYT12
 
TRIM56
 
 
SPI1
 
ZBTB47
 
 
 
 
TNFRSF10A
 
VGF
 
 
 
 
TNFRSF10B
 
PLXNB1
 
 

P. De Jager, D. Bennett
E. Schadt, B. Zhang, S. Gandy, J. Zhu, M. Ehrlich
T. Golde, N.Price, N. Ertekin-Taner, S. Younkin,
A. Levey, T. Montine, J. Troncoso, D. Geschwind
R. Kaddurah-Daouk
B. Yakner, L. Huei Tsai
Secreted peptide VGF (non-acronymic)
Specifically expressed in a subpopulation of neuroendocrine cells, and is upregulated by nerve growth factor. The encoded secretory protein also shares similarities with the secretogranin/chromogranin family, however, its exact function is not known. Multiple VGF peptides reported to be significantly decreased between converting and non-converting MCI patients (ADNI) Spellman et al. 2015 - NIH (FNIH) Biomarkers Consortium CSF Proteomics Project Team
Protein Networks as Novel Biomarkers
AMP-AD Emory Team
PI: Allan Levey
Hub proteins from brain networks are found in human CSF and discriminate AD from control and PD patients. Hub proteins are defined as proteins with the highest intra-modular connectivity (i.e., proteins that are most central within the module) in the M1, M4 and M7 modules. Red symbols are proteins that were also identified in the CSF.
Building on and expanding the AMP-AD Target Discovery Project
Molecular Mechanisms of the Vascular Etiology of Alzheimer's Disease (M2OVE-AD)
NIA contact- Suzana Petanceska
A collaboration between NIA and NINDS
~$30 million over 5 years to support cross disciplinary research teams:
5 research teams will generate various "omics" data from brain and peripheral fluids from individuals participating in several natural history and population studies
Predictions about molecular mechanisms will be explored in animal models (AD models and models of vascular/metabolic risk factors).
Goals and deliverables:

rapid and broad sharing of data
deeper understanding of the phenotypes of risk and the mechanisms linking vascular risk factors, cerebrovascular disease and AD
new disease-relevant therapeutic targets for prevention
molecular signatures that can be non-invasively measured and used for patient stratification
NINDS ADRD Translation Research Initiatives
In collaboration with NIA
NINDS contact: Roderick Corriveau (roderick.corriveau@nih.gov)
Some examples of NIA pipeline for AD and ADRD
AD Drug Development Progarm
PI
Institution
Project or Target
Tuszynski M
UCSD
BDNF Gene Delivery
Catalano C
Cognition Therapeutics, Inc
Receptor Antagonist CT0093
Lin CL
OSU
Activators of glutamate transporter EAAT2
Wagner S
UCSD
Soluble Gamma-Secretase Modulators
Ives J
Acumen Pharmaceuticals, Inc.
Amyloid-Beta Oligomer Selective Immunotherapy
Van Eldik L
U Kentucky
MW151, block cytokine
Agadjanvan M
Inst of Molecular Med
AV1959 anti-Amyloid vaccine
Thota G
Emory U
EP2 receptor antagonists
Watterson DM
Northwestern U
MAPK Inhibitors
Brinton R
USC
Allopregnanolone
Blueprint, Drug Discovery for CNS, and Preclinical Drug Development
PI
Institution
Project or Target
Rosenzweig-Lipson S
AgeneBio
GAB-A 5 agonists
Brunden K
U Penn
Microtubule-stabilizers for tauopathy
Zhang, S
VCU
Aß oligomerization inhibitors
Pahan, K
Rush U
HEX, OCT and 3-hydroxy, 2, 2-dimethyl butyrate (HMB)
Bitan G
UCLA
'Molecular Tweezers' CLR01 as
Witt K
Southern Illinois U
Somatostatin-based therapeutics
Varghese J
UCLA
ApoE4-targeted therapeutics
LU K
Beth Israel Deaconess
pT231-tau mAbs
Stutzmann G
Rosalind Franklin Univ
Ryanodine Calcium Channels
Sung Ok Yoon
OSU
JNK3 inhibitors
Diamond M
Wash U
Anti-Tau Antibodies
Cai J
USF
anti-Aß aggregation peptides
NIA Translational Center for Animal Model Resources MODEL-AD
NIA contact, Larry Refolo
RFA AG16-014 (U54): Indiana University/Jax Labs/Sage Bionetworks (Bruce Lamb, PI) and UCI (Frank LaFerla) http://grants.nih.gov/grants/guide/rfa-files/RFA-AG-16-014.html

Maximize human datasets to identify putative variants, genes and biomarkers for AD
Generate, phenotype and validate the next generation of Tg mouse models of AD (50 new models over 5 years; deep, longitudinal phenotyping)
Develop a preclinical testing pipeline that implements rigorous study design and data analysis
Make data and animal models available to the research community for use in therapy development without IP barrier.
NIA Translational Center for Animal Model Resources
MODEL-AD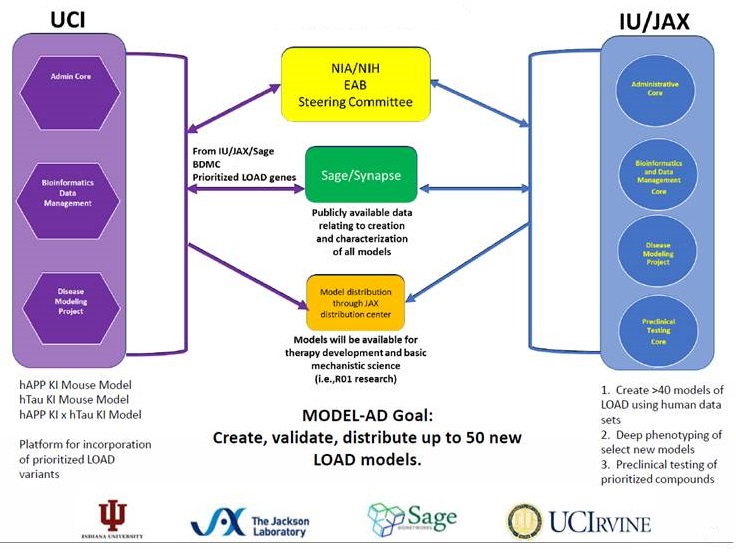 Alzheimer's Disease Preclinical Efficacy Database
NIA contact, Larry Refolo
https://alzped.nia.nih.gov/
New* NIA funding opportunities for translation research
Network biology of resilience to AD risk
Sex-differences in AD risk and responsiveness to treatment
Translational bioinformatics for drug repositioning and combination therapy development for AD
Closing the expertise/skills gap in data science and drug discovery
SBIR/STTR opportunities
Advancing Research on Alzheimer's Disease (AD) and Alzheimer's-Disease-Related Dementias (ADRD) (R41/R42/R43/R44)
Tools for Clinical Care and Management of Alzheimer's Disease (AD) and its Comorbidities (R41/R42/R43/R44)
Development of Socially-Assistive Robots (SARs) to Engage Persons with Alzheimer's Disease (AD) and AD-Related Dementias (ADRD), and their Caregivers (R41/R42/R43/R44)
Next steps toward developing an AD Translational pipeline
Attaining the Goal of Precision Medicine for AD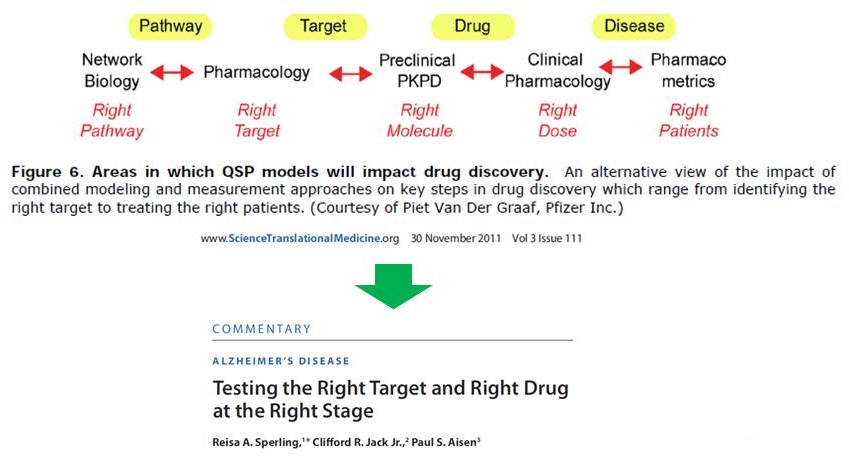 Alzheimer's Disease Summit Program- 2018
Alzheimer's Disease Research Summit 2012: Path to Treatment and Prevention
March 1-2, 2018
National Institutes of Health
Bethesda, MD
The 2018 Summit will build on the foundation laid by the NIH AD Research Summits held in 2012 (https://www.nia.nih.gov/news/alzheimers-disease-research-summit-offers-research-recommendations) and 2015 (https://www.nia.nih.gov/research/recommendations-nih-ad-research-summit-2015). It will feature progress towards achieving the AD research implementation milestones (https://www.nia.nih.gov/research/milestones) and continue the development of an integrated multidisciplinary research agenda necessary to enable precision medicine for AD treatment and prevention.
Novel Mechanistic Insights into the Complex Biology and Heterogeneity of AD
Enabling Precision Medicine for AD
Translational Tools and Infrastructure to Enable Predictive Drug Development
Emerging Therapeutics
Understanding the Impact of the Environment to Advance Disease Prevention
Advances in Disease Monitoring, Assessment and Care
Building an Open Science Research Ecosystem to Accelerate AD Therapy Development
THANKS
---
January 26, 2018 -- Advisory Council Meeting #27
The meeting was held on Friday, January 26, 2018, in Washington, DC. The Research Subcommittee took charge of this meeting's theme, focusing on the process from targets to treatments. The Council heard speakers on the preclinical pipeline, the clinical trial pipeline, and the industry perspective. The meeting also included discussion of a driver diagram to guide the Council's future work, updates and a report from the October Care Summit, and federal workgroup updates. Material available from this meeting is listed below and at https://aspe.hhs.gov/advisory-council-alzheimers-research-care-and-services-meetings#Jan2018.
Comments and questions, or alerts to broken links, should be sent to napa@hhs.gov.
---
General Information
Handouts
Presentation Slides
Videos