Friday, January 26, 2018
Printer Friendly Version in PDF Format (20 PDF pages)
Initiatives, Partnerships and collaboration to help patients with the highest unmet need: Dominantly Inherited Alzheimer's Disease Trials Unit (DIAN-TU) as a case example
Randall J. Bateman M.D.
Charles F. and Joanne Knight Distinguished Professor of Neurology &DIAN Trials Unit Director
Disclosure:
Sources of Research Support:

NIH R01NS065667
NIH UF1AG032438 (DIAN)
NIH ADRC (P50AG05681)
NIH U01AG042791 (DIAN-TU)
NIH WU CTSA award (UL1RR024)
NIH U01AG042791-S1 (DIAN-TU)
NIH Mass Spectrometry Resource (RR000954)
NIH R01AG046179 (DIAN-TU-APT)
NIH R56AG053267 (DIAN-TU NexGen)
Alzheimer's Association, BrightFocus Foundation, GHR Foundation, Ruth K. Broad Biomedical Research Foundation, Anonymous Foundation, Cure Alzheimer's Fund

DIAN Pharma Consortium:

Abbvie, Amgen, AstraZeneca, Biogen, Eisai, Elan, Eli Lilly, Forum, Genentech, Hoffman La-Roche, Janssen AIP, Mithridion, Novartis Pharm AG, Pfizer, Sanofi-Aventis

DIAN-TU:

Washington University and Dr. David Holtzman, Department Head of Neurology where the research is being conducted, may receive royalty income for an investigational drug called solanezumab, which was developed by Dr. Holtzman and licensed by Washington University to Eli Lilly & Company. Solanezumab is evaluated in this research.

Companies:

Co-founder C2N Diagnostics

Invited Speaker:

BMS, FDA, Eli Lilly, Merck, Pfizer, Elan, Wyeth, Novartis, Abbott, Biogen, Takeda Foundation, Fidelity Biosciences Research Initiative, EMA

Editorial Board:

Alzheimer's Research and Therapy, The Journal of Prevention of Alzheimer's Disease

Consulting Relationships:

Boehringer-Ingelheim, DZNE, Probiodrug AG, Medscape, Eisai, Forum (En Vivo) Scientific Advisory Board, Merck, Sanofi, Novartis, Roche, Global Alzheimer's Platform, IMI JU-Project EMIF
A brief history of Alzheimer's disease modifying prevention
2018? - Primary Prevention
2017 - Prevention trials with oral secretase inhibitors
2014 - Prevention trials targeting at-risk individuals
2012 --first prevention trial against amyloid-beta is launched
2012 - Aß lowering mutation discovered which dramatically protects against Alzheimer's
2000's -- first drugs targeting Aß - A cause of Alzheimer's are developed
1991 - Mutations discovered that cause early onset Alzheimer's in families -- later discovered in Alzheimer's first patient
1906 - Dr. Alois Alzheimer describes first Alzheimer's disease patient -- disease of brain -- plaques and tangles
Senility known throughout history
Autosomal Dominant Alzheimer's Disease (ADAD)
Less than 1% of AD cases result from autosomal dominant mutations in three genes directly involved in amyloid beta (Aß) production

Amyloid precursor protein (APP)
Presenilin 1 (PSEN1)
Presenilin 2 (PSEN2)

Auguste D., the first AD patient ever described by Alois Alzheimer, was later found to carry an ADAD mutation in presenilin 1 (F176L)
Comparison of Dominantly Inherited and Sporadic Alzheimer's Disease
|   | Dominantly Inherited AD | Sporadic AD |
| --- | --- | --- |
| Clinical presentation | Amnestic | Amnestic |
| Cognitive deterioration | Memory, frontal/executive, generalized cognitive decline | Memory, frontal/executive, generalized cognitive decline |
| MRI | Hippocampal atrophy and whole brain atrophy | Hippocampal atrophy and whole brain atrophy |
| PiB PET | Cortex plus basal ganglia | Cortex |
| FDG PET | Parieto-occipital hypometabolism | Parieto-occipital hypometabolism |
| CSF Aß 42 | Decreased by 50% | Decreased by 50% |
| CSF tau | Increased by 2-fold | Increased by 2-fold |
DIAN Observational: An International, Multi-Center Study
Biomarker collection rate +80-90%
>500 enrolled since 2008, 275 active participants, 52% 10 years or more prior to EYO
104 publications
16 presentations at 2017 AAIC, London, England
DIAN resource requests to date:

Data (n=125) Tissue (n=43)
Data used to design and implement 3 arms in the DIAN-TU trial

Planned Expansion: Korea, Spain, Canada
Renewal submission in 2018 for funding 2019-2024

increased recruitment
Focus on molecular cause of Alzheimer's
Tau PET imaging
Harmonization of DIAN-TU and DIAN EXR
Through public/private support and partnership, the DIAN-TU has launched trials to provide advancement of treatments, scientific understanding and improvements in the approach to Alzheimer's disease drug developments.
DIAN Observational and DIAN-TU Trial sites
DIAD amyloid deposition by estimated age of onset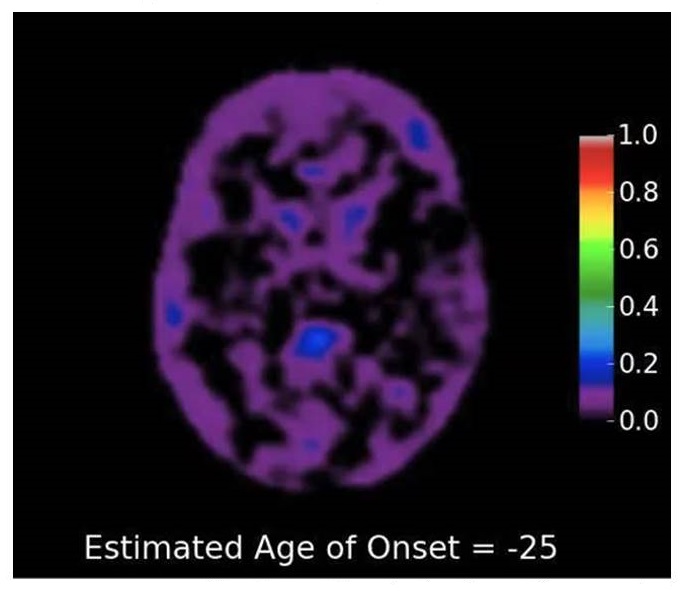 Courtesy of Tammie Benzinger; Bateman et. al NEJM 2012
Stages of Proteinopathy in ADAD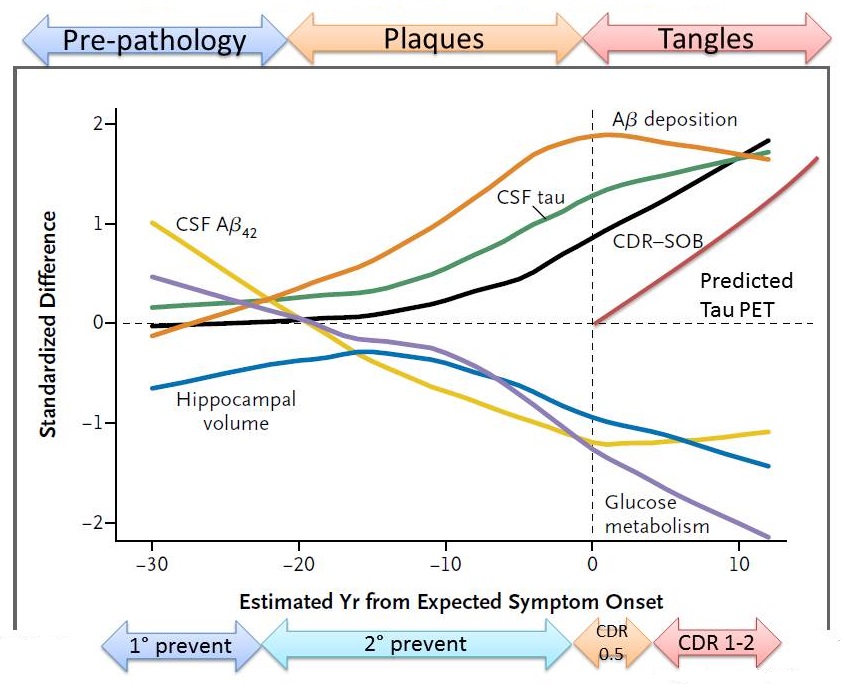 The DIAN; Bateman et. al NEJM 2012
DIAN Therapeutic Trials Rationale
Clinical onset of symptoms can be predicted at any point in lifespan, allowing therapeutic trials years or even decades before the clinical onset.
DIAD has a clear cause of disease due to amyloid-beta: 'pure AD' without comorbid confounds
Uniquely informative scientific information of disease progression, biomarkers and changes due to therapeutic treatments
Common pathophysiology support general AD indication
Successful implementation of prevention and symptomatic studies will inform as to the cause of AD and provide guidance for future therapeutic development.
Engaging patients: a DIAN-TU participant perspective
Embedded video that could not be included here.
Participant Interaction and Partnership
DIAN Expanded Registry

Serves as a key information and referral source for the DIAN Observational and DIAN-TU trials
Register:
| Total Registrants (15 Dec 2017) | 1628 |
| --- | --- |
| Total Family Registrants | 1415 |
| - DIAD Individuals | 381 |
| - At-Risk Individuals | 365 |
| Total Researcher Registrants | 213 |
Exploratory Genetic Counseling and Testing Program
(as of Dec 2017)
Pedigrees Reviewed
147
Approved for testing
75
Positive for mutation on PS1, PS2, APP
45 (60%)
Pathogenic mutations
41 (91%)
Variants of uncertain significance
3 (7%)
Not Pathogenic
1 (2%)
DIAD Family Conference
DIAD family networking opportunity
Opportunity for DIAD families to have a dialogue with AD researchers, pharma, NIH and regulators
Discussions:

Scientific, medical, regulatory, advocacy and disease burden matters
Support sessions specific to asymptomatic and symptomatic individuals, and family members

Sponsored by the DIAN-TU, the Alzheimer's Association, and NIH (R13 AG 055232)
DIAD Family Conferences* to discuss scientific, medical, regulatory, advocacy and disease burden and also provide support sessions for asymptomatic and symptomatic individuals and their families
July 18th, 2015 AAIC, Washington, D.C. Historic, first-time meeting of DIAD families

99 DIAD individuals and family members attended

July 23rd, 2016 AAIC, Toronto, Ontario, "Too Young to Forget"

117 DIAD individuals and family members attended

July 15th, 2017 AAIC, London, United Kingdom, "Key to the Cure"

152 DIAD individuals and family members attended
*Funding for this conference was made possible in part by the Alzheimer's Association and by 1 R13 AG 055232-01, PI McDade, from the National Institute on Aging. The views expressed in written conference materials or publications and by speakers and moderators do not necessarily reflect the official policies of the Department of Health and Human Services; nor does mention by trade names, commercial practices, or organizations imply endorsement by the U.S. Government.
DIAN-TU NexGen Trial Design
DIAN-TU NexGen:

New drug arms
4 years of treatment
Novel biomarkers
Uses DIAD-specific Disease Progression Model based on DIAN Obs. data.
Cognitive interim analysis
Dose adjustment for maximal effect
Home-based cognitive testing
Population: with or at-risk for a DIAD mutation; -15 to +10 years of EYO; CDR 0, 0.5, 1
Making a Difference
Pioneering prevention studies in DIAD utilizing observational data from DIAN, disease progression models, comprehensive biomarkers, input from participants and family members, and inclusive discussions with stakeholders.
First trial in dominantly inherited AD and the first AD prevention trial using anti-amyloid drugs
Identification of effective therapeutics for DIAD with the goal of registration for DIAD and SAD patient use.
Established foundation/groundwork and is a model for multiple initiatives: AMP, IMI EPAD and GAP

FDA comment "exemplar of next generation trials"
Multi-drug arm DIAN-TU is ideal platform for testing combination treatments (e.g. anti-tau and anti-amyloid)
Historical Precedent:
Treatment of familial hypercholesterolemiawith compactin, the first statin drug
| Pre-treatment | Post-treatment |
| --- | --- |
| | |
Similar to cholesterol, amyloid deposition and AD biomarkers can be used in studies to inform about drug engagement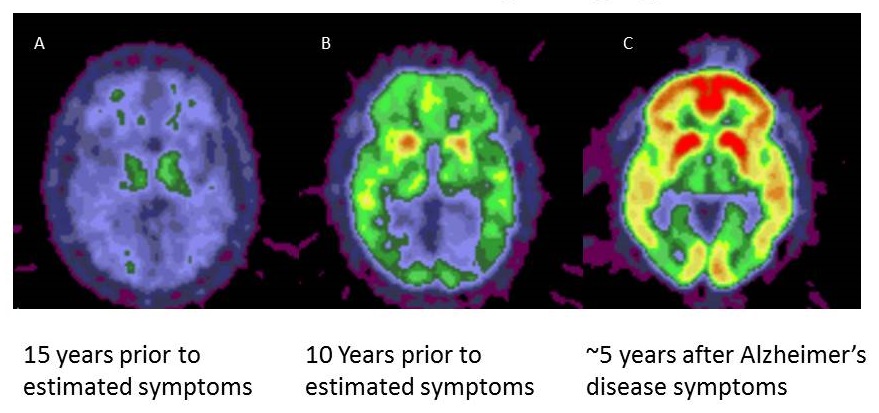 Courtesy of Mark Mintun and Randy Bateman
Proportional/Time Slowing Treatment Effect
Treated at EYO -15
Rationale for Primary Prevention
ADAD cause is known, pathophysiology clear, risk of disease certain, and predictability of onset is high. The ADAD families have very high unmet need.
Beta-secretase inhibitors and gamma-secretase modulators target molecular defect of ADAD mutations.

Evidence of safety, convenience, relative low cost to manufacture and well-tolerated

The DIAN -TU has demonstrated the feasibility of conducting complex clinical trials of long duration in a the ADAD population.
Strong support for primary prevention by participants, families, and AD researchers, with regulatory pathways being established.

Grant review scheduled January 25th
How early to go? Primary Prevention and timing of AD prevention trials related to core pathology and symptom onset
DIAN-TU Milestones
2011: DIAN-TU awarded grant by the Alzheimer's Association to launch trials
2011-2014: DIAN-TU Pharma Consortium (1st Term, 2011; 2nd Term, 2014): Pharma companies collaborating to develop dominantly inherited AD prevention trials (9 members)
Multiple meetings with patient advocacy, academia, expert consultants, regulatory groups, DIAN participants and families, & Pharma partners to develop advanced prevention AD trials
26 therapies nominated to date
2012: DIAN-TU Trial biomarker phase launched with two treatments.

FDA approval for first trial in dominantly inherited AD and the first AD prevention trial using anti-amyloid drugs
Washington University serves as sponsor for the DIAN-TU trial

2013-2014: DIAN-TU awarded $6M and $26.7M NIA grants to support the DIAN-TU Trials
2014: Trial protocol amended to extend treatment to 4 years for a cognitive endpoint registration trial.
2014: DIAN-TU awarded funds from philanthropic foundations to continue efforts
Foundation/groundwork established to enable pioneering prevention studies in DIAD and associated sites: Model for AMP, IMI EPAD and GAP. FDA comment "exemplar of next generation trials"
2015: Funds received for DIAN-TU NexGen trial design and DIAN-TU NexGen grant submitted
2016: Received Alzheimer's Association grant to launch the DIAN-TU NexGen drug arms.
2016: Received partial, start-up funding from the NIA to launch the NexGen drug arms.
2016: Received foundation funds for Primary Prevention trial design.
2016: Received foundation funds for Ambulatory Research in Cognition (ARC) testing.
2017: Received full NIA funding for and launched the NexGen (third) drug arm.
Resources
Websites:
Contact Information:

DIAN-EXR email: dianexr@wustl.edu
DIAN Expanded Registry Coordinator 844-DIAN-EXR (844-342-6397)
DIAN Global Coordinator, 314-286-2643
The DIAN (NIH UF1AG032438)
The DIAN participants and family members
The Alzheimer's Association, ADAD Forum, DIAN Pharma Consortium
Performance Sites

Argentina

Fundación para la Lucha contra las Enfermedades Neurológicas de la Infancia (FLENI), Ricardo Allegri

Australia

Mental Health Research Institute, Melbourne, Colin Masters
Edith Cowan Univ , Perth, Martins
Prince of Wales Medical Research Institutes, Sydney, Peter Schofield

Germany

Ludwig-Maximilians-Universität München, Adrian Danek
University of Tübingen, Matthias Jucker

Japan: DIAN-Japan, Mori

Hirosaki University, Mikio Shoji
Niigata University, Takeshi Ikeuchi
Osaka City University, Hiroyuki Shimada
University of Tokyo, Kazushi Suzuki

Korea

DIAN-Korea, JH Lee: Asan Medical Center, JH Roh

United Kingdom

Institute of Neurology, Univ College London, Martin Rossor

United States

University of Southern California, John Ringman
University of California, San Diego, Doug Galasko
Mayo Clinic, Jacksonville, Neil Graff-Radford
Indiana University, Bernardino Ghetti
Mass General Hospital/Brigham & Women's Hospital, Reisa Sperling
Washington University, Randall J. Bateman
Columbia University, Richard Mayeux
University of Pittsburgh, William Klunk
Butler Hospital/Brown University, Steve Salloway
DIAN-TU Trial Performance Sites
Australia

Neuroscience Research Australia, William Brooks
The McCusker Foundation, Roger Clarnette
Mental Health Research Institute, Colin Masters

Canada

McGill University, Serge Gauthier
UBC Hospital, Robin Hsiung
Sunnybrook Health Sci Centre, Mario Masellis

France

Hopital Roger Salengro, Florence Pasquier
Hopital Neurologique Pierre Wertheimer, Maité Formaglio
CHU de Rouen, Didier Hannequin
CHU de Toulouse, Jérémie Pariente
Groupe Hospitalier Pitie, Bruno Dubois

Italy

IRCCS Centro San Giovanni di Dio Fatebenefratelli, Giovanni Frisoni
Azienda Ospedaliera Universitaria Careggi, Sandro Sorbi

Spain

Hospital Clinic I Provincial de Barcelona, Raquel Sanchez Valle

United Kingdom

The National Hospital for Neurology & Neurosurgery, Catherine Mummery

United States

Columbia University, Lawrence Honig
University of Puerto Rico, Ivonne Jimenez-Velazques
Indiana University, Jared Brosch
University of Pittsburgh, Sarah Berman
Washington University, Joy Snider
University of Alabama, Erik Roberson
Butler Hospital, Ghulam Surti
Emory University, James Lah
Yale University, Christopher Van Dyck
UCSD, Doug Galasko
University of Washington, Seattle, Suman Jayadev
DIAN-TU Administrative and Clinical Operations Team
Randall Bateman -- Director and PI, Eric McDade -- Associate Director
Sarah Adams, Stephanie Belyew, Erin Cattoor, David Clifford, Garland Edmonds, Angela Farrar, Erica Fowler, Amanda Fulbright, Angela Fuqua, Cortaiga Gant, Kurtis Hanks, Ron Hawley, Dottie Heller, Latoya Jones, Michelle Jorke, Nicole Kelley, Paulette MacDougall, Jacki Mallmann, Tayona Mayhew, Karen McCann, Susan Mills, Jennifer Petranek, Anna Santacruz, Jessi Smith, Annette Stiebel, Shannon Sweeney, Linda Watkins-Imhof, Mary Wolfsberger, Ellen Ziegemeier
DIAN-TU Cores

Administrative: Randall Bateman and team
Biomarkers: Anne Fagan and team
Biostatistics: Chengjie Xiong, Guoqiao Wang and team
Cognition: Jason Hassenstab and team
Genetics: Alison Goate, Carlos Cruchaga and team
Imaging: Tammie Benzinger and team
Neuropathology: Nigel Cairns and team

DIAN-TU Collaborators

Project Arm Leaders: Steve Salloway, Martin Farlow, Lon Schneider
Consultants : Berry Consultants, Cornelia Kamp, Cardinal Health Regulatory Sciences, Granzer Regulatory Consulting
DIAN-TU Therapy Evaluation Committee: Paul Aisen, Randall Bateman, Dave Clifford, David Cribbs, Bart De Strooper, Kelly Dineen, David Holtzman, Mathias Jucker, Jeffrey Kelly, Virginia Lee, Cynthia Lemere, Eric McDade, Susan Mills, John Morris, James Myles, Laurie Ryan, Matthias Staufenbiel, Raymond Tait, Robert Vassar
DSMB Members: Gary Cutter, Steve Greenberg, Scott Kim, David Knopman, Willis Maddrey, Kristine Yaffe
ADCS: Ron Thomas
ATRI: Paul Aisen
University of Michigan: Robert Koeppe
Mayo Clinic: Clifford Jack
We gratefully acknowledge the DIAN and DIAN-TU participants and family members, DIAN Team, DIAN Steering Committee, Knight ADRC, Alzheimer's Association, ADAD Forum, NIH U01 AG042791, R01 AG046179, R01/R56 AG053267, R13 AG055232, DIAN-TU Pharma Consortium, GHR, Anonymous Foundation, Industry Partners (Eli Lilly & Co., Hoffman-LaRoche, Janssen, Avid Radiopharmaceuticals, Bracket, Cogstate), and Regulatory Representatives.
Backup Slides
How to improve screening for prevention trials?
Blood test for amyloid plaques in the brain
Blood plasma ß-amyloid 42/40 concentrations are consistently lower with Alzheimer's amyloid plaques, similar to cerebrospinal fluid.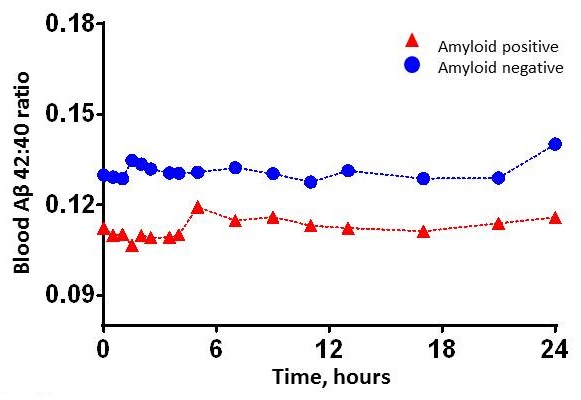 Ovod, Ramsey, et. al Alzheimer's & Dementia 2017
Plasma ß-amyloid concentrations have sufficient specificity to be used as a potential screening test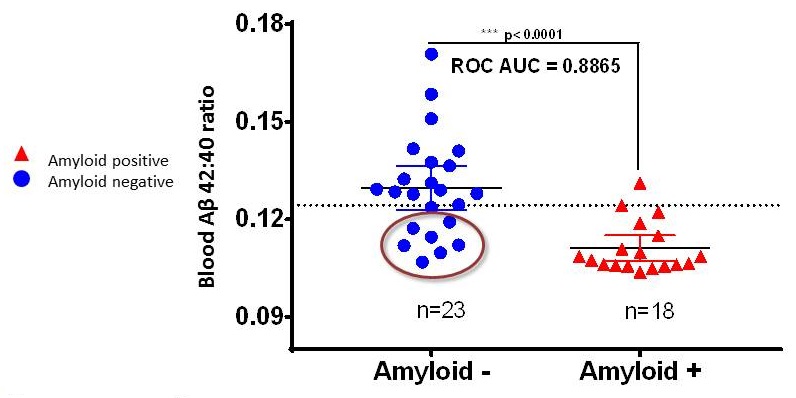 Ovod, Ramsey, et. al Alzheimer's & Dementia 2017
Plasma ß-amyloid correlates with CSF and PIB PET ß-amyloid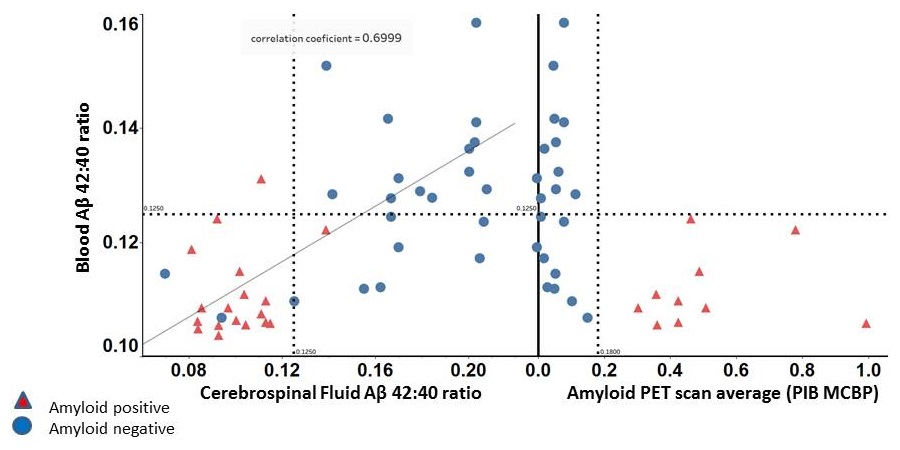 Ovod, Ramsey, et. al Alzheimer's & Dementia 2017
Receiver Operating Characteristic of Single Time Points is Accurate with Average AUC of 0.86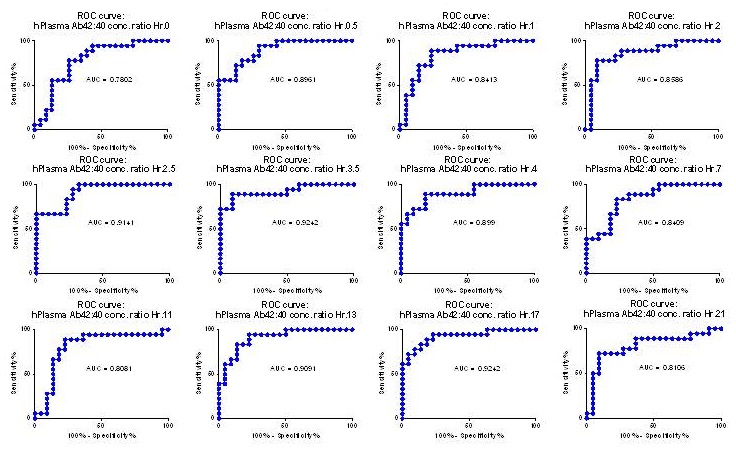 Ovod, Ramsey, et. al Alzheimer's & Dementia 2017
Second Validation Cohort from Knight ADRC plasma samples (p=6E-8)
Third Validation Cohort from LOAD60 plasma samples
Blood plasma ß-amyloid as a test for Alzheimer's disease plaques
Were validated using longitudinal samples in a pre-specified (clinicaltrials.gov) prospective study.
Are related to gold-standard measures of amyloid PET scans and cerebrospinal fluid ß-amyloid for Alzheimer's disease amyloid plaques.
The blood ß-amyloid test can be used to detect Alzheimer's disease amyloid plaques in individuals before symptom onset.
The blood ß-amyloid test can accelerate ongoing and future clinical trials to speed drug discovery for Alzheimer's disease prevention and treatments.
When effective drugs are found, the blood ß-amyloid test can be used to screen millions of people in the general public to identify who is at risk for Alzheimer's disease and start treatments even before memory loss and brain damage begins.
Ovod, Ramsey, et. al Alzheimer's & Dementia July 2017
---
January 26, 2018 -- Advisory Council Meeting #27
The meeting was held on Friday, January 26, 2018, in Washington, DC. The Research Subcommittee took charge of this meeting's theme, focusing on the process from targets to treatments. The Council heard speakers on the preclinical pipeline, the clinical trial pipeline, and the industry perspective. The meeting also included discussion of a driver diagram to guide the Council's future work, updates and a report from the October Care Summit, and federal workgroup updates. Material available from this meeting is listed below and at https://aspe.hhs.gov/advisory-council-alzheimers-research-care-and-services-meetings#Jan2018.
Comments and questions, or alerts to broken links, should be sent to napa@hhs.gov.
---
General Information
Handouts
Presentation Slides
Videos