Friday, January 26, 2018
Printer Friendly Version in PDF Format (12 PDF pages)
AbbVie's R&D Vision for Alzheimer's disease
Eric Karran, Ph.D.
AbbVie R&D Strategy -- science and innovation applied to high unmet medical need
Unmet Medical Need
Novel Biology
New Technologies
Coe Capabilities
Clinical Translation
Alzheimer's Disease is an Emerging Global Crisis
115 million AD patients by 2050
Cost of care in the U.S. was $259 billion in 2017; will be $1.1 trillion by 2050
Therapeutic options for AD are limited; progress lags well behind successes in oncology, inflammation, metabolic diseases and cardiology
Compelling reasons for AbbVie to focus research efforts in neurodegenerative diseases
Science

Emergence of compelling approaches beyond amyloid beta peptide.

Biomarkers of Disease

New technologies and techniques emerging to identify the right patients and assess pathology in living patients.

Clinical Trials

Ability to identify and intervene earlier in the disease process, at very mild symptomatic stage or even before cognitive symptoms emerge.

Regulatory Environment Engaged regulatory bodies are open to innovative approaches and actively discussing path to approval
Foundational Neuroscience Center -- new investment
200 Sidney Street, Cambridge MA
Officially opened May 18th 2016
43,000 sq. ft.
50 life scientists
AbbVie's Global AD Research
Cambridge

Tau
Proteostasis
Neuro-inflammation

Ludwigshafen

Tau
Proteostasis
Neuro-inflammation

Lake County
A personal view - how to translate basic science into patient benefit.
Access to excellent scientists and fundamental scientific research into disease mechanisms
Access to clinicians who know the disease and treat patients
Access to patients and patient material (genome, fluids, samples, biomarkers, brain banking)
In my experience, 4 conditions are pre-requisites for drug discovery success

Hire (access) talented people and treat them well
Provide well equipped labs and sufficient budget
Set a clear mission
Give it time
And finally........high quality science and data drives everything
Drug targets -- what are they and where do they come from?
Genetics has informed AD research -- but how much genetic risk is associated with disease onset vs disease progression?
Drug targets are sometimes lost in translation from academia to pharma
As a broad generalization, a pharma scientist's drug target:

Can be traced to pathways with genetic evidence
Has druggable sites or activities
Has an evident polarity of modulation
Is without obvious side effects or toxicity liabilities
Has a favourable tissue distribution
Is preferably not a member of a gene superfamily where selectivity will be impossible

AMP-AD has been an excellent vehicle to bring together academic and pharma scientists to educate each other.
Choosing the right target is critical
Funding landscape.. From the NIH website
2017 46 FDA Approvals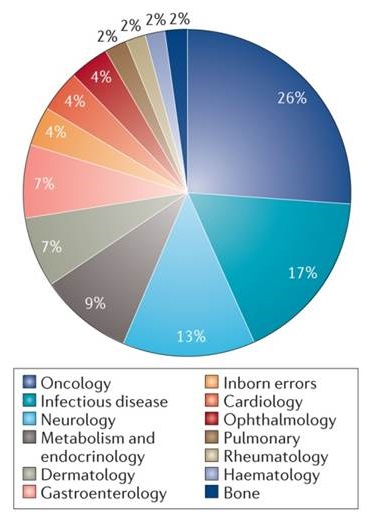 Nature Reviews | Drug Discovery
In vivo models of AD -- is it true that they are not fit for purpose?
George Box and H. L. Mencken
"The most that can be expected from any model is that it can supply a useful approximation to reality: all models are wrong; some models are useful".
~George Box
"To every complex problem there is an answer that is clear, simple and wrong".
~H.L. Mencken
Mice and humans are different
What does pharma use in vivo models for?
Proof of pharmacology/mechanism
Biomarker/pharmacodynamic marker discovery
Assessment of safety vs efficacy of therapeutics
Projecting doses to man
Target 'validation'/hypothesis testing
Sometimes, but rarely, used to understand disease processes de novo.
Does pharma need more in vivo models?
Would it be useful to have a model of Alzheimer's disease in mice?
Is that a realistic objective?
Do we need additional in vivo systems that model different aspects of neurodegenerative disease?
Is that a realistic objective?

Yes

Mechanisms of neuronal death
Relationship between synaptic & neuronal dysfunction, neuronal death, and animal functional decrement (in a disease relevant manner)
Differential neuronal selectivity to pathology
Clinical development
Why have there been multiple failures in clinical development?
AD Disease Modifying Clinical Pipeline
Amyloid plaques and tau pathology (leading to cognitive impairment) define Alzheimer's disease.
There is no correlation between amyloid and cognitive impairment.
Tau pathology correlates well with cognitive impairment.
We all hope one of these agents will work...
But 'hope' should not replace science.
The Jack model & clinical development
Conclusions
A number of highly successful public-private consortia have been established that have advanced our understanding of AD significantly.
Sustaining and increasing the interaction of all stake-holders --funders, academics, advocacy groups, patients, regulators and pharma -- will increase the probability that we shall succeed.
The current degree of collaboration and sense of a shared mission is unprecedented in my experience.
---
January 26, 2018 -- Advisory Council Meeting #27
The meeting was held on Friday, January 26, 2018, in Washington, DC. The Research Subcommittee took charge of this meeting's theme, focusing on the process from targets to treatments. The Council heard speakers on the preclinical pipeline, the clinical trial pipeline, and the industry perspective. The meeting also included discussion of a driver diagram to guide the Council's future work, updates and a report from the October Care Summit, and federal workgroup updates. Material available from this meeting is listed below and at https://aspe.hhs.gov/advisory-council-alzheimers-research-care-and-services-meetings#Jan2018.
Comments and questions, or alerts to broken links, should be sent to napa@hhs.gov.
---
General Information
Handouts
Presentation Slides
Videos