Friday, October 27, 2017
Printer Friendly Version in PDF Format (8 PDF pages)
Research Progress for Alzheimer's Disease and Related Dementias
Richard J. Hodes, M.D.
Director
National Institute on Aging
Program integration toward achieving the 2025 goal of NAPA (from discovery to the clinic)
Basic R01's, ADSP, NCRAD

Discovery Stage

Identify Target
Identify Compounds

AMP-AD, MOVE2

Discovery Stage

Establish Activity
Select Clinical Candidates

Translational Animal center
AD Centers, NACC, ADNI/Biomarkes

Development Stage

Submit Application for Clinical Trial (IND/CTX/CTA)
Human Clinical Trial Phase I
Human Clinical Trial Phase II

AD Centers, AD Clinical Trials, Consortium

Development Stage

Submit Registration for Regulatory Approval (NDA/BLA/MAA)
Human Clinical Trial Phase III
Human Clinical Trial Phase IV
NIA-AD accomplishments FY16-17
R01's

Who

Alzheimer's Disease Genetics Consortium (ADGC) [RENEWED FY16 AND 17]
National Institute on Aging Genetics of Alzheimer's Disease Data Storage Site (NIAGADS) [RENEWED FY16 AND 17]
National Cell Repository for Alzheimer's Disease (NCRAD) [RENEWED FY16 AND 17]

R01's [NEW PROGRAM]

Inflam
ApoE
Stem cells
Synapses
Genetics
Gau
Abeta

AMP-AD, MOVE2 [RENEWED FY16 AND 17]

Who

Alzheimer's Disease Sequencing Project (ADSP) [RENEWED FY16 AND 17]
Accelerating Medicines Partnership

Translational MODEL-AD [NEW PROGRAM]

Who

NIH Blueprint for Neuroscience Research

Biomarkes

Who

National Alzheimer's Coordinating Center (NACC)
Alzheimer's Disease Neuroimaging Initiative (ADNI) [RENEWED FY16 AND 17]
Dominantly Inherited Alzheimer Network (DIAN)

R01's [NEW PROGRAM]

AD Centers [NEW PROGRAM]

Who

Trial-Ready Cohort for Preclinical/Prodromal Alzheimer's Disease (TRC-PAD) [NEW PROGRAM]
Alzheimer's Disease Cooperative Study (ADCS)
Alzheimer's Prevention Initiative [RENEWED FY16 AND 17]
Dominantly Inherited Alzheimer Network Trials Unit (DIAN TU) [RENEWED FY16 AND 17]
ACTC [NEW PROGRAM]
Wake Forest University
Michigan University
BU
Behavioral and Social Approaches to AD/ADRD Research
Research Area
Example Topics
Dementia Care

Care/nonpharmacologic interventions for persons living with dementia
Neighborhood & social factors

Caregiver Research and Interventions

Caregiver depression, burden, self-care & social support
Economics of caregiving

Epidemiology

Prevalence, incidence, burden of illness
Cross-national comparisons

Behavioral and Social Pathways to ADRD

Educational attainment
Personality
Social engagement

Early Psychological Changes in AD

Affective Function
Decision-making
Social function

Prevention

Interventions on behavioral risk factors
Cognitive training

Disparities

Investigate disparities based on race, ethnicity, gender, place (e.g., rural) in dementia care studies & epidemiology
AD and ADRD Research Investments FY14-FY17
Individual Research Grants
Clinical Trials
These figures show grants awarded with NIA funding. Some of the grants are in response to initiatives sponsored by NIH ICs other than NIA (e.g., NINDS, NIBIB, NIEHS, NIDCD).
Interactions among NIA sponsored centers
Opportunities for Small Business -- AD/ADRD specific
Advancing Research on Alzheimer's Disease (AD) and Alzheimer's-Disease-Related Dementias (ADRD) (R41/R42/R43/R44)
Tools for Clinical Care and Management of Alzheimer's Disease (AD) and its Comorbidities (R41/R42/R43/R44)
Development of Socially-Assistive Robots (SARs) to Engage Persons with Alzheimer's Disease (AD) and AD-Related Dementias (ADRD), and their Caregivers (R41/R42/R43/R44)
https://www.nia.nih.gov/research/grants-funding/small-business-innovation-research-and-technology-transfer-programs
NIA SBIR/STTR Obligations
$ in Millions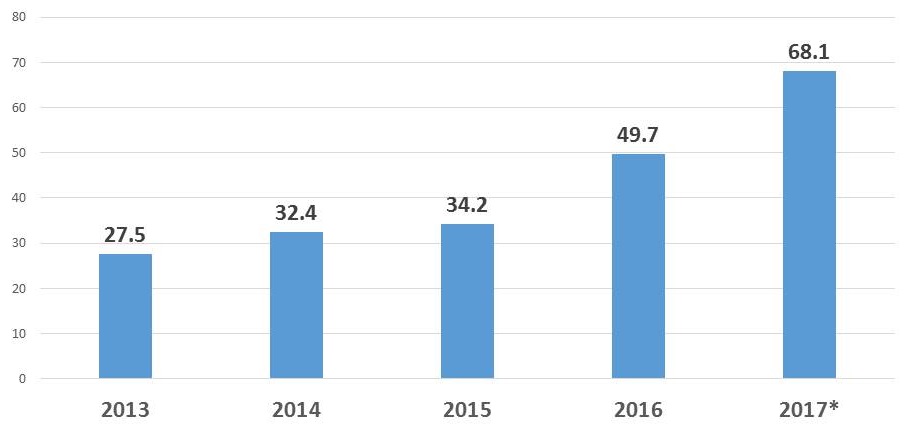 * Estimate
Save the Dates!
Alzheimer's Disease Research Summit (III), March 1-2, 2018, Bethesda, MD
ADRD Summit (III), March 14-15, 2019, Bethesda, MD
Other Federal Updates
7 Grants Awarded for FY2017 NINDS Funding Opportunity Announcements
2 Awards for Leveraging Existing Resources (i.e., ADNI/NACC, Parkinson's Disease Biomarker Program) for Research on Lewy Body Dementia (R03)

Whole-Methylome Sequencing to Identify Unique Epigenetic Profiles in Lewy Body Dementias (Debby W. Tsuang; Seattle Institute for Biomedical/Clinical research)
Applying DNA Methylation for Differential Diagnosis in Lewy Body Dementia (Paula A. Desplats; UCSF)

2 Awards for Frontotemporal Degeneration (FTD) Sequencing Consortium: Discovery, Replication, and Validation (UG3/UH3)

Impact of Coding and Non-coding Variation in Progressive Supranuclear Palsy (Giovanni Coppola et al.; UCLA)
Whole Genome Sequencing Consortium on Frontotemporal Dementia with Underlying TDP-43 Pathology (Rosa Rademakers; Mayo Clinic Jacksonville)

3 Awards for Detecting Cognitive Impairment, Including Dementia, in Primary Care and Other Everyday Clinical Settings for the General Public and in Health Disparities Populations (UG3/UH3)

Mycog -- Rapid Detection of Cognitive Impairment in Everyday Clinical Settings (Richard Gershon et al.; Northwestern)
The UCSF Brain Health Assessment for the Detection of Cognitive Impairment Among Diverse Populations in Primary Care (Katherine L. Possin; UCSF)
5-Cog Battery to Improve Detection of Cognitive Impairment and Dementia (Joe Verghese; Albert Einstein College of Medicine)
VA Research Update
U.S. Department of Veterans Affairs (VA) partnering with National Institute on Aging(NIA) to foster new networks & leverage resources, funding in Alzheimer's Disease (AD) and Alzheimer's Disease Related Dementias (ADRD).

Request for information (RFI) issued last year: https://grants.nih.gov/grants/guide/notice-files/NOT-AG-16-083.html.
Strategic Partnership for Advancing Research and Knowledge (SPARK)-Dementia Research, now forming workgroups around:

Basic mechanisms and pathogenesis of AD and ADRD;
Genetic and population studies;
Diagnosis and disease monitoring;
Translational and clinical research;
Care and caregiver research.
---
October 27, 2017 -- Advisory Council Meeting #26
The meeting was held on Friday, October 27, 2017, in Washington, DC. The Advisory Council welcomed its new members and invited them to share their experiences and where they see the Council going over the length of their terms. The Advisory Council also spent some time discussing the process of developing recommendations and how those recommendations relate to the National Plan. The Council then spent much of the meeting discussing the National Research Summit on Care, Services, and Supports for Persons with Dementia and Their Caregivers, held on October 16-17. Material available from this meeting is listed below and at https://aspe.hhs.gov/advisory-council-alzheimers-research-care-and-services-meetings#Oct2017.
Comments and questions, or alerts to broken links, should be sent to napa@hhs.gov.
---
General Information
Handouts
Presentation Slides
Videos