Friday, October 27, 2017
Printer Friendly Version in PDF Format (7 PDF pages)
Before NAPA: IADRP
International Alzheimer's Disease Research Portfolio (IADRP) -- Project History, Goal and Objectives
Launched in 2010 as a joint collaboration between the National Institute on Aging and the Alzheimer's Association
Goal

Increase coordination and collaboration between domestic and international funders of AD research while leveraging critical resources

Objectives

Develop a research framework, or ontology
Track and compare past and current investment in AD research, develop a baseline for future funding, and identify overlaps and gaps
Provide information and analysis to funders of AD research to collaborative opportunities
The Concept
International Alzheimer's Disease Research Portfolio (IADRP)

National Institutes of Health
External Federal Agencies (USA)
Non-Profit Organizations (USA)
International Organizations
International -- Geographical Distribution of Funded Projects captured in IADRP (2008 -- 2016)
7500+ Projects Indexed to Date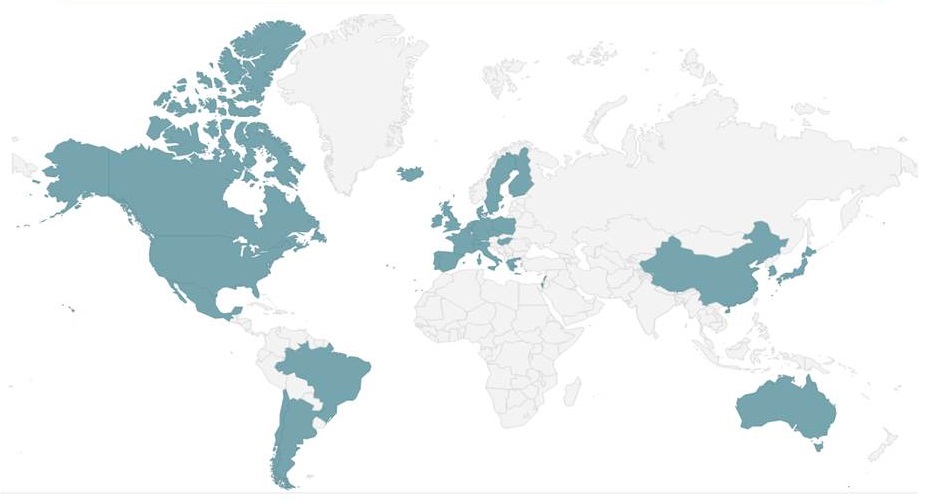 Common Alzheimer's Disease Research Ontology
The Common Alzheimer's Disease Research Ontology, (CADRO) is a three-tiered, dynamic classification system created to capture the complete range of AD research and AD research-related resources. The first level of classification consists of eight categories:

Category A -- Molecular Pathogenesis and Physiology of Alzheimer's Disease
Category B -- Diagnosis, Assessment and Disease Monitoring
Category C -- Translational Research and Clinical Interventions
Category D -- Epidemiology
Category E -- Care, Support and Health Economics of Alzheimer's Disease
Category F -- Resources for the Research Community
Category G -- Consortia and Public Private Partnerships
Category H -- Alzheimer's Disease-related Dementias

Each category is divided into "research topics"; many of these topics are further divided into "research themes" (~225 codes). These research topics and themes will enable us to identify research gaps, areas of overlap/duplication of effort and opportunities for collaboration with much greater specificity.
International Alzheimer's Disease Research Portfolio
Distribution of Projects by Category (all funders)
Distribution of Projects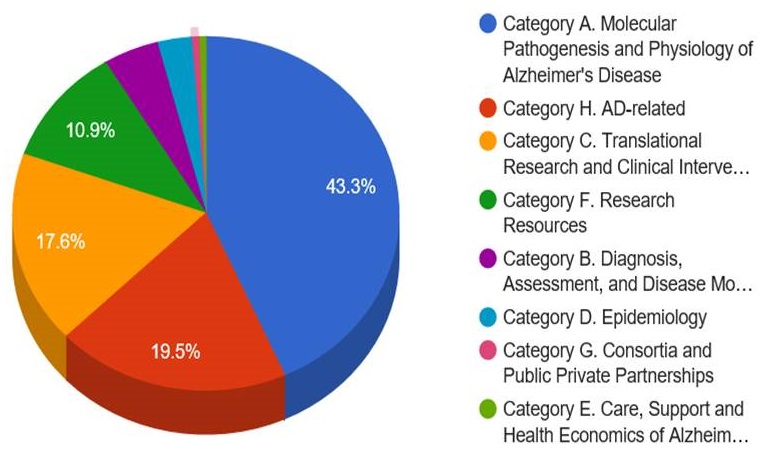 AD/ADRD Research Implementation Milestones
NIH Research Implementation Milestones are Based on Broad Input
February 2012 AD Research Summit

AD recommendations research milestones

April 2013 workshop on AD/Down Syndrome
May 2013 ADRD research meeting

ADRD recommendations/milestones

February 2015 AD Research Summit II

Updated AD recommendations milestones

March 2016 ADRD research meeting II

Updated ADRD recommendations/milestones

October 2017 Care and Services Research Summit
March 2018 AD Research Summit III
AD Research Implementation Milestone Database
Examples of Research Implementation Milestones
1.A: Create research programs aimed at extensive molecular endophenotyping of existing, at-risk cohorts from longitudinal studies that are genetically, epigenetically, or otherwise at risk (e.g., due to cerebrovascular, metabolic, or neuroinflammatory compromise), as well cohorts and/or individuals who resist disease despite high genetic risk (e.g., Down syndrome, ApoE 4 homozygous, FAD mutation carriers).
19.C.5: Increase utilization of culturally- and linguistically-appropriate assessment tools within ongoing and newly generated studies of AD/ADRD and vascular health intervention trials.
Bypass Budget Language
From Section 230, Division G of the Consolidated and Further Continuing Appropriations Act of 2015
Hereafter, for each fiscal year through fiscal year 2025, the Director of the National Institutes of Health shall prepare and submit directly to the President for review and transmittal to Congress, after reasonable opportunity for comment, but without change, by the Secretary of Health and Human Services and the Advisory Council on Alzheimer's Research, Care, and Services, an annual budget estimate (including an estimate of the number and type of personnel needs for the Institutes) for the initiatives of the National Institutes of Health pursuant to the National Alzheimer's Plan, as required under section 2(d)(2) of Public Law 111--375.
Combined External and Internal Input -- FY19 AD Bypass Budget
Input at 2012-2016 meetings:

Academic research community
Industry
Non-governmental organizations

Other Input:

2017 Request for Information

Development of comprehensive milestones (NIH staff) -- based on recommendations and milestones from meetings
Trans-NIH (including NINDS) staff discussion; milestones edited to ensure comprehensive inclusion of priorities for FY19
NIH staff "price" the milestones
Final budget estimate for FY19
Timing of ADBB Releases and AD/ADRD Appropriations
|   | FY17 ADBB | FY18 ADBB | FY19 ADBB |
| --- | --- | --- | --- |
| FY16 AD/ADRD milestones -- pre-bypass budget | FY17 AD/ADRD milestones -- $323M extra needed | FY18 AD/ADRD milestones - $414M extra needed | FY19 AD/ADRD milestones - $597M extra needed |
|   | $350M in FY16 supports acceleration of FY17 milestones | $400M in FY17 supports acceleration of FY18 milestones | FY18 TBD: 40% cut (PB) or +$400M (House/ Senate)? |
---
October 27, 2017 -- Advisory Council Meeting #26
The meeting was held on Friday, October 27, 2017, in Washington, DC. The Advisory Council welcomed its new members and invited them to share their experiences and where they see the Council going over the length of their terms. The Advisory Council also spent some time discussing the process of developing recommendations and how those recommendations relate to the National Plan. The Council then spent much of the meeting discussing the National Research Summit on Care, Services, and Supports for Persons with Dementia and Their Caregivers, held on October 16-17. Material available from this meeting is listed below and at https://aspe.hhs.gov/advisory-council-alzheimers-research-care-and-services-meetings#Oct2017.
Comments and questions, or alerts to broken links, should be sent to napa@hhs.gov.
---
General Information
Handouts
Presentation Slides
Videos