Friday, October 27, 2017
Printer Friendly Version in PDF Format (9 PDF pages)
CLINICAL SUBCOMMITEE UPDATE
Shari Ling, MD
Basics of CMS Regulatory Authority
Congress passes a law or statute (e.g. 21st Century Cures Act, amendments to the Social Security Act, Medicare Access and CHIP Reauthorization Act)
CMS then creates regulations to implement the law, typically through a Notice of Proposed Rulemaking where the Agency takes public comment, then issuance of a Final Regulation that responds to comment
Sometimes CMS publishes a Request for Information, also to take public comment, on an issue important to the Agency's operations and programs
CMS can also issue an Interim Final Rule in rare instances where it has good cause to believe the notice and comment process is impractical or unnecessary
CMS also regularly issues policy guidance such as memorandums, letters (e.g. State Medicaid, Survey and Certification), interpretative guidelines, State Medicaid Manual, Medicare Benefit Policy Manual) that build on the above
Getting Involved
In addition to submitting comments, there are other ways to help CMS do its work:
Dementia in the Context of Other Chronic Conditions
Figure 15: Co-morbidity among Chronic Conditions for Medicare Fee-for-Service Beneficiaries: 2015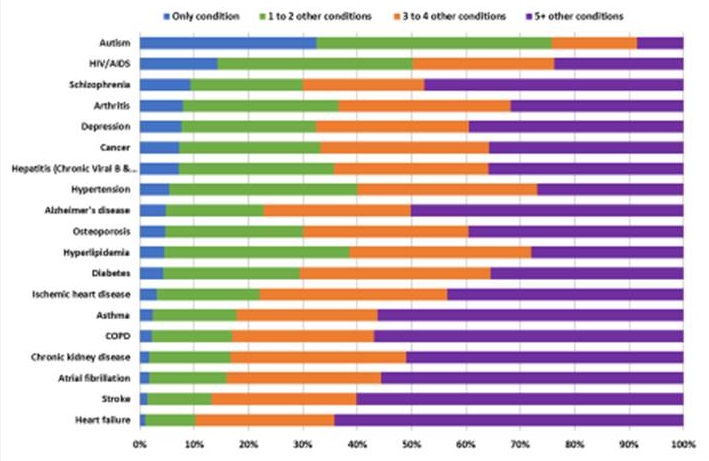 Medicare and Medicaid Services That Assist People with Dementia
MEDICARE

Chronic Care Management
Complex Chronic Care Management
Cognitive Impairment Assessment
Advance Care Planning
Annual Wellness Visit
Outpatient Mental Health Counseling
Home Health
Hospital
Short-term Nursing Home Care
Hospice
Telehealth

MEDICAID

Home and Community-Based Services
Health Homes
Targeted Case Management
Home Health
Rehabilitative Services
Programs for All-Inclusive Care
Hospital
Short and Long-Term Nursing Home Care
Hospice
Telehealth
Unlike Medicare, many Medicaid services are optional -- each State decides what, who, and how much to make available
National Partnership to Improve Dementia in Nursing Homes
CMs has partnered with federal and state agencies, nursing homes, advocacy groups, and others improve dementia care and implement practices that enhance the quality of life for people with dementia, protect them from substandard care and promote goal-directed, person-centered care for every nursing home resident
The national prevalence of antipsychotic use in long-term care residents has now been reduced by 34.1%--decreasing nationwide usage from 23.9% at the beginning of the initiative to 15.7% by the end of the first quarter of 2017
This surpassed our original goal of reducing the national prevalence by 30% by the end of 2016
Nursing homes with high rates of use are to work to decrease antipsychotic medication use by 15 percent, for long-stay residents, by the end of 2019
(Strategy 3.D)
Regional Data
Quarterly Prevalence of Antipsychotic Use for Long-Stay Residents, CMS Regions 2011Q2 to 2017Q1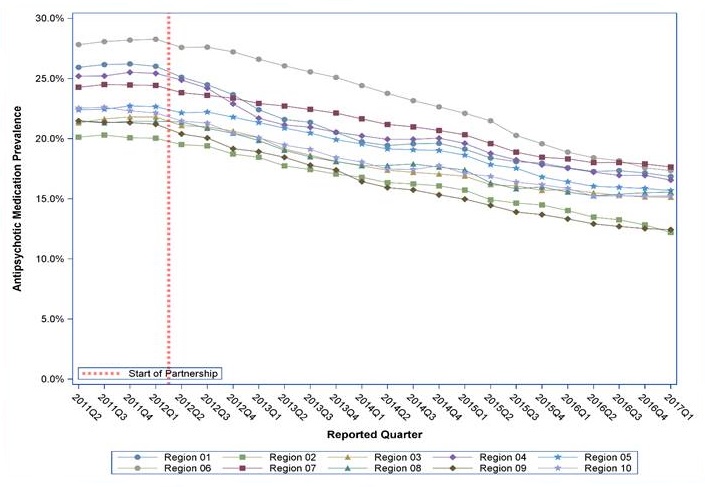 State Dementia Care Coalitions
Best Practice Strategies:

Direct facility outreach
Workshops and conferences
Training opportunities (i.e., Hand in Hand training series)
Use of Civil Money Penalty fund) for

Education/Training
Conferences
Implementation of person-centered intervention strategies (e.g. Music and Memory Program)
Information at: https://www.nhqualitycampaign.org/files/State_Dementia_Care_Coalition_Best-Practice_Strategies.pdf
What's Ahead
Collaboration with State Dementia Care Coalitions, CMS Regional Offices, and State Survey Agencies
Comprehensive focus on poor performing nursing homes
Focused Dementia Care and Schizophrenia Surveys
Revision of Hand in Hand training series
Data tracking and distribution
Federal CMP fund initiative
Medicare Learning Network (MLN) national provider calls
Information at: https://www.cms.gov/Medicare/Provider-Enrollment-and-Certification/SurveyCertificationGenInfo/National-Partnership-to-Improve-Dementia-Care-in-Nursing-Homes.html
Initiative to Reduce Avoidable Hospitalizations Among Nursing Facility Residents
CMS just released the final independent evaluation report for the first phase of the Initiative, from 2014-2016
All seven sites reduced hospitalizations, with six of the seven achieving statistically significant improvement in either all-cause hospitalizations, potentially avoidable hospitalizations, or both
Medicare expenditures were reduced in six of the seven sites, with statistical significance in most
The strongest improvements in both cost and quality were at intervention sites with a full-time nurse at each facility providing direct care to residents where greater changes in facility culture, greater support for the need to reduce avoidable hospitalizations, and greater overall buy-in to the Initiative from facility occurred
The second phase of the Initiative underway tests new payment reform models, both in conjunction with the Phase One interventions or on their own
(Strategy 2.D )
Information at: https://www.cms.gov/Medicare-Medicaid-Coordination/Medicare-and-Medicaid-Coordination/Medicare-Medicaid-Coordination-Office/InitiativetoReduceAvoidableHospitalizations/Evaluation-.html
Integrated Care Resource Center
CMS dually-eligible Medicare-Medicaid Resource Center has continued to sponsor the Geriatric Competent Care Series, which helps providers in all settings and disciplines expand their knowledge and skills in the unique aspects of caring for older adults and in working with their caregivers
Many of these Webinars have examined dementia, including one held in September on involving and supporting unpaid caregivers in care planning and delivery
(Strategy 2.G)
Information at: https://resourcesforintegratedcare.com/GeriatricCompetentCare/2017_GCC_Webinar_Series/Series_Overview
Health Care Innovation Awards Second Annual Report
The Report covers awardees' implementation experiences during the 2nd program year, 2015-16, highlighting changes in program features including the modifications the 39 awardees made to their service delivery and payment models
One HCIA award directly addresses people with ADRD; the Johns Hopkins Maximizing Independent at Home, a care coordination intervention for people ADRD who live in the community and for their caregivers
(Strategy 2.E)
Information at: https://innovation.cms.gov/initiatives/Health-Care-Innovation-Awards/Round-2.html
CMS Behavioral Health Payment and Care Delivery Innovation Summit
In September CMS held an in-person public Summit in Baltimore to discuss ideas for a potential behavioral health model for ADRD
Ideas shared during the meeting are now assisting staff to explore model development
Presentations focused on substance use disorders, telehealth, workforce issues, payment, and ADRD
The Summit materials are archived at: https://innovation.cms.gov/resources/behavioral-health-paymentcare-summit.html
Comments submitted to the Innovation Center RFI may address suggestions for a potential dementia model, including on such topics as: service array including care management and coordination, caregiver assessment/training/supports, home and community-based services (e.g. personal care, respite care, home-delivered meals, adult day health, environmental assessment/modifications, assistive technologies), person-centered planning, medication management, payment structure, eligibility criteria, peer supports, participant qualifications, service delivery modes such as self-direction and managed care
(Strategy 2.E)
The Center for Medicare & Medicaid Innovation New Direction
CMS has issued a "Request for Information" to seek public feedback on a new direction for the Innovation Center, to promote person-centered care and test market-driven reforms that empower beneficiaries as consumers, provide price transparency, increase choices and competition to drive quality, reduce costs, and improve outcomes
CMS is focused on these areas: Increased participation in Advanced Alternative Payment Models; Consumer-Directed Care & Market-Based Innovation Models; Physician Specialty Models; Prescription Drug Models; Medicare Advantage Models; State-Based and Local Innovation, including Medicaid-focused Models; Program Integrity, and Mental and Behavioral Health Models
THE RFI IS OPEN FOR PUBLIC COMMENT UNTIL NOVEMBER 20: https://innovation.cms.gov/initiatives/direction/
Dementia-Specific Training Sponsored by Bureau of Health Workforce
Medscape article: Bidirectional Impact of Alzheimer's Disease and Common Comorbid Conditions

Online access to training module available from September 2016 through August 2017 7,937 learners, primarily physicians, nurse practitioners, other nurses, physician assistants, and pharmacists

Number of Geriatric Workforce Enhancement Program (GWEP)-sponsored interprofessional continuing education sessions provided on Alzheimer's Disease
Number of trainees participating in GWEP-sponsored interprofessional continuing education on Alzheimer's disease
Dementia Training at HRSA
ADRD teaching curriculum

With federal partners and public stakeholders, HRSA created the Alzheimer's Disease and Related Dementias training curriculum to provide training for the primary care workforce about dementia care, and to help providers address caregiver needs.
The curriculum consists of 16 core modules (12 that address specific dementia topics and 4 that address the role of specific professions in dementia care), and four supplemental modules to assist providers in understanding and addressing caregiver needs.

Anticipated users of this curriculum include, but are not limited to:

Health professions faculty
Students
Primary care practitioners
Members of the interprofessional geriatrics care team
Direct service workers

Each of the modules that constitute the curriculum can be accessed at
QUESTIONS?
---
October 27, 2017 -- Advisory Council Meeting #26
The meeting was held on Friday, October 27, 2017, in Washington, DC. The Advisory Council welcomed its new members and invited them to share their experiences and where they see the Council going over the length of their terms. The Advisory Council also spent some time discussing the process of developing recommendations and how those recommendations relate to the National Plan. The Council then spent much of the meeting discussing the National Research Summit on Care, Services, and Supports for Persons with Dementia and Their Caregivers, held on October 16-17. Material available from this meeting is listed below and at https://aspe.hhs.gov/advisory-council-alzheimers-research-care-and-services-meetings#Oct2017.
Comments and questions, or alerts to broken links, should be sent to napa@hhs.gov.
---
General Information
Handouts
Presentation Slides
Videos