List of Comments
Comments and questions, or alerts to broken links, should be sent to napa@hhs.gov.
Also contact us if you would like a topic added here.
PLEASE NOTE: The Public Comments included here are not an endorsement of the views or information by National Alzheimer's Project Act, its Advisory Council members, the Administration or the federal agencies involved in this project.
---
Thank you for the opportunity to once again address the Advisory Council. My name is Mary Hogan. In 2007 my brother Bill was diagnosed with AD. He also had Down syndrome. He died in 2010 of complications of aspiration pneumonia at the age of 49. Since that time I have been dedicated to assuring that folks with these co-occurring conditions receive the care and attention that they require and deserve and that family members and care partners have the opportunity to access the support required to maintain quality of life for their family member. I have been a presence at the Advisory Council meetings since 2011, am a member of the NTG and have worked closely with the NDSS on their projects on DS, aging, and AD. I have continued to develop close working relationships with both national and state Alzheimer's Associations and have benefitted from their training, collaboration with the NTG as well as their extensive family resources.
I would like to welcome Dr. Gitlan and the other new members to the Council. In the past we have shared a positive working relationship with Council members and I look forward to continuing this relationship in the days ahead. I wish you well in your new role.
Last week I was one of three trainers who presented the NTG Dementia Capable Care Curriculum at a three-day workshop in Lincoln, RI. Our audience included an OT, Psychologist, Nurses, Social Workers, Agency and Direct Care Professionals and Family Members. They were most receptive to the information presented and left feeling informed and empowered. We have made a commitment to continued support of all trainees as they return to their work settings and attempt to change the culture surrounding dementia care in their communities.
I agreed to bring to your attention one of the challenges and other concerns that many of these individuals expressed. They noted in particular the concept of active treatment. Given the nature of ADRD there is a mismatch between active treatment requirements for funding and the decline of their community members. They look to CMS and ACL for guidance in this arena and are hopeful that you will offer direction in the very near future. Many expressed concern about the inconsistent translation of Federal directives at the state and local levels and the lack of availability of support and services from state to state. How can care be more consistently organized across our communities nationally and Medicaid dollars shared more equally? What will happen if budgets cuts occur in the near future and care of individuals is reduced or eliminated? Hopefully you can help address these questions for dedicated caregivers across the nation.
I once again wish to request that a morning Council Meeting session be dedicated to both the accomplishments that have taken place in the ID community since the inception of the National Plan to address Alzheimer's disease along with the many challenges that remain. It seems that the time is right with the transition of Council leadership and members. Such a discussion will enable the new members to understand the challenges faced by this special population, some of whom are at increased risk for the onset of AD at an early age.
I also wish to continue my appeal to include those with ID in regional projects that explore the improvement of diagnosis, care coordination and support services. As noted previously, separate does not always translate to equal. Disparities continue to exist and creative opportunities not always inclusive. Leadership is required in order to further facilitate communication, collaboration and inclusion.
For the past 4 years I have talked of the crises faced by aging caregivers and have shared the story of Betty, age 88, Frank, age 93 and their son Richard, age 51. This family has represented the challenges faced by life longcaregivers who have had limited access to support services and a work force that lacked appropriate knowledge and training in day programs. They were faced with few options when Richard was no longer safe in their family home. Betty and Frank have remained dedicated to and advocated for Richard as AD has progressed. I am deeply saddened to report that Richard died of complications of aspiration pneumonia on August 31, 2017. He was 51 years old.
Richard
Date of Death: 8/31/17
Age: 51
Richard led a rich and active life prior to the onset and decline associated with AD. He loved to work, bowl, compete in the Special Olympics, watch football and cheer for his favorite college team. He loved to be out and about in the communities in which they lived and was a garrulous fellow who thrived on social interaction. Betty and Frank are experiencing a profound sense of loss as are Richard's peers, one of whom recently comforted them with these profound words, "I cry for you." At Richard's burial with family members adorned in their red shirts, each was awarded a Special Olympic medal as they quietly sang the team's fight song.
So fight we must to eradicate this disease in those with Down syndrome as well as those in the general population who face this great battle. I am hopeful that you will be champions for a group of people who know how to love, show empathy and compassion, have great value in their communities and help to give meaning to life.
Betty and Frank have spent countless hours being comforted by photos and newspaper clippings that have included milestones that Richard marked. The most profound milestone came from an aging article in a now defunct local paper that included a photo of a 5 year-old boy with the byline "Retarded Youth Needs a Home". 45 years later Betty and Frank celebrate the gift of Richard's life, as they grieve his recent passage. He did indeed find home.
---
My name is David Egan and I am excited to be here at the Advisory Council October Meeting with you all today. Thank you so much for having me. The National Down Syndrome Society, the leading human rights organization for all individuals with Down syndrome, is excited to announce the publication of our newest resource for the Down syndrome community! During the first week of November in honor of National Family Caregivers Month, NDSS will introduce "Alzheimer's Disease & Down Syndrome: a Practical Guidebook for Caregivers"! This booklet was written to help empower caregivers and families with knowledge and guidance about the connection between Down syndrome and Alzheimer's disease, how to carefully and thoughtfully evaluate changes that may be observed with aging and how to adapt and thrive within an ever-changing caregiving role when a diagnosis is made. People with Down syndrome are now going to college, getting competitive jobs, getting married and living full lives and we know this guide will be an amazing resource for the caregivers of those with Down syndrome as they age.
For more information, please visit http://www.ndss.org/.
Thank you so much again.
---
On behalf of AFTD I want to welcome the new council members and thank you all for giving your, time, experience and passion to help NAPA achieve its goal of ending dementia. My name is Matt Sharp. I am the Program Manager for The Association for Frontotemporal Degeneration and have been attending these quarterly meetings since 2012 to represent the related dementia -- FTD.
I also want to comment on the research recommendations from the Care and Services Summit at NIH last week. I remain in awe of how well the summit accomplished the herculean task of compiling an enormous amount of information on existing dementia care and services and condensing it all into a comprehensive set of recommendations that will move the field forward if given the appropriate support. Identifying critical themes and issues that cut across all the topic areas was key to organizing the vast amount of information on dementia care and services that already exists. All the sessions addressed the cross-cutting themes to some degree but whether and when the word dementia applied to the full range of clinical presentations depended largely on the expertise of the presenters. That is not surprising and it is certainly appropriate that care and services match the demand, which by and large means Alzheimer's disease. However, if this natural tendency toward serving the largest common denominator is not consciously resisted nothing much will change for those coping with FTD or any other non-Alzheimer's dementia who will continue to struggle to find the care or services they need.
This issue was partially addressed by the cross-cutting theme of etiology and disease stage but those terms do not address the entire problem. A more comprehensive theme is clinical heterogeneity. Clinical heterogeneity includes etiology and disease stage but also encompasses age of onset, abilities and level of functioning prior to onset and other factors that affect symptomatology and disease trajectory. Simply put, clinical heterogeneity describes the person with dementia and not just their disease, and without explicit attention to the individual differences of the person with dementia, care and services will naturally revert to a one size fits all model that doesn't actually fit everyone.
I strongly suggest that the cross-cutting theme "etiology and disease-stage" be replaced with "clinical heterogeneity" as that term will more effectively guide the development of dementia care and services that address the full range of dementia symptoms.
---
This is a day for thanks and a day to look ahead.
We are thankful for those who have served the Advisory Council so ably over the past six years, and for those who bring new perspectives to Advisory Council as their terms begin.
We are thankful to those who contributed to the successful first National Research Summit on Care, Services, and Supports for Persons with Dementia and Their Caregivers, including summit co-chairs Laura Gitlin and Katie Maslow; the federal agencies and non-governmental partners; the presenters, attendees and others who contributed content and generated research recommendations; and we are especially thankful for the people living with dementia and the carerswho shaped the summit through service on the steering committee and advisory groups, and through decades of participation in research and testimony about their experiences, expectations, wants, needs, a human rights. [https://aspe.hhs.gov/national-research-summit-care-services-and-supports-persons-dementia-and-their-caregivers]
We are thankful for the NIH's 2019 Bypass Budget continuing to set an ambitious course grounded in solid science toward our national goal of preventing and effectively treating dementia by 2025.
We are thankful for elected leaders who have responded with resources to fuel the science roadmap forward.
We are thankful for ACL, CDC, CMS, FDA, HRSA, VA and other federal agencies that push to innovate and deliver improvements in quality of life.
We are thankful for ASPE and all who others who ensure not only that the National Plan says the right things, but that it drives both sustained progress and meaningful accountability inside and outside government.
All which makes us thankful also makes us understand that far more remains to be done, that we can and must act with even more urgency for more rapid, more enduring, more inclusive and more transformative progress. With this in mind, I would urge the NAPA Advisory Council to act swiftly to:
Adopt a national quality of life goal, comparable to the 2025 goal for prevention and effective treatment in its capacity to galvanize national attention and resources behind rapid, enduring, inclusive and transformational progress.
Establish an interagency working group with significant non-governmental expert representation to develop a formal research, policy and practice road map -- with milestones and metrics -- toward achieving that quality of life goal. The working group should begin with (but not be limited to) a re-examination of the thoughtful, remarkable, and important work presented by Matthew Baumgart at the January 25, 2016 Advisory Council meeting: Milestones for Goals 2 and 3 of the National Alzheimer's Plan. [https://aspe.hhs.gov/advisory-council-january-2016-meeting-presentation-goal-milestones]
Charge the Dementia Care Summit steering committee with developing a series of sequenced post-summit activities to carry forward the work begun in the pre-summits and the summit itself. Among other priorities, this should include completing work -- before the NAPA Advisory Council finalizes its 2018 National Plan recommendations -- on the summit's second formal anticipated outcome: "Identification of evidence-based programs, strategies, and approaches that can be used now to improve care and services."
Update the position, adopted by the non-federal members of the Advisory Council a number of years ago, regarding the annual amount of NIH research funding needed to achieve the 2025 goal for prevention and effective treatment.

 
In closing, I offer my thanks to others making public comments today and my appreciation to Advisory Council members and staff who give of their minds and hearts beyond what words can express. I offer my hope to all those living with dementia and their loved ones that they will be heard, heeded, and healed through the work we all do together.
---
I and Dr. Seth Keller are the co-chairs of the National Task Group on Intellectual Disabilities and Dementia Practices (NTG), a group formed in 2010 with a mission to advocate for people with intellectual disability and their families and other caregivers when an adult with intellectual disability is affected by dementia (http://www.aadmd.org/ntg). The NTG is an affiliate of the American Academy of Developmental Medicine and Dentistry and is associated with the Rehabilitation Research and Training Center on Developmental Disabilities and Health at the University of Illinois at Chicago.
We wish to use this opportunity to congratulate and welcome Dr. Laura Gitlin as the incoming Chair of the NAPA Advisory Council on Alzheimer's Research, Care and Services. We look forward to her two-year term and contributions to the welfare of people affected by dementia.
We also wish to commend the Council on the 2017 Plan Update and its depth and breadth, as well as thoughtful recommendations. The discussion of the partner provisions, as well as the federal contributions, is making this effort truly a national plan. It was good to see the efforts being undertaken to expand the capacity of the nation's workforce to address Alzheimer's diseases and other conditions contributing to the occurrence of dementia. In that vein, we would to note the contributions of the National Task Group to the education efforts being undertaken. One of our aims when we were formed was to help inform and educate all components of the provider community delivering services to people with intellectual disability, as well as their caregivers. To this end, we developed a national curriculum on dementia and Intellectual disability composed of 20 distinct content modules. I am pleased to report that since 2015 to the present, the NTG has drawn from this curriculum to provide over 30 two-day workshops on dementia and intellectual disability across the US. All told some 1300 persons were trained, including some 790 professionals who also provide some form of training at their agencies or in their communities and attended our 'third-day trainer day'. Attendees have included direct support workers, clinicians, administrators, family caregivers, and a range of professionals. The workshops were held in 17 states with an average site registration of about 50 persons. Post-workshop evaluations have been positive and encouraging -- most attendees noted that the found that workshops highly beneficial and would recommend the training to others. Currently, we have about a dozen additional workshops in the pipeline into early 2018. I am also pleased to report that we are having discussions with HRSA over inclusion of a module on intellectual disability within the GWEPs national training activities on workforce enhancement.
At the last two Council meetings, we reported on the International Summit on Intellectual Disability and Dementia that was held in October 2016 in Scotland, and which came about from a partnership between the NTG, the University of Illinois at Chicago, and the University of Stirling(in Scotland). We are pleased to report that since the last meeting, an additional number of papers have been published.
One of the papers, Consensus Statement of the International Summit on Intellectual Disability and Dementia Related to Nomenclature, has appeared in the October 2017 issue of the American Association on Intellectual and Developmental Disabilities' journal, Intellectual and Developmental Disabilities.
Another, the Consensus Statement of the International Summit on Intellectual Disability and Dementia Related to End-of-life Care in Advanced Dementia, has appeared in the most recent issue of the Journal of Applied Research in Intellectual Disability.

 
Also, several other papers have been accepted for publication.
One, Defining Advanced Dementia in People with Down Syndrome and Other Intellectual Disabilities: Consensus Statement of the International Summit on Intellectual Disability and Dementia, has been accepted for publication in the Journal of Palliative Medicine.
Another, a Summative Report of the International Summit on Intellectual Disability and Dementia, has been accepted for publication by The Gerontologist.
Lastly, a Consensus Statement of the International Summit on Intellectual Disability and Dementia on Valuing the Perspectives of Persons with Intellectual Disability, has been accepted for publication by the Journal of Intellectual Disabilities.

 
Each of these papers contains a series of recommendations that would address issues raised in the papers. It is our hope that the Council will consider the substance and recommendations of these reports and papers at future meetings and when constructing next year's update of the National Plan to Address Alzheimer's Disease.
These reports and publications are available from us and posted on the NTG website -- http://www.aadmd.org/ntg.
Thank you.
---
Thank you for the opportunity to address the Council. I am the mother of a 43-year-old gentleman who has Down syndrome, Autism and Alzheimer's. It is because of him that I stand before you today. My son, Matt is one of more than 250,000 people with Down syndrome living in the United States. As they age, many like Matt,are susceptible to Alzheimer's. Families caring for and supporting people with Down syndrome and Alzheimer's need the Council's recognition and support and must be given due consideration in the National Plan.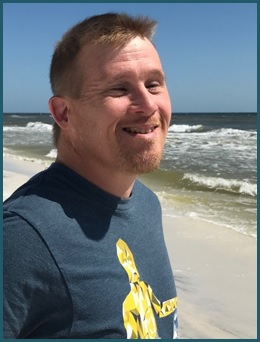 Matt Ransdell, 43-year-old gentleman from Florida who has Down syndrome, Autism and Alzheimer's.
We first suspected that Matt was developing Alzheimer's approximately three years ago. He exhibited some signs that could have been attributed to premature aging that is often seen in people with Down syndrome. Unfortunately, he continued to have symptoms that ultimately led his health-care providers to diagnose Alzheimer's. At first, I didn't know what to do; I didn't know where to turn for information and didn't know which of Matt's doctors could best advise me.
I eventually connected with the National Task Group on Intellectual Disabilities and Dementia Practices (NTG) and will forever be grateful for what I have learned to help me better support Matt on this journey. As we moved forward I recalled how alone I felt when Matt was born and we were told he had Down syndrome. Those memories got me thinking about other families who were getting Alzheimer's diagnoses and were experiencing those same feelings of isolation. Because of the opportunity I was given through the NTG, I dusted off my advocacy hat, and went to work to connect families around the country on this same journey.
Because of the dedication of the NTG volunteers, my co-chair, Mary Hogan and I have been able to reach out and support numerous families around our great nation. The stories they share are all different, but similar in various ways. We, too often, listen as families express frustration that they can't find doctors or other service providers who are knowledgeable of aging with Down syndrome or the connection of Down syndrome with Alzheimer's. Mary and I have been able to offer them opportunities to learn more about this disease so that they can educate the health-care providers working with their loved ones.
As we have provided this support and connection for families we have learned:
Although Alzheimer's in the general population can be like Alzheimer's in a person with Down syndrome, there are some unique differences.
There is a critical need for information to be readily available to families on all aspects of Alzheimer's and Down syndrome.
Families want to connect with other families who are navigating the Down syndrome and Alzheimer's journey.
There is a need for more support opportunities for families - we receive inquiries and referrals every week and sometimes are overwhelmed by the volume of the need.

 
I am pleased to say that in the past 18 months, through the NTG we have supported many families with our monthly national online support group and ongoing individual connections, and we have reached hundreds, perhaps thousands of families and professionals with our bi-monthly Caregiver Newsletter. And, I'm pleased to announce that next April, in partnership with the National Down Syndrome Society and the National Alliance for Caregiving we are hosting a Down syndrome Adult Summit in which we will offer sessions related to aging with Down syndrome, as well as Down syndrome and Alzheimer's.
Thank you for the opportunity to speak with you today and for including people with intellectual disabilities (and especially those with Down syndrome) in the National Plan. I encourage you:
In the next plan update:

To advocate the inclusion of people with Down syndrome and Alzheimer's in all research projects focused on Dementia care, services and support;
To advocate for state Developmental Disability programs to recognize the changes that occur, and the additional supports that are necessary when a person has an intellectual disability and Alzheimer's; and
To recognize more fully, the contributions that voluntary groups, such as the NTG, provide to help achieve the goals in accordance with the national plan. Such recognition will truly reflect your work to produce and uphold a national plan that is inclusive and acknowledges the efforts of non-governmental groups;

To continue a dialogue with volunteers, such as those within the NTG, who support people with Down syndrome and Alzheimer's so that we can provide the best possible care to this special population.
---
October 27, 2017 -- Advisory Council Meeting #26
The meeting was held on Friday, October 27, 2017, in Washington, DC. The Advisory Council welcomed its new members and invited them to share their experiences and where they see the Council going over the length of their terms. The Advisory Council also spent some time discussing the process of developing recommendations and how those recommendations relate to the National Plan. The Council then spent much of the meeting discussing the National Research Summit on Care, Services, and Supports for Persons with Dementia and Their Caregivers, held on October 16-17. Material available from this meeting is listed below and at https://aspe.hhs.gov/advisory-council-alzheimers-research-care-and-services-meetings#Oct2017.
Comments and questions, or alerts to broken links, should be sent to napa@hhs.gov.
---
General Information
Handouts
Presentation Slides
Videos