Friday, July 28, 2017
Printer Friendly Version in PDF Format (5 PDF pages)
"The Many Challenges of Alzheimer's Disease"
Eliezer Masliah, M.D.
Director, Division of Neuroscience,
National Institute on Aging, NIH
Prevalence of Dementia in the U.S.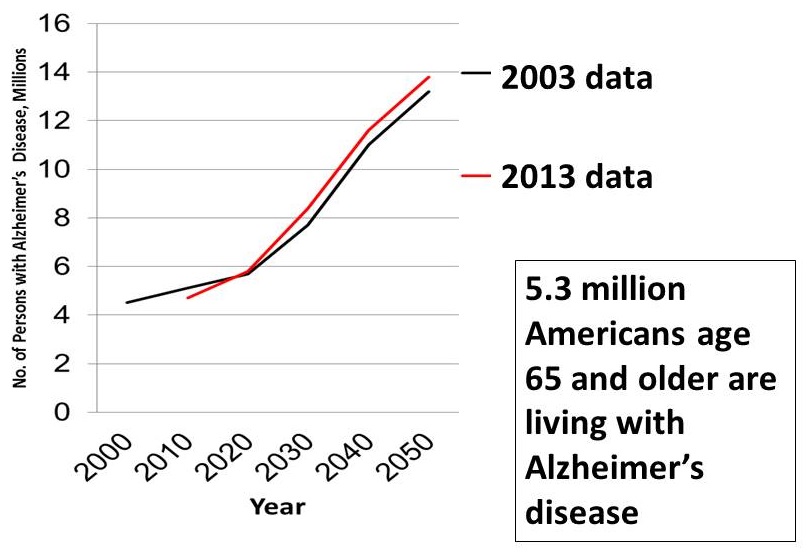 Hebert, LE et al. (2013) Neurology 80(19):1778-83.
Hebert, LE et al. (2003) Arch Neurol 60(8):1119-22.
Global Scale of Dementia
The 46.8 million worldwide cases of dementia will almost double every 20 years to 131.5 million by 2015
ADI. World Alzheimer Report 2015. The Global Impact of Dementia. An Analysis of Prevalence, Incidence, Cost and Trends. London; 2015.
Incidence of Dementia over Three Decades in the Framingham Heart Study
The 5-year age-/sex-adjusted cumulative hazard rates for dementia were:
3.6/100 persons -- 1st epoch (late 1970s - early 1980s)
2.8/100 persons -- 2nd epoch (late 1980s - early 1990s)
2.2/100 persons -- 3rd epoch (late 1990s - early 2000s)
2.0/100 persons -- 4th epoch (late 2000s - early 2010s)
Relative to the incidence during the first epoch, incidence declined by 22%, 38%, and 44% during the 2nd, 3rd, and 4th epochs
Satizabal, CL et al. NEJM (2016) 374(6):523-32
The Growing Cost of Dementia
Dementia costs the US about $200 billion per year. Half that amount is the value of unpaid care provided by family members.
From NIA Health and Retirement Study data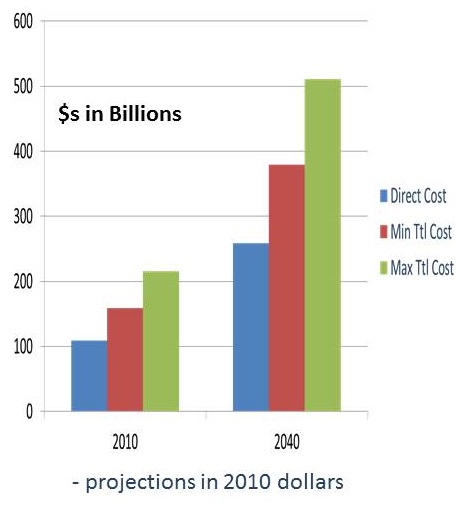 Hurd, MD et al. (2013) NEJM 368(14):1326-1334.
The Burden of Health Care Costs for Patients With Dementia in the Last 5 Years of Life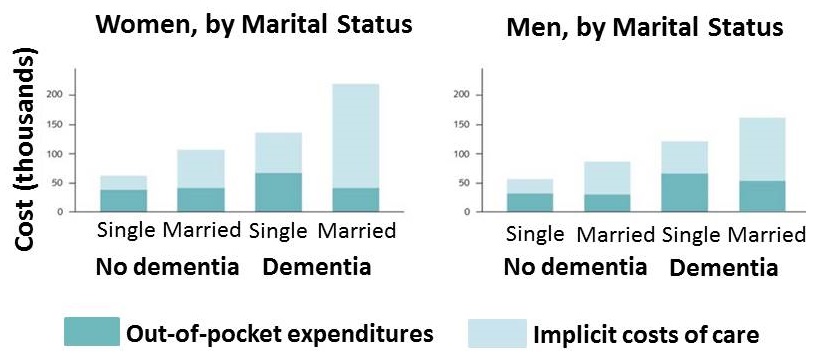 Kelley, A. S., et al. (2015). Ann Intern Med 163(10):729-736.
Out-of-pocket expenditures were slightly lower for married decedents with dementia than for unmarried decedents, but the costs of informal care were more than double for married women in the dementia group
The Burden of Health Care Costs for Patients With Dementia in the Last 5 Years of Life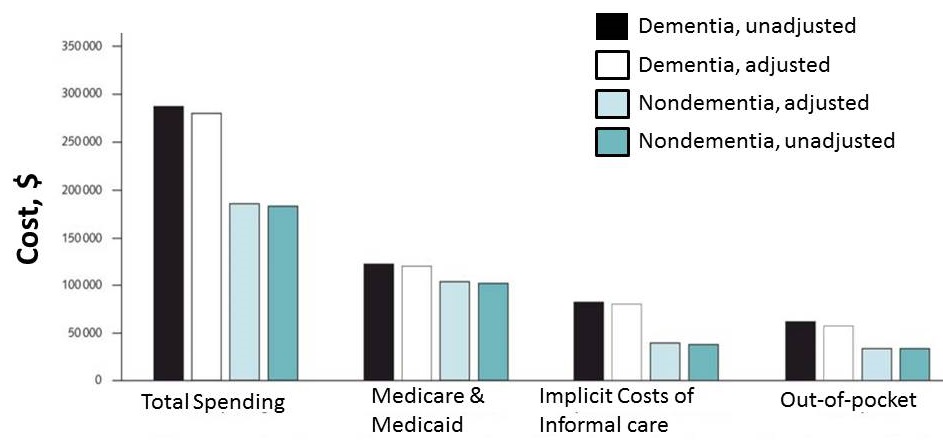 Kelley, A. S., et al. (2015). Ann Intern Med 163(10):729-736.
Risk of Alzheimer's Disease by Age in 2017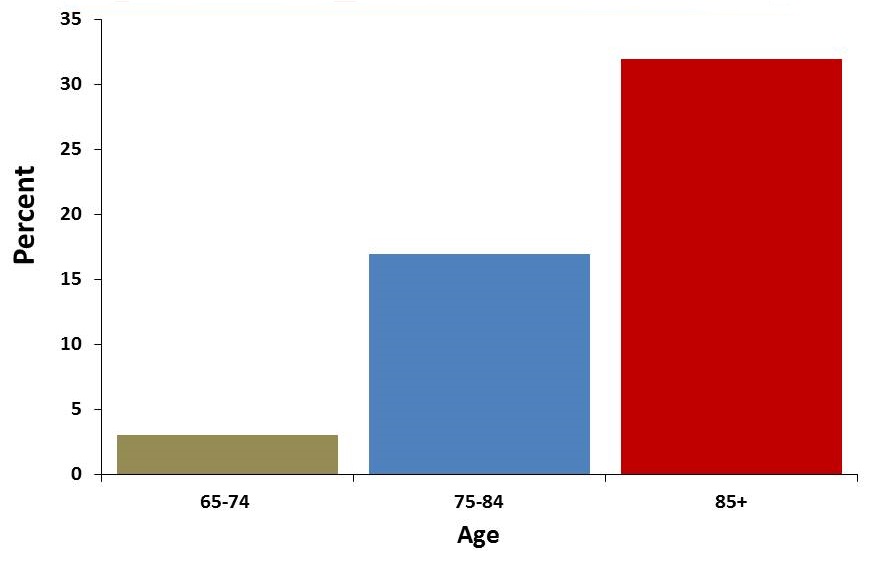 Adapted from Hebert, L et al. (2013) Neurology; 80:1778-1783.
ALZHEIMER'S DISEASE RISKS & PROJECTIONS USING MULTI-STATE MODELS WITH BIOMARKERS
R21AG055361 (Brookmeyer, PI)
GOALS

Forecast pre-clinical and clinical Alzheimer's disease in the U.S.
Evaluate potential impact of primary and secondary prevention interventions on future disease burden
Determine lifetime risks of AD based on biomarker screening

PUBLIC HEALTH RELEVANCE

The project synthesizes new biomarker evidence about preclinical AD into a unifying multi-state model for application to clinical practice and public health.
---
July 28, 2017 -- Advisory Council Meeting #25
The meeting was held on Friday, January 26, 2018, in Washington, DC. The Research Subcommittee took charge of this meeting's theme, focusing on the process from targets to treatments. The Council heard speakers on the preclinical pipeline, the clinical trial pipeline, and the industry perspective. The meeting also included discussion of a driver diagram to guide the Council's future work, updates and a report from the October Care Summit, and federal workgroup updates. Material available from this meeting is listed below and is also available at https://aspe.hhs.gov/advisory-council-alzheimers-research-care-and-services-meetings#Jan2018.
Comments and questions, or alerts to broken links, should be sent to napa@hhs.gov.
---
General Information
Presentation Slides
Videos