Friday, July 28, 2017
Printer Friendly Version in PDF Format (8 PDF pages)
Managing chronic conditions in people living with dementia
Deirdre Johnston, MB BCh
Assistant Professor, Department of Psychiatry and Behavioral Sciences
Co-Investigator and Clinical Intervention Director, MIND at Home
Disclosures
National Institute on Aging (grant)
National Institute of Mental Health (grant)
Centers for Medicare & Medicaid Services (grant)
The Associated (grant)
The Hoffberger Family Philanthropies (grant)
Richman Philanthropies (grant)
Broadmead Retirement Community (consultant)
Co-founder, MIND at Home Halo
Objectives
Briefly describe impact of dementia on chronic conditions, outcomes and costs
Provide overview of baseline comorbidities of MIND at Home enrollees
Brief comment on implications for practice
Chronic disease self-management
Dementia: progressive, irreversible, impairment of cognitive and executive function
Capacity to self-manage is progressively lost
Early intervention and caregiver education needed to prevent medication errors and complications
Commonly heard in clinic: "I don&'t want to take his/her independence away."
Multimorbidity in dementia
The average person with dementia has four comorbid chronic conditions. (Guthrie et al, BMJ 2012)
Clinical guidelines focus on one disorder
Fragmented care is the norm
Multimorbidity and polypharmacy
Older adults with dementia see

multiple providers
for multiple chronic conditions
in different settings (Callahan et al, 2014)

Each comorbid condition may have its own treatment protocol

including one or more medications
Most Frequent Co-morbid Conditions of MIND at Home Participants at Baseline
(CMS and NIA)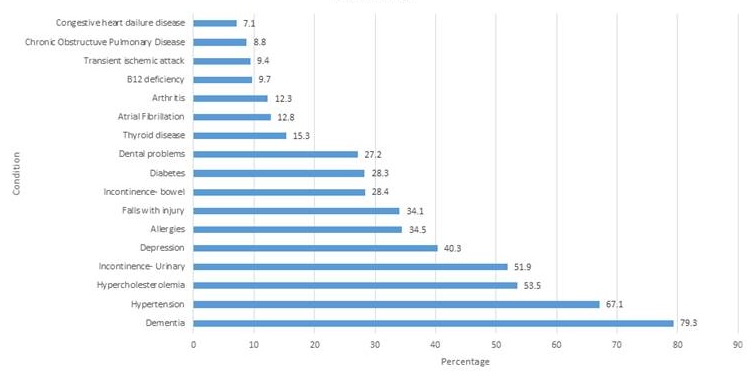 All participants in CMMI MIND at Home demonstration project plus NIA randomized controlled trial (N=647)
Dementia Diagnosis at Baseline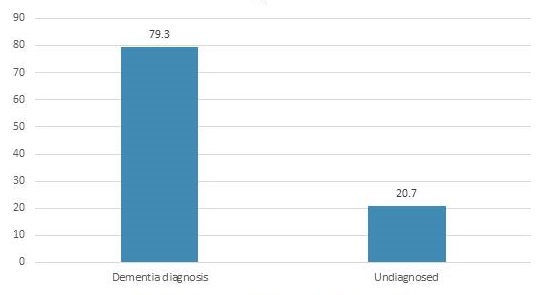 MIND at Home RCT and HCIA, pooled data (N= 647)
Number of Medications at baseline
Participants:
Caregivers:
Dementia is underdiagnosed
Cognitive impairment is under-recognized and under-documented (Brodaty et al., 1994; Callahan et al., 1995; Eefsting et al., 1996; Bush et al., 1997; Lo¨ppo¨nen et al., 2003)
Physicians' reasons for not diagnosing/documenting:

time constraints
cost
stigma
futility (Martin et al., BMC 2015)
Medications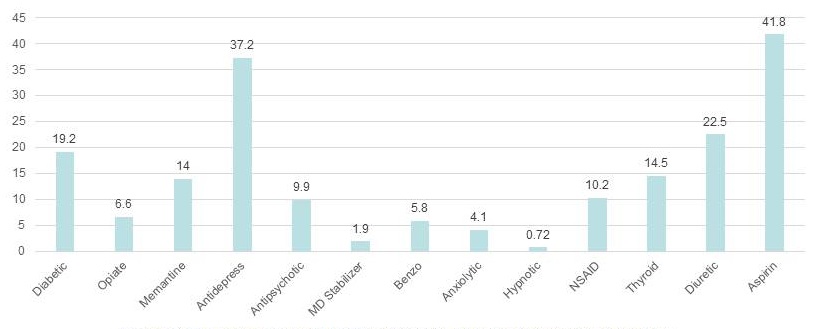 Figure 1: The percentage of MIND participants on some commonly prescribed medications at baseline. 43% had medication use and adherence needs
Cost implications of unmanaged chronic disease in dementia
Most care costs for acute in-patient and institutional/long stay care (Gitlin et al., 2007)
25% of Medicare beneficiaries' costs are incurred in the last year of life (Hogan et al, Med Care, 2013)
People with dementia have 80% higher rates of potentially avoidable hospitalizations (Phelan et al, 2012)
Dementia diagnosis associated with higher costs of anti-dementia drug treatment, but with lower total medical care costs (Michalowsky et al., Int Psychogeriatr 2016)
Impact of dementia on co-existing chronic conditions
Loss of ability to self-manage chronic conditions
Associated with lower continuity of care, higher utilization:

ED visits
hospitalizations
testing
costs (Amjad et al, JAMA 2016).

Early diagnosis and pro-active management of chronic conditions needed
Caregiver education and support necessary
Reasons to screen and diagnose
To treat and manage dementia
Educate and support caregiver
Address and manage comorbid conditions by:

Eliminating unnecessary medications
Helping caregiver cope
Educating caregiver on managing the dementia and the comorbidities
Reducing caregiver burden

E.g, Some CGs make multiple trips to pharmacy per month
Summary and recommendations
Dementia can be treated and managed
Management of dementia includes managing the comorbidities

Caregiver education
Identification of high risk dyads
Support and coaching
Adaptation of care plan to changing needs

Provider education/awareness to increase detection and treatment
Workforce adaptation (e.g., Memory Care Coordinators)
Attention to diversity and sensitivity to end of life care needs
---
July 28, 2017 -- Advisory Council Meeting #25
The meeting was held on Friday, January 26, 2018, in Washington, DC. The Research Subcommittee took charge of this meeting's theme, focusing on the process from targets to treatments. The Council heard speakers on the preclinical pipeline, the clinical trial pipeline, and the industry perspective. The meeting also included discussion of a driver diagram to guide the Council's future work, updates and a report from the October Care Summit, and federal workgroup updates. Material available from this meeting is listed below and is also available at https://aspe.hhs.gov/advisory-council-alzheimers-research-care-and-services-meetings#Jan2018.
Comments and questions, or alerts to broken links, should be sent to napa@hhs.gov.
---
General Information
Presentation Slides
Videos