Friday, July 28, 2017
Printer Friendly Version in PDF Format (7 PDF pages)
Increasing Opportunities for Choice and Control for Persons with Dementia
Today's Conversation
Introduction to Self Direction

The philosophy and practice of self direction
Importance of the role of a representative
Why self-direction is right for some

Research Findings
How is Self-Directing faring?
Basic Assumptions of Self-Direction
Other Interesting Tid-bits
Questions
Defining Self Direction
Person Decides
Those who provide supports and services are accountable to the individual and/or representative.
The freedom for one to plan his/her own life.
Flexibility based on personal preferences.
Representatives
May be used if a person is apprehensive about self-directing
May be used if a person lacks the cognition or ability to make decisions
Must reflect a strong personal relationship with the person
Must express knowledge about the persons needs, wishes, and personal goals and make decisions based on those preferences
Must agree to accept responsibility for self-directing
Agree to a face-to-face interview routinely
May not be paid to be a representative
May not be paid to be a hired worker for the person
May not have a history of abuse, neglect or exploitation
Must participate in the person-centered planning process
About 40% of elderly have designated a representative
Why Self Direction is Right for Many
Allows greater access to services in rural areas.
Expands labor force by creating new opportunities for caregiver employment.
Honors cultural uniqueness of individuals with workers.
Allows participants to be served by individuals they know and trust. Continuity is critical particularly for those with dementia.
Preferences may change over time.
Cost is same or less that traditional personal care services.
Facilitates easier access to services on nights and weekends.
Flexible budgets allow for persons to have greater access to community activities.
Research Findings
Health and welfare

Display better health outcomes
Very few incidents of reported abuse, neglect or exploitation

Service use

Modest increase in obtaining personal care and equipment
Individuals more likely to obtain services they need
When needs are met, use of higher-cost services is reduced

Caregiver reaction

More satisfied with care arrangement
Expressed less emotional strain
Most felt well-trained to perform duties

Positive influence on the quality of life

Increased satisfaction
Enhanced feeling of safety
Continuity of care

Improves access to services

Participants receive necessary services
Significantly reduces unmet needs

Promotes life in the community

Shown to reduce nursing facility placements even more than traditional services
How is Self-Direction Going?
How Many People Self-Direct?

Over one million are self-directing
Medicaid is the largest funder of services
Medicaid programs down to 252 due to consolidation
Serves all ages, across all disability populations

Other Interesting Facts

CA and MA have used self-direction since mid-1980s
Significant take-up with Managed Care Health Plans
Scotland and England have used self-direction with a focus on individuals with dementia for years
Australia s implementing a nationwide system using self-direction

Challenges Reported

Case management lack of interest in self-direction
Enrollment labor-intensive
Some apprehensive to be an employer
Perception of fraud, abuse and misuse of program funds
Fair Labor Standards Act compliance
Majority of States have 1000 - 5000 Participants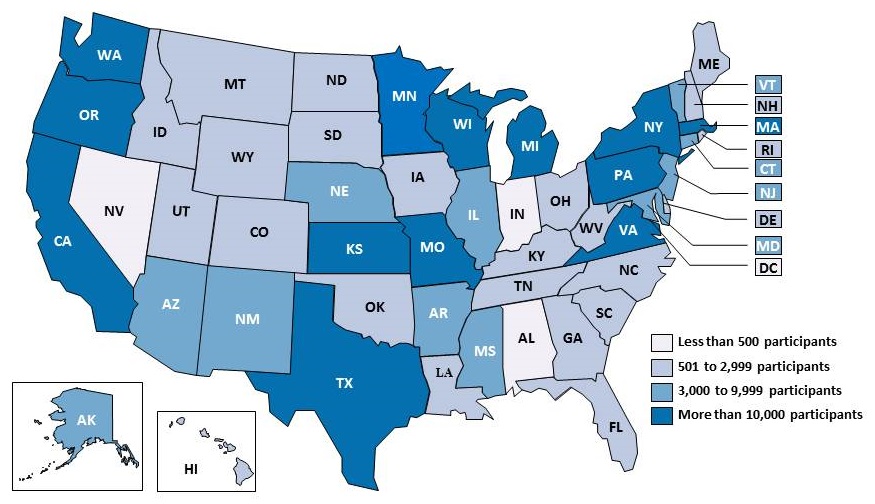 ALT TEXT:
Less than 500 participants: Alabama, District of Columbia, Indiana, Nevada
501 to 2,999 participants: Colorado, Delaware, Florida, Georgia, Hawaii, Idaho, Iowa, Kentucky, Louisiana, Maine, Montana, New Hampshire, North Carolina, North Dakota, Ohio, Oklahoma, Rhode Island, South Carolina, South Dakota, Tennessee, Utah, West Virginia, Wyoming
3,000 to 9,999 participants: Alaska, Arizona, Arkansas, Connecticut, Illinois, Maryland, Mississippi, Nebraska, New Jersey, New Mexico, Vermont
More than 10,000 participants: California, Kansas, Massachusetts, Michigan, Minnesota, Missouri, New York, Oregon, Pennsylvania, Texas, Virginia, Washington, Wisconsin
Assumptions of Self Direction
Persons with cognitive limitations should have the option to self-direct
Participants/Representatives are experts when it comes to their own lives
Participants prefer to make their own decisions related to their needs and preferences
Some participants will choose to take a more active role in meeting their needs and preferences
Supports must be available including counseling and assistance with payroll, employer/employee obligations, and managing a budget
Participants will exercise their choices and spend money wisely
PD may save money. When people receive the basic services they need, there is less reliance on hospitalizations, ER visits, and admissions to nursing homes.
This May Surprise You
Twenty four percent of people of all ages who receive Medicaid and Medicare home health have moderate to severe cognitive impairments.*
Budgets can be used to purchase items designed for safety.

For example, wondering devices, video monitoring systems, exit sensors, and bed occupancy notifications, reminding devices, medication management systems, GPS locators and tracking devices, and picture phones.

Many Medicaid Waivers include special services for persons with dementia.

These include additional training for health care workers, dementia coaching, and crisis intervention.

Many Medicaid programs permit payment for advanced training for caregivers, in-home and out-of-home respite, payment for conferences and workshops, and unique learning opportunities.
* http://www.KFF.org/Medicaid/issue-brief/medicaids-role-for-people-with-dementia/
Closing Remarks
Self-directing is growing in the Medicaid and Managed Care markets.
There is attention to private pay and long-term health insurance companies to adopt self direction.
The penetration rate for self-directed Medicaid programs remains low in most areas ( between 5 % and 20%).
Training varies among programs from none to 40 hours of intensive training prior to hire.
Cost studies have not been definitive.
Financial Management Services has become more sophisticated ( mobile applications for timesheet submissions, electronic service plans allowing for immediate changes, real-time view of budgets on line, and electronic voice verification systems (a requirement in 2019) to verify worker/participant/location/tasks of service.
What kind of programs do you want available to you?
Questions
PUBLIC CONSULTING GROUP
http://www.publicconsultinggroup.com
---
July 28, 2017 -- Advisory Council Meeting #25
The meeting was held on Friday, January 26, 2018, in Washington, DC. The Research Subcommittee took charge of this meeting's theme, focusing on the process from targets to treatments. The Council heard speakers on the preclinical pipeline, the clinical trial pipeline, and the industry perspective. The meeting also included discussion of a driver diagram to guide the Council's future work, updates and a report from the October Care Summit, and federal workgroup updates. Material available from this meeting is listed below and is also available at https://aspe.hhs.gov/advisory-council-alzheimers-research-care-and-services-meetings#Jan2018.
Comments and questions, or alerts to broken links, should be sent to napa@hhs.gov.
---
General Information
Presentation Slides
Videos