Friday, July 28, 2017
Printer Friendly Version in PDF Format (7 PDF pages)
CommunityRx for Community-Residing People with Dementia and Their Caregivers
Stacy Tessler Lindau, MD, MAPP
Professor, Ob/Gyn and Medicine-Geriatrics
The University of Chicago
Disclosures
The CommunityRx project described was supported in part by Grant Number 1C1CMS330997-01-00 (Lindau, PI) from the Department of Health and Human Services, Centers for Medicare & Medicaid Services and by a Technical Assistance Grant from the New York State Health Foundation. It is currently supported by Grant Number 1R01 AG 047869-01 (Lindau, PI) and Grant Number 3R01 AG 047869-03S1 from the National Institutes of Health/ National Institute of Aging, and Grant Number HS 023921-01 (A Kho, PI) from the Agency for Healthcare Research and Quality.
The contents of this presentation are solely the responsibility of the authors and do not necessarily represent the official views of the U.S. Department of Health and Human Services or any of its agencies.
Under the terms of the CMS funding opportunity, we were expected to develop a sustainable business model which will continue and support the model that we tested after award funding ends.
Dr. Stacy Lindau is the founder and owner of a social impact company NowPow, LLC and president of MAPSCorps, 501( c ) (3). Neither NowPow, LLC nor MAPSCorps, 501 ( c ) (3) is supported through CMS or other federal funding.
Neither the University nor UCM is endorsing or promoting any NowPow/MAPSCorps Entity or its business, products, or services.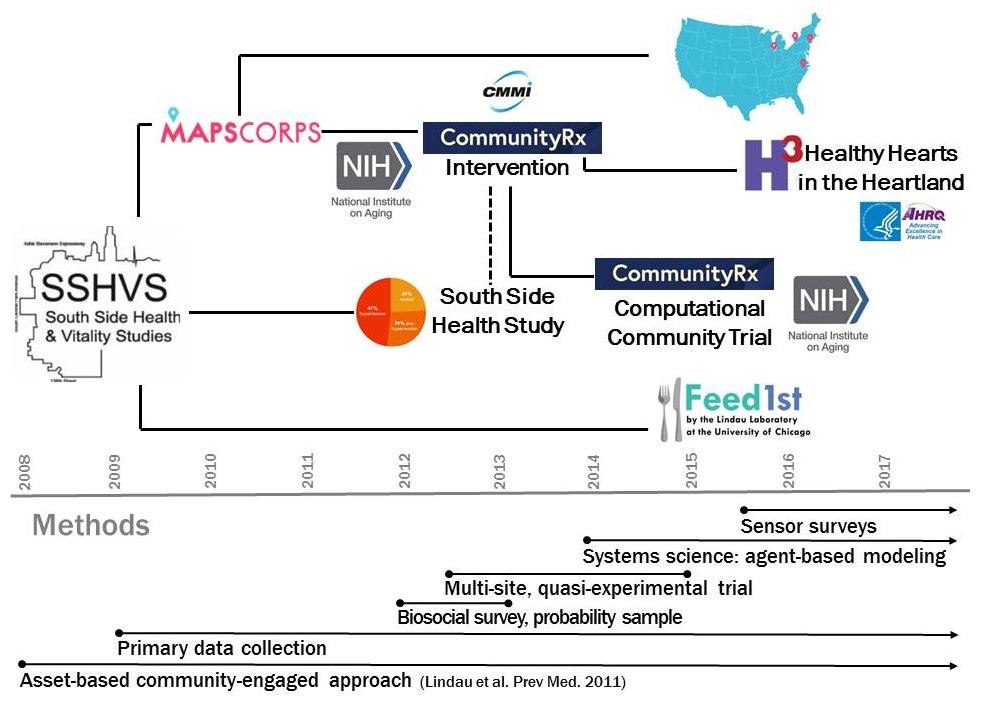 Calling All Innovators -- Health Care Innovation Challenge*
Three-Part Aim (#1-3)
Better Health
Better Health Care
Lower Costs
Workforce of the future
Sustainable business model
Especially interested in ideas that: impact the underserved, address health disparities, reduce the effect of multiple co-morbidities, and/or modify of risk factors
* https://obamawhitehouse.archives.gov/blog/2011/12/07/calling-all-innovators-health-care-innovation-challenge-open-great-ideas
CommunityRx
MAPSCORPS

288 local youth employed to generated data for 19,589 places

37condition algorithms linked
3 EMR platforms to CommunityRx database at 33 health care sites
>113K participants received
>253K personalized HealtheRx
>7,000 community resources
19% went to community resource found on HealtheRx
49% told someone else about HealtheRx
Businesses and organizations serving the community have more demand
CommunityRx: A Population Health Improvement Innovation That Connects Clinics To Communities
16 ZIP codes
106 mi2
993,812 people
>113K participants*

49% 18-64 yrs
64% Female
84% Black
6% Hispanic or Latino
66% Public insurance
24% Private insurance

EMR integrations

Epic, GE Centricity, NextGen
Appendix Exhibit 3. CommunityRx algorithms generated personalized referrals to community resources for basic, wellness, disease self-management and caregiving needs*
Health and wellness conditions
Study month of algorithm release
HealtheRxs generated for algorithm, months 9-36, number (%)
HealtheRxs generated for algorithm, months 30-35, number (%)
Allergic rhinitis
28
11,930 (4.7)
10,075 (8.5)
Alzheimer's/dementia
28
1,931 (0.8)
1,583 (1.3)
Anemia
28
12,195 (4.8)
10,352 (8.7)
Attention deficit hyperactivity disordera
24
1,696 (0.7)
1,023 (0.9)
   <18 years old
28
980 (0.4)
817 (0.7)
   18 years or older
28
249 (0.1)
206 (0.2)
Asthmaa
15
38,497 (15.2)
17,499 (14.8)
   <15 years old
28
6,113 (2.4)
5,049 (4.3)
   15 years or older
28
14,419 (5.7)
12,167 (10.3)
Arthritis/back pain
24
33,962 (13.4)
21,659 (18.3)
Breast/genecologic cancer
28
2,377 (0.9)
1,941 (1.6)
Breast/genecologic cancer survivorship
24
851 (0.3)
529 (0.5)
Congestive heart failure
24
1,389 (0.6)
869 (0.7)
Chronic obstructive pulmonary disease
24
4,576 (1.8)
2,755 (2.3)
* partial reprint of article table.
Geographic distribution of unmet caregiver needs on the South Side of Chicago
"..My buddy was telling me, eventually I will probably have to find a place for her to go full-time. And he said, he told me I need to start saving my money because healthcare is not gonna pay for it, for the full-time care. It's kinda like you gonna have to pay out of your pocket or whatever. So, I haven't looked into that yet..."
"I was going to...line dancing class. Line dancing class! That's lovely. And lots of people do line dancing. But I had to stop that too because I couldn't keep it up... But I'd say fitness classes, line dancing classes. A lot of seniors, especially African American, they do that. They go out line dancing. Yeah."
CommunityRx Agent Based Model
Prototype, using fictional data, of CommunityRx forecasting dashboard
Policy Implications for NAPA Goal #3: Expand services and supports for PWD and families
Intensive caring for caregivers: Hyperlocal (geographically and culturally), ongoing, escalating, with special concern for higher poverty communities
Proactive transparency by community-based programs/services that receive government or tax-deductible funding
Sustainability: Incentivize business owners, governments and CBOs to provide on-site support for PWD
Acknowledgements
Lindau Lab

Emily Abamsohn, MPH
Kelly Boyd
Monica Christmas, MD
Megan DePumpo, AM
Mahalia Dalmage
Leilani Douglas
Gillian Feldmeth
Natalia Gavrilova, PhD
Jessica Jerome, PhD
Jennifer Makelarski, PhD, MPH
Chenab Navalkha
Kelsey Paradise
Jerlinda Ross, MD, MS

Current collaborators

David Beiser, MD, MS
Tia Kostas, MD
Chia-Hung Chou, PhD
Elbert Huang, MD, MPH
Abel Kho, MD
Charles Macal, PhD
Jonathan Ozik, PhD
Elizabeth Tung, MD
slindau@uchicago.edu
@stacylindau
---
July 28, 2017 -- Advisory Council Meeting #25
The meeting was held on Friday, January 26, 2018, in Washington, DC. The Research Subcommittee took charge of this meeting's theme, focusing on the process from targets to treatments. The Council heard speakers on the preclinical pipeline, the clinical trial pipeline, and the industry perspective. The meeting also included discussion of a driver diagram to guide the Council's future work, updates and a report from the October Care Summit, and federal workgroup updates. Material available from this meeting is listed below and is also available at https://aspe.hhs.gov/advisory-council-alzheimers-research-care-and-services-meetings#Jan2018.
Comments and questions, or alerts to broken links, should be sent to napa@hhs.gov.
---
General Information
Presentation Slides
Videos