Friday, February 3, 2017
Printer Friendly Version in PDF Format (10 PDF pages)
Alzheimer's and Related Dementias Research: Transforming AD Therapy Development
Richard J. Hodes, M.D.
Director
National Institute on Aging
Current AD Clinical Trials "Score Card"
Phase III Randomized, Double-blind, Placebo Controlled, Clinical Trials for AD - Failures due to lack of efficacy or unforeseen toxicity.
| Agent | Target/Mechanism | Outcome |
| --- | --- | --- |
| Atorvastatin | HMG CoA reductase | Negative |
| Dimebon | Mitochondrial function | Negative |
| Semagacestat | Gamma secretase | Negative |
| NSAIDs | Inflammation | Negative |
| Phenserine | Cholinesterase/Amyloid | Negative |
| Rosiglitazone | PPAR gamma agonist | Negative |
| Simvastatin | HMG CoA reductase | Negative |
| Tarenflurbil | Gamma secretase | Negative |
| Xaliproden | Serotonin antagonist | Negative |
| Bapineuzumab | amyloid beta (passive immunization) | Negative |
| Solanezumab | amyloid beta (passive immunization) | Negative* |
| IVIG | amyloid beta (passive immunization) | Negative |
What may have gone wrong? An iceburg analogy
Above the surface

We are targeting the wrong pathophysiological mechanisms
Drugs do not engage with the intended target
Interventions are started at the wrong stage of the disease
Lack of translatable pharmacodynamic biomarkers
Poor predictive power of animal model preclinical efficacy testing

Below the surface

Insufficient understanding of disease complexity and the physiologic response to therapeutic intervention
Leveraging Trans-NIH Translational Programs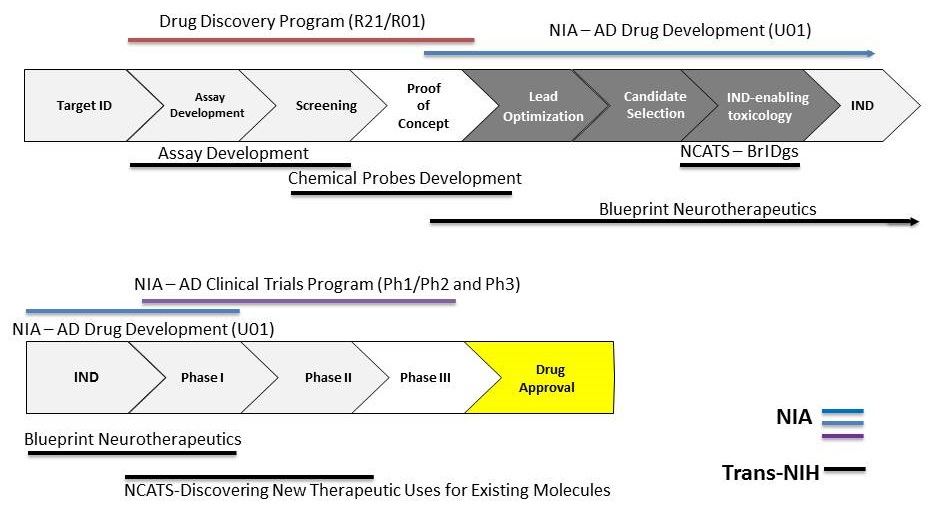 *SBIR/STTR funding opportunities exist for the full spectrum of drug discovery/development
The Alzheimer's Pill
LM11A-31 - first in class, small molecule modulator of the P75 Neurotrophin Receptor

P1 -- Frank Longo MD and NeurotrophiX

The pre-clinical drug development and part of the IND-enablng studies for LM11A-31 were supported through NIA's

AD Translational Program
IND Toxicology Program

The Phase II trial is being supported through NIA's Pilot Clinical Trials Program
Accelerating Medicines Partnership
Managing Partner

Foundation for the National Institutes of Health

Alzheimer's Disease Program Partners

National Institute on Aging
National Institute of Neurological Disorders and Stroke
Food and Drug Administration
AbbVie Inc.
Biogen Inc.
GlaxoSmithKline
Eli Lilly and Company
Alzheimer's Association
Alzheimer's Drug Discovery Foundation
Geoffrey Beene
USAgainst Alzheimer's
Accelerating Medicines Partnership (AMP)
Alzheimer's Disease -- Two Projects
Target Discovery and Preclinical Validation to Find New Disease-Relevant Drug Targets

Generate "omic" data on ~2,500 brains
Integrate

Molecular profiling
Predictive Modeling
Experimental validation

Central Portal for Data Sharing
6 Academic Teams -- NIA grants

Biomarkers to Characterize Existing and New Biomarkers

PET TAU and novel biomarkers
Added to three anti-amyloid prevention trials
GAAIN
Sage Bionetworks -- Synapse
Data released as soon as QC is completed
Open and Controlled Access
No publication embargo imposed on the use of data after they have been made available through the public portal
Building on and expanding the AMP-AD Target Discovery Project
M2OVE-AD
Molecular Mechanisms of the Vascular Etiology of Alzheimer's Disease
A collaboration between NIA and NINDS
~$30 million over 5 years to support cross disciplinary research teams:
5 research teams will generate various "omics" data from brain and peripheral fluids from individuals participating in several natural history and population studies and use network biology approaches to integrate these data with data on neuroimaging, vascular physiology and cognitive measures.
Predictions about molecular mechanisms will be explored in animal models (AD models and models of vascular/metabolic risk factors).
Goals and deliverables:

rapid and broad sharing of data
deeper understanding of the phenotypes of risk and the mechanisms linking vascular risk factors, cerebrovascular disease and AD
new disease-relevant therapeutic targets for prevention
molecular signatures that can be non-invasively measured and used for patient stratification
Alzheimer's Disease Preclinical Efficacy Database
Alzheimer's Disease Translational Center for Animal Model Resources and Preclinical Efficacy Testing Multi Component Center
Program Scope and Goals:
Development and characterization of the new generation of AD Tg animal models, ensuring their maximal and rapid availability to researchers engaged in preclinical drug development
Extensive characterization and clinico-pathological staging of existing and new AD Tg mouse models with the corresponding stages of clinical disease
Development of translatable pharmacodynamic biomarkers for novel therapeutic targets
Establishment and implementation of guidelines for standardized best practices for the rigorous preclinical testing of AD candidate therapeutics in AD Tg models
Preclinical efficacy testing of selected candidate AD therapeutics (single or combinations of compounds) using standardized best practices
AD models distribution - rapid and free of legal barriers for use in therapy development.
RFA AG16-014 (U54): Indiana University/Jax Labs/Sage Bionetworks [http://grants.nih.gov/grants/guide/rfa-files/RFA-AG-16-014.html]
rich human and cell/animal models 'omics' data
network models of targets and disease pathways
"omics"- based biomarkers for target engagement and patient stratification biomarkes
cell and animal models characterized relative to human network
ENABLING CLINICAL DRUG DEVELOPMENT
-new biomarker initiatives and clinical trials infrastructure-
Alzheimer's Biomarker Consortium -- Down Syndrome (ABC-DS)
Supported by NIA and NICHD
~$37 million over 5 years, for two research teams
Biomarkers will be explored to track AD-related changes in the brain and cognition for ~500 adults with Down syndrome
Measures include PED, MRI, CSF and blood markers, DNA for GWAS, cognitive/memory tests
Research teams are collaborating and harmonizing measures and procedures
Data and samples will be made available
Alzheimer's Clinical Trials Consortium (ACTC)
Purpose: Establish a consortium to run trials focused on interventions that may prevent, delay, or treat the symptoms of AD and other age-related dementias.
Include multiple clinical trials sites and trial coordination and management infrastructure.
Conduct clinical trials (Phase I to III) of promising pharmacological and non-pharmacological interventions for cognitive and neuropsychiatric symptoms.
Provide a state-of-the-art clinical trial infrastructure to facilitate rapid development and implementation of protocols.
Related Recent Funding Initiatives
Interdisciplinary Research to Understand the Complex Biology of Resilience to Alzheimer's Disease Risk (R01)
Phenotypic and Functional Characterization of ApoE2 to Inform Translation Strategies for Aging-Related Conditions (R01/R21)
Integrative Research to Understand the Impact of Sex Differences on the Molecular Determinants of AD Risk and Responsiveness to Treatment (R01)
Translational Bioinformatics Approaches to Advance Drug Repositioning and Combination Therapy Development for Alzheimer's Disease (R01)
Enhancing the Target and Biomarker Discovery Efforts of the AMP-AD and M2OVE-AD Consortia (R01)
Newest Alzheimer's FOAs
Resource Leveraging
Caregiving
Clinical Care and Trials
Translational research
Basic research
Training
Alzheimer's Disease FOAs: http://www.nia.nih.gov/AD-FOAs
NINDS Funding Opportunity Announcements on Alzheimer's Disease-Related Dementias (ADRD) for FY 2017
Two new Funding Opportunity Announcements in partnership with NIA:
Leveraging Existing Resources for Research on Lewy Body Dementia (R03) RFA-NS-17-016 [https://grants.nih.gov/grants/guide/rfa-files/RFA-NS-17-016.html]

This FOA encourages researchers to take advantage of existing data and biospecimens housed in two large NIH-supported programs (i.e., ADNI/NACC and Parkinson's Disease Biomarkers Program databases) for the purpose of answering research questions about LBD and co-occurrence of dementia and parkinsonism.

Frontotemporal Degeneration (FTD) Sequencing Consortium: Discovery, Replication, and Validation (UG3/UH3) RFA-NS-17-017 [https://grants.nih.gov/grants/guide/rfa-files/RFA-NS-17-017.html]

This FOA supports the genetic discovery, replication and validation of disease-causing mutations, risk variants and genetic modifiers that contribute to FTD.

Applications are due Feb 10
Save the Dates!
AD Care and Services Research Summit
October 16-17, 2017
Bethesda, MD
Alzheimer's Disease Research Summit (III)
March 1-2, 2018
Bethesda, MD
---
February 3, 2017 -- Advisory Council Meeting #23
The meeting was held on Friday, February 3, 2017, in Washington, DC. The theme of this Advisory Council meeting was clinical trials for Alzheimer's disease and related dementias and recruitment challenges. Additional afternoon presentations included updates on progress towards a Care and Services Summit, federal workgroup updates, and preparation for the Advisory Council's 2017 Recommendations, due in April 2017. Material available from this meeting is listed below and is also available at https://aspe.hhs.gov/advisory-council-alzheimers-research-care-and-services-meetings#Feb2017.
Comments and questions, or alerts to broken links, should be sent to napa@hhs.gov.
---
General Information
Handouts
Presentation Slides
Videos