Friday, February 3, 2017
Printer Friendly Version in PDF Format (14 PDF pages)
Strategies to facilitate recruitment and screening for Alzheimer's clinical trials
Rachel L. Nosheny, Ph.D.
UCSF Department of Radiology and Biomedical Imaging
Co-investigator
Alzheimer's Patient & Caregiver-Powered Research Network
Funded by:

PCORNET
The National Patient-Centered Clinical Research Network

A collaboration between:

Mayo Clinic
Univesity of Florida
USAgainst Alzheimer's
BrainHealth Registry

Leadership:
Principal Investigator

Ron Petersen, Mayo Clinic

Co-Investigators

Meryl Comer, Geoffrey Beene Foundation
Michael Weiner, UCSF, Brain health Registry
Glenn Smith, University of Florida
Alex Alexander, Mayo Clinic
AD-PCPRN Goal and Specific Aims
Overall goal: To accelerate development of effective treatments for Alzheimer's disease and related dementias
Specific Aims

Connect patients, caregivers, and researchers focused on developing, conducting, and disseminating patient-centered dementia research
Recruit, engage, and educate individuals at risk for or with Alzheimer's Disease and related dementias and caregivers in a patient-centered network
Screen, refer, and enroll individuals in Alzheimer's trials and observational studies
Increase diversity in Alzheimer's trials through outreach to minority populations, especially African Americans and Latinos
AD-PCPRN Structure
BrainHealthRegistry.org:Web portal for recruitment, engagement & longitudinal monitoring
Brain Health Registry: How It Works
Sign up
Tell us about yourself

13 questionnaires (health history, family history, medications, memory problems, mood, lifestyle)

Take some tests
Invite a study partner

Study Partner can separately register and answer questions about participant and self

Come back...and come back again

Participants and study partners return every 6 months to complete follow-up tasks
AD-PCPRN participants in the Brain Health Registry
Total of 30,944 participants enrolled

Age 55+
Interested in learning about future research opportunities

Longitudinal data collected from 12,975

Retention rate of ~40% over 2 years of follow up
31% complete all tasks
64% provide enough information to assess whether they are likely to be eligible for AD trials
Geographic distribution of participants
Demographics
Age Distribution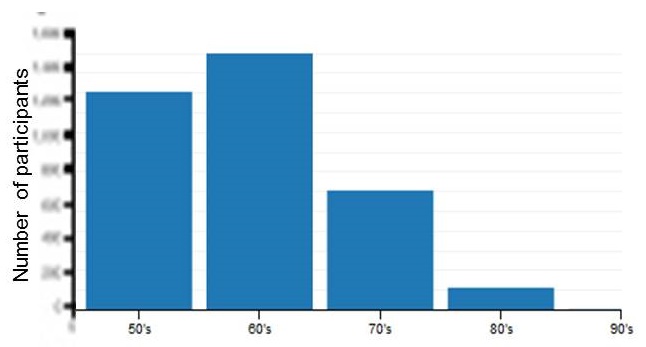 Gender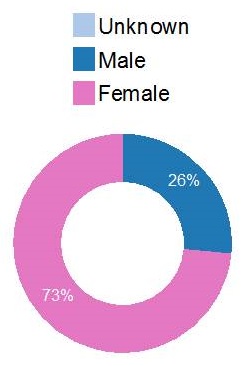 Race & Ethnicity
4% African American
2.1% Asian
86.7% Caucasian
1.2% Declined To state
2.8% Mixed
0.3 Native American
2.3% Other
0.1% Pacific Islander
Educational Attainment
2.2% Grammar School
5.8% High School
18.3% Some College
8.5% 2 Year Degree
28.8% 4 Year Degree
25.1% Masters Degree
5.1% Doctoral Degree
5.8% Professional Degree
Alzheimer's risk factors
Family History of Alzheimer's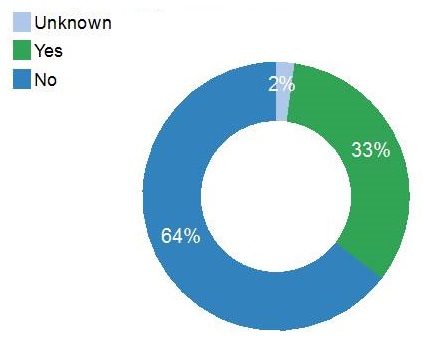 Memory Concern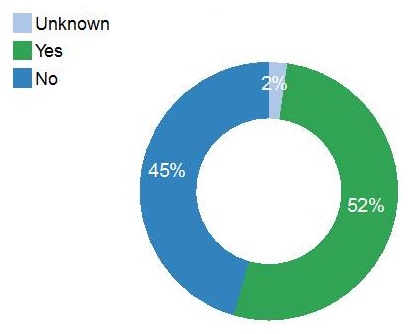 How does the AD-PCPRN facilitate AD clinical study recruitment?
Prescreening participants for AD clinical trials
ADPCPRN participants likely to be eligible for Alzheimer's trials
Referral of AD-PCPRN participants to clinical studies
10,001 participants have been referred to 10 Alzheimer's and aging clinical studies

Large, observational studies (late life depression, healthy aging, olfaction)
Randomized treatment trials
Validation study of online tests

757 participants have been enrolled in studies

Vast majority are enrolled in observational or validation studies
A major challenge has been to successfully enroll in treatment trials
New strategies to maximize enrollment in trials
Facilitating recruitment through study partner engagement: The Brain Health Registry Caregiver & Study Partner Portal
Brain Health Registry Caregiver and Study Partner Portal (CASPP)
Infrastructure & database within BHR for a study partner to separately register and consent online
Study partners answer questions about the participant's cognitive and daily functioning
Unique advantages of study-partner reported information

Associated with many disease-related outcomes
May sometimes be more accurate than self-report
Can identify change in function using a single data point
Focuses on outcomes that matter to patients & families
Can help overcome patient barriers to participation
May help recruit participants who are too impaired to join themselves

Study partners also report on their own health and caregiver experience
Demographics of AD-PCPRN Study Partners
Total: 1895 Study Partners
Age Distribution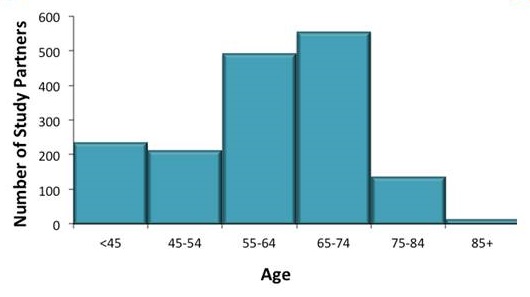 Gender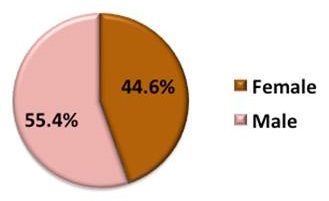 Relationship to Participate

Caregiver Status

Characteristics of BHR Study Partners: Report of health/cognitive status
About the participant
Report of participant status
Concern about participant memory
9.5%
Participant cognitive change
15.6%
Participant IADL change
10.5%
Participant MCI
2.0%
Participant AD
0.9%
About the study partner him/herself
Self-report health
Memory concern
34.7%
Positive stress screening question
6.3%
Positive mood screening question
15.4%
Online study partner-reported data provides valid information about participant function
Study partner-reported variables are significantly associated with:

self-reported subjective memory complaints
Self-reported recent changes in memory and daily functioning
Online memory test scores of the participant
Summary & Future Directions
Overall Goal of the AD-PCPRN is to facilitate Alzheimer's clinical research
To date

Over 30,000 participants, 1800 study partners, and 800 caregivers are enrolled in AD-PCPRN through the Brain Health Registry
Over 700 participants have been enrolled in clinical research studies
Engagement efforts are reaching many more, with a focus on increasing diversity
Major challenges are successful enrollment in to treatment trials and recruitment of minorities

In the future, the AD-PCPRN will aim to

Increase enrollment and engagement of participants
Optimize referral to studies by analysis of success rates
Conduct research to advance recruitment science
Alzheimer's Patient & Caregiver-Powered Research Network
Partners:

Mayo Clinic
Univesity of Florida
USAgainst Alzheimer's
BrainHealth Registry

Leadership:

Ronald C. Petersen, MD, PhD, Mayo Clinic
Alex Alexander, MBA, MPA, Mayo Clinic
Meryl Comer, Geoffrey Beene Foundation
Glenn Smith, PhD, University of Florida
Michael W. Weiner, MD, UCSF

Governance Board:

all investigators +
Debra Lappin, FaegreBD Consulting
Rachel Nosheny, UCSF, Brain Health Registry
Sally Sacher, Us Against Alzheimer's
George Vradenburg, Global Alzheimer's Platform Foundation
---
February 3, 2017 -- Advisory Council Meeting #23
The meeting was held on Friday, February 3, 2017, in Washington, DC. The theme of this Advisory Council meeting was clinical trials for Alzheimer's disease and related dementias and recruitment challenges. Additional afternoon presentations included updates on progress towards a Care and Services Summit, federal workgroup updates, and preparation for the Advisory Council's 2017 Recommendations, due in April 2017. Material available from this meeting is listed below and is also available at https://aspe.hhs.gov/advisory-council-alzheimers-research-care-and-services-meetings#Feb2017.
Comments and questions, or alerts to broken links, should be sent to napa@hhs.gov.
---
General Information
Handouts
Presentation Slides
Videos