Friday, February 3, 2017
Printer Friendly Version in PDF Format (11 PDF pages)
NINDS Update: National Plan to Address Alzheimer's Disease ADRD Milestones
Roderick A. Corriveau, Ph.D.
Program Director and
AD/ADRD Program Planning Lead, NINDS
NINDS Complements the NIA's Lead Role at the NIH in Responding to the National Plan
Alzheimer's Disease-Related Dementias (ADRD)

Related dementias include frontotemporal dementia (FTD), Lewy body (LBD), mixed, and vascular dementias (VCID).

Goal 1: Prevent and Effectively Treat AD/ADRD by 2025

HHS will identify interim milestones and set ambitious deadlines for achieving these milestones in order to meet this goal.

Action 1.A.8

NINDS/NIH to regularly convene stakeholders for ADRD Summit to review research progress and refine and add new milestones as appropriate, based on recent scientific discoveries.

NIA leads overall response to National Plan, as well as the priority setting AD Summits
Interest across neurodegenerative disorders: potential for mechanistic, translational, and clinical synergy
NINDS AD portfolio focuses on molecular mechanisms of disease pathophysiology: $66.6M in FY15 (NIH $589M)
NINDS ADRD portfolio:

FTD: $19M in FY15 (NIH $36M)
LBD: $7M in FY15 (NIH $15M)
VCID: $10M in FY15 (NIH $72M)

Lead for NAPA-Responsive ADRD Summits (2013, 2016)
NIH AD/ADRD Research Planning and Relationship to Funding
ADRD 2016 Summit
David M. Holtzman, MD Washington University SOM, Scientific Chair
Roderick A. Corriveau, PhD NINDS, Program Director, NIH Lead
Steering Committee

Karen Chen, Tom Montine, Bruce Obviagele, Ron Petersen, Tony Phelps

Session Committees -- 67 Leading Scientists & NGO members

Overarching: MED (Chairs: D. Knopman, D. Bennett); Health Disparities (J. Manly); NGO* (*new in 2016; S. Dickinson, H. Fillit; A. Taylor [nomenclature])
Disease-Specific: LBD (K. Marder, D. Dickson); FTD (W. Seeley, M. Hutton); VCID (S. Greenberg, T. Carmichael)
ADRD Summit 2016 TIMELINE
Steering committee formed September 2015
Pre-conference work from October 2015 to March 2016
Alzheimer's Disease-Related Dementias Summit 2016

Presented rationale for revisions to 2013 milestones
Lively discussion among experts
Feedback/opinions from audience; wide range of stakeholders

490 registrants, 325 in person, 300 online

Closed session to plan post-conference work

Post-conference work from April to August 2016
Report presented to NINDS Council & approved, 9/2016
Report & 37 milestones delivered to NAPA Council, 11/2017
Publication under preparation
IMPORTANT POINTS
Many more recommendations/milestones were suggested than made the final list

Broad agreement that all items included are important research goals

Prioritization with Timelines

Based on advancing scientific discovery needed to achieve the NAPA goal of prevention or effective intervention for ADRD by 2025
Each Topic Committee reached consensus on priority after long deliberation

Timelines are independent of priority
Aspirational, Operational: both are needed
AD/ADRD Research Increases at NIH
NIH Investment in ADRD Research (millions)
Fiscal Year:
2012
2013
2014
2015
Frontotemporal Dementia
$26
$32
$37
$36
Lewy Body Dementia
Not Determined
Not Determined
$15
$15
VCID
Not Determined
Not Determined
$45
$72
ADRD Total*
Not Determined
Not Determined
Not Determined
$120
* (unofficial 2016 Est: $161)
What Does this Mean for the NIH and NINDS in Moving Forward National Plan Goals?
Funds have been added for AD/ADRD research. For example, NIH, via NIA, during FY16 received a $360 M increase in annual funding. During FY16 ADRD research had an estimated $41 M increase in funding.
NIA and NINDS, as the leading NIH institutes in supporting AD/ADRD research, are working together to oversee expenditure of these additional funds.
Added funds shared by NIA with NINDS are used in 2 major ways:

Funding announcements for ADRD research, for example via the NINDS RFAs this Council round
Investigator-initiated AD/ADRD research beyond the payline
FY16 NINDS ADRD Initiatives Responsive to National Plan
RFA-NS16-022: Biomarkers for the Lewy Body Dementias (U01)

Milestones: LBD FA1-R2, FA2-R3, FA2-R4, FA3-R5, FA3-R6; 4 awards

RFA-NS16-023: Center without Walls for the Identification & Validation of Molecular Mechanisms Contributing to Tau Pathogenesis & Associated Neurodegeneration in Frontotemporal Degeneration (U54)

Milestone: FTD FA1-R1; 2 awards

RFA-NS16-021: Mechanistic Basis of Diffuse White Matter Disease in Vascular Contributions to Cognitive Impairment & Dementia (VCID)(R01)

Milestone: VCID FA1-R2; 3 awards

RFA-NS16-019, -020: Small Vessel Vascular Contributions to Cognitive Impairment & Dementia (VCID) Biomarkers Consortium: Coordinating Center (U24) and Biomarkers Development Projects (UH2/UH3)

Milestone: VCID FA2-R1; 8 awards
MarkVCID Consortium Established
MarkVCID: National Consortium Moving VCID Biomarkers Toward the Clinic
Why was MarkVCID established? To meet large unmet need for clinical trial-ready VCID biomarkers with high potential for positive impact in public health.
Established via RFA-16-020, RFA-16-021

7 project sites across the Unites States: CA, IL, KY, MD, MA, NM
Coordinating Center PI: Dr. Steve Greenberg, MGH

External Advisory Committee: Billy Dunn, Ron Petersen, Tom Montine, Geert Jan Biessels, Rebecca Gottesman
Consortium Kickoff Meeting in February 2017
The Science of Vascular Contributions to Cognitive Impairment and Dementia (VCID)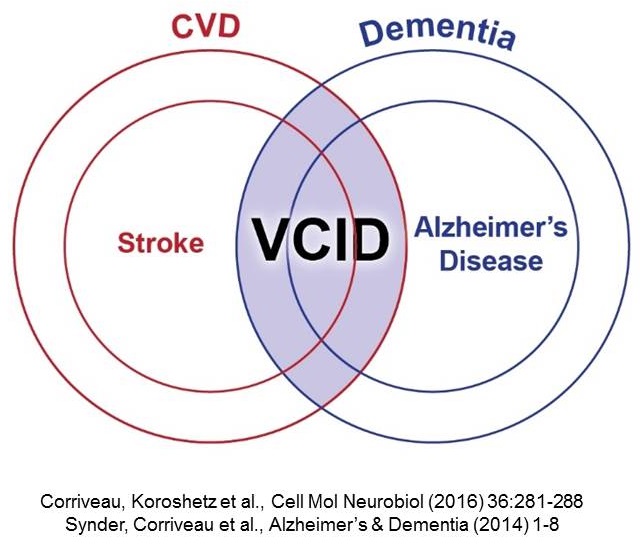 Corriveau, Koroshetz et al., Cell Mol Neurobiol (2016) 36:281-288
Synder, Corriveau et al., Alzheimer's & Dementia (2014) 1-8
ADRD Initiatives that Address Mixed Etiologies
PAR-17-028: Common Mechanisms and Interactions Among Neurodegenerative Diseases (R01)

Milestone: MED FA1-R2, MED FA2-R5

RFA-AG-15-010: Interdisciplinary Research to Understand the Vascular Contributions to Alzheimer's Disease (M2OVE AD Consortium)
FY17 NINDS ADRD Initiatives Responsive to National Plan
RFA-NS17-016: Leveraging Existing Resources for Research on Lewy Body Dementia (R03)

Milestone: LBD FA3-R5, FA3-R6

RFA-NS17-017: Frontotemporal Degeneration (FTD) Sequencing Consortium: Discovery, Replication and Validation (UG3/UH3)
FY17 NINDS ADRD Concepts Responsive to National Plan
Detecting Cognitive Impairment, Including Dementia, in Primary Care and Other Everyday Clinical Settings for the General Public and in Health Disparities Populations
Health Disparities NIA ADRD Initiative NINDS has Joined
PAR-15-349: Health Disparities & AD (R01)
Milestone: FA1-R1
NGO Session: Catalyzing Research Through Unique Programs & Partnerships
Milestone 1. Establish more effective communication between NIH and the NGOs on activities and progress toward the ADRD goals in the off-years between the triennial ADRD Research Summits

Post all ADRD Summit 2016 milestones and success criteria publicly [complete]
NINDS to present annually to NAPA Council on progress toward the ADRD goals/milestones from 2017 onwards [on-going]
Convene annual meetings during which NINDS, NIA, and NGOs share activities, funding-related information, and progress relevant to the ADRD recommendations [on-going]
Special Joint Session
Milestone: Develop Consistent Nomenclature in Dementia Research & Care

Organize a working group of dementia stakeholders, including founding partnerships with health disparities communities, to review the current nomenclature used in public awareness, clinical care services and research and to propose strategies to help advance early differential diagnosis and the understanding of dementia and its underlying causes
NAPA Council's 2016 Recommendation #4:
Emphasis should be given to the standardization of terminology in dealing with cognitive and dementing disorders.

An integrated conference should be convened to develop consistent language for cognitive disorders among the scientists, care providers and the public.
Engage all of the stakeholders around these issues to reach a consensus for the benefit of persons with dementia, their family members and caregivers, and the scientific and service communities.
Upcoming Summits
Dementia Care and Services Research Summit
The 3rd Alzheimer's Disease (AD) Summit
The 3rd Alzheimer's Disease-Related Dementias (ADRD) Summit
NIH Mind Your Risks
Thank You NIH Leadership & Colleagues
Walter Koroshetz
Richard Hodes
Robert Finkelstein
David Owens
Marian Emr
Paul Scott
Ernie Lyons
Tony Phelps
Amelie Gubitz
Beth-Anne Sieber
Birgit Neuhuber
Carole Jelsema
Christine Swanson
Christine Torborg
Claudia Moy
Debra Babcock
Joel Saydoff
Jordan Gladman
Linda MacArthur
Linda McGavern
Marg Sutherland
Monica Flemming
Natalia Strunnikova
Nena Wells
Nina Silverberg
Salina Waddy
Patricia Walicke
Sophia Jeon
Susan Fowler
Tracey David
Jonathan Sabbagh
Thank you to our ADRD Summit 2016 partners:
National Institutes of Health
National Institute of Neurological Disorders and Stroke
National Institute on Aging
NIH Office of Disease Prevention
Foundation for the National Institutes of Health
Alzheimer's Association
Accelerate Cure/Treatments for Alzheimer's Disease
American Heart Association
Association for Frontotemporal Degeneration
Axovant Dementia Solutions
BrightFocus Foundation
Leaders Engaged on Alzheimer's Disease
---
February 3, 2017 -- Advisory Council Meeting #23
The meeting was held on Friday, February 3, 2017, in Washington, DC. The theme of this Advisory Council meeting was clinical trials for Alzheimer's disease and related dementias and recruitment challenges. Additional afternoon presentations included updates on progress towards a Care and Services Summit, federal workgroup updates, and preparation for the Advisory Council's 2017 Recommendations, due in April 2017. Material available from this meeting is listed below and is also available at https://aspe.hhs.gov/advisory-council-alzheimers-research-care-and-services-meetings#Feb2017.
Comments and questions, or alerts to broken links, should be sent to napa@hhs.gov.
---
General Information
Handouts
Presentation Slides
Videos