Friday, February 3, 2017
Printer Friendly Version in PDF Format (7 PDF pages)
Long-Term Services and Supports Committee Update
Administration for Community Living
ASSSP and ADI-SSS Grants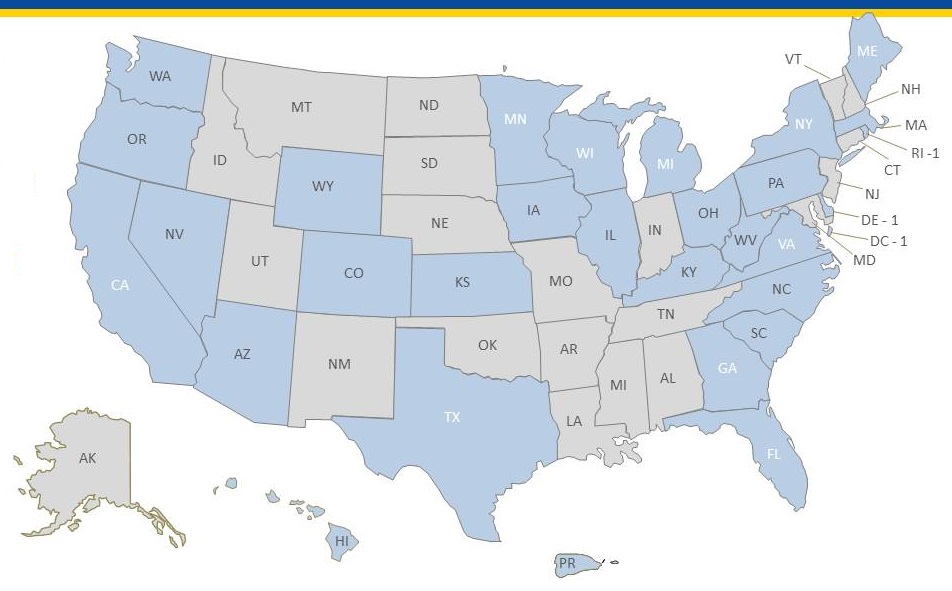 Planning a half day intensive on entitled: Improving Care and Services for People with Dementia and their Family Caregivers for the March 2017 Aging Society of America (ASA) Conference in Chicago.
Coordinating a special electronic Alzheimer's and Dementia edition of Generations: Journal of the American Society on Aging for publication later in 2017.
January 17th kicked off ACL's Annual National Alzheimer's and Dementia Resource Center (NADRC) webinar series with a webinar highlighting Minnesota's Cultural Consultants initiative.
5th Annual Dementia Resources and Research free webinar series tentatively scheduled to begin March 1. The series promotes awareness of research participation opportunities and improving coordination of federal resources available to assist people with ADRD. Target audience is aging and disability, public health, and research professionals.
What is Brain Health?
Upcoming:

Hispanic launch this summer featuring PSA with Hector Elizondo and an event in Miami in 2018
Co-creation of messaging and concepts with Ogilvy Washington and Ogilvy Peru

Engagement:
Awards:

In2 SABRE 2016: Best Use of Innovative Channels- Government/Public Affairs, Finalist for Brand Digital Platforms
THOTH Awards 2016: Research/Evaluation
In2 SABRE 2017: Award for Content Creation for Media Sites (Paid), Finalist for Brand Animation Videos
PRWeek 2017: Finalist for Best in Public Sector
Centers for Medicare & Medicaid Services
Medicaid Guidance on Unsafe Wandering and Exit-Seeking
In December CMS issued Frequently Asked Questions to clarify how providers can assist beneficiaries with ADRD receiving home and community-based services (HCBS) to live self-determined lives in fully integrated community settings
The guidance addresses person-centered planning, promising practices, staff training, and care delivery and includes many suggestions
HCBS settings should not restrict individuals unless it is in the person-centered plan, all less restrictive interventions have been exhausted, and any restriction is regularly reassessed
Thank you to Jane Tilly, who with others helped prepare this guidance!
(Strategy 2.D)
Information at: http://www.medicaid.gov/medicaid/hcbs/guidance/index.html
New Data on Medicaid LTSS and Home and Community-Based Services Programs
In November CMS released the Medicaid Long-Term Services and Supports Beneficiaries 2012 report which provides updated estimates of the number of beneficiaries who receive Medicaid long-term services and supports, including institutional care and HCBS
CMS also issued updates to two reports that describe recent HCBS "waiver" program data including numbers of recipients and other trends
(Strategy 2G)
Information at https://www.medicaid.gov/medicaid/ltss/reports-and-evaluations/index.html and https://www.medicaid.gov/medicaid/ltss/reports-and-evaluations/index.html
Guidance on Medicaid Community First Choice State Plan HCBS Option
In December CMS issued detailed guidance to states on the implementation of the benefit package available to states to promote community integration
The CFC option -- which states must choose- offers eligible beneficiaries the opportunity to receive personal attendant services and supports in the community
It allows services to be available across poplations and easily standardizes eligibility, needs assessment, and care coordination
(Strategy 2.G)
Available at: https://www.medicaid.gov/federal-policy-guidance/federal-policy-guidance.html
Indian Health Service
REACH into Indian Country
Trained & Certified Interventionists
Cumulative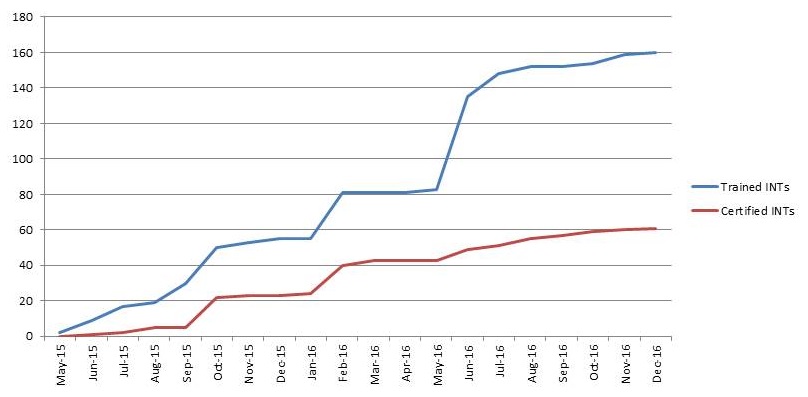 Communities Reached
Cumulative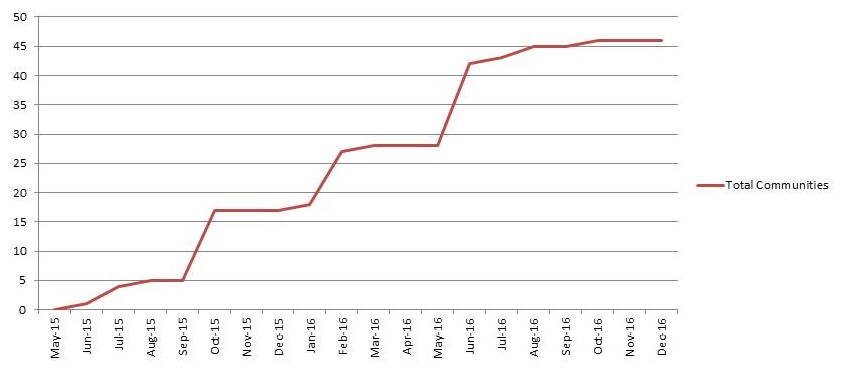 Enrolled Caregivers
Cumulative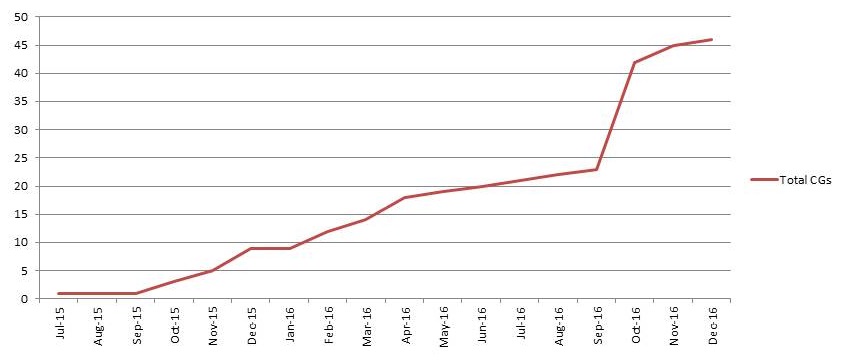 Tribal Workforce Development LTSS and Clinical Care
Tribal LTSS conference: November 14-17

ACL funded, IHS / CMS co-sponsored
Highlighting and sharing Tribal LTSS
Tribal LTSS Technical Assistance

Dementia Core Course: November 14, 15

Clinical Track (CME/CEU)
Community-based Track
Faculty from Indian Health and Banner Alzheimer's Institute
Recognition / Diagnosis / Assessment in Indian Country
Discussion with GWEPs about coordination of Tribal / IHS / Urban training and outreach
IHS-RITT -- VA Rural Interdisciplinary Team Training providing intensive team training to 10 IHS and Tribal rural facilities.

Adapting model training at the facilities of the Aleutian-Pribilof Islands Associations
National Institute on Aging
A Comparison of the Prevalence of Dementia in the United States in 2000 and 2012
Between 2000 and 2012, the prevalence of dementia among those aged 65+ significantly decreased from 11.6% to 8.8%.
Increases in the level of education among later born cohort was associated with lowered dementia risk and improvements in treatments for cardiovascular risk factors may have also played a role.
Education & Presence of Dementia

Langa, et al., 2017. JAMA Intern Med.
Tube Feeding in US Nursing Home Residents With Advanced Dementia, 2000-2014
Table 1. Feeding Tube Insertion Rates Among US Nursing Home Residents With Advanced Dementia in 2000 to 2014
Year
Residents With Advanced Dementia
With Recent Onset of Total
Dependence for Eating, No.
With Feeding Tubes Over
Subsequent 12 Months, No. (%)
2000
7029
820 (11.7)
2001
6738
774 (11.5)
2002
6239
701 (11.4)
2003
5518
577 (10.5)
2004
5194
462 (8.9)
2005
4628
398 (8.6)
2006
4389
393 (9.0)
2007
4110
357 (8.7)
2008
3890
331 (8.5)
2009
3842
297 (7.7)
2010
3794
283 (7.5)
2011
4538
264 (5.8)
2012
4246
235 (5.5)
2013
3685
207 (5.6)
2014
3411
193 (5.7)
Significant decreases in insertion rates from 2000 - 2014
The Disproportionat Impact of Dementia on Family and Unpaid Caregiving to Older Adults
Approximately 1/3 of caregivers who help older adults assist someone with dementia.
Older adults with dementia receive approximately 5x more assistance with self-care compared to individuals without dementia.
Intensity of dementia care (hrs/month) is higher in community settings than in residential care settings.
Families bear the majority of caregiving responsibilities for adults with dementia, with highest care intensity for caregivers residing with individuals.
Kasper et al., 2015, Health Affairs
THANK YOU!
---
February 3, 2017 -- Advisory Council Meeting #23
The meeting was held on Friday, February 3, 2017, in Washington, DC. The theme of this Advisory Council meeting was clinical trials for Alzheimer's disease and related dementias and recruitment challenges. Additional afternoon presentations included updates on progress towards a Care and Services Summit, federal workgroup updates, and preparation for the Advisory Council's 2017 Recommendations, due in April 2017. Material available from this meeting is listed below and is also available at https://aspe.hhs.gov/advisory-council-alzheimers-research-care-and-services-meetings#Feb2017.
Comments and questions, or alerts to broken links, should be sent to napa@hhs.gov.
---
General Information
Handouts
Presentation Slides
Videos