Friday, February 3, 2017
Printer Friendly Version in PDF Format (23 PDF pages)
Alzheimer's Association TrialMatch
Keith Fargo, PhD
Director of Scientific Programs
Alzheimer's Association
How TrialMatch Works
A person with the dementia, caregiver, or healthy volunteer completes a profile via internet or phone.
Their unique profile is compared to structured match criteria, and the user is given a customized list of matching studies.
The user then selects the studies that are of most interest to them; results are sorted by study type and by distance from home
The user then contacts the study team directly, if they find a matching study that interests them.
User Experience
Works on computers and mobile devices
Phone agents available 8 am to 8 pm, M-F
Studies are presented in order of proximity to nearest study site
Studies organized into treatment, prevention, online, etc.
Studies can be bookmarked for easy viewing later
Study Descriptions
Second Pass Matching
When a new study is added, an email is sent to existing TrialMatch users within 200 miles of site
Study Sources: Clinicaltrials.gov and User Submitted
2016 Study and Site Numbers
275 average number of studies listed on TrialMatch (377 total throughout year)
675 average number of unique study sites
1330 average number of study-site combinations
Studies by Participant Type
User and Study Ages
Caregiver Status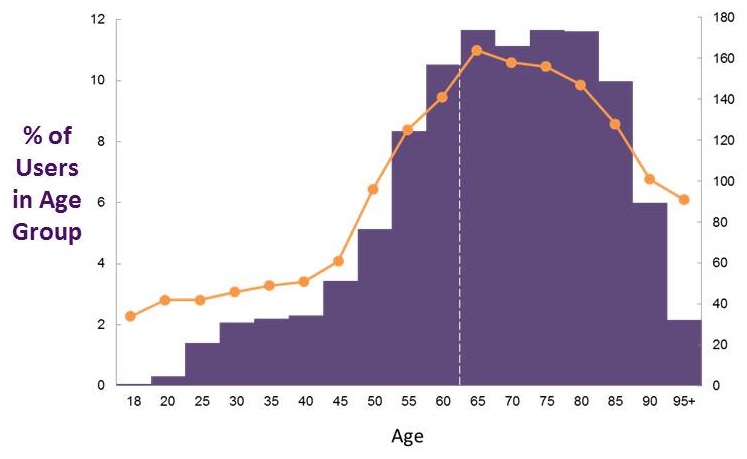 Promoting Clinical Trial Participation
TrialMatch User Growth
220,000 users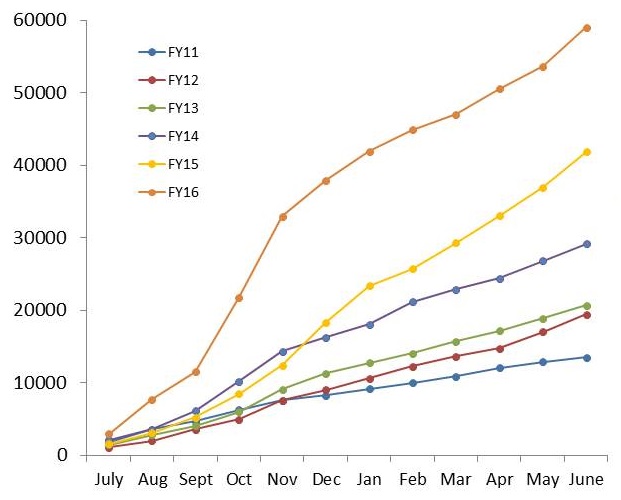 2016 User Numbers
55,987 new accounts created
35,890 (~65%) via postcards
22,367 (~40%) completed a profile and reviewed match results
15,050 clicked to view at least on study summary (average of 3 each)
2016 Q3/Q4 Second Pass Matching Numbers
39 second pass matching campaigns
39,690 people
26.3% unique open rate
37.1% click through rate
Challenges for the Future
Engaging participants in preclinical/prodromal phase
Increasing participation of diverse individuals
Alzheimer's Association: Funding Prevention Trials
Dominantly Inherited Alzheimer Network Trials Unit
Alzheimer's Prevention Initiative
Spanish Language Promotion
Spanish Language Promotion
FY2016 Growth of Diverse TrialMatch Users
40% year-over-year for all users
59% for racially/ethnically diverse users
Alzheimer's Association Research Website
THE END OF ALZHEIMER'S STARTS WITH YOU
---
February 3, 2017 -- Advisory Council Meeting #23
The meeting was held on Friday, February 3, 2017, in Washington, DC. The theme of this Advisory Council meeting was clinical trials for Alzheimer's disease and related dementias and recruitment challenges. Additional afternoon presentations included updates on progress towards a Care and Services Summit, federal workgroup updates, and preparation for the Advisory Council's 2017 Recommendations, due in April 2017. Material available from this meeting is listed below and is also available at https://aspe.hhs.gov/advisory-council-alzheimers-research-care-and-services-meetings#Feb2017.
Comments and questions, or alerts to broken links, should be sent to napa@hhs.gov.
---
General Information
Handouts
Presentation Slides
Videos