National Study of Child Protective Services Systems and Reform Efforts
Summary Report
U.S. Department of Health and Human ServicesChildrens BureauAdministration on Children, Youth and FamiliesAdministration for Children and Families
andOffice of the Assistant Secretary for Planning and Evaluation
May 2003
This report is available on the Internet at:http://aspe.hhs.gov/hsp/CPS-status03/summary/
Contents
Introduction
The U.S. Congress and legislatures in every State have established a public mandate to protect children from abuse and neglect.(1) Public child welfare agencies, of which child protective services (CPS) agencies are a part, are responsible for accepting referrals alleging child abuse and neglect, determining if the child has been  or is at risk of being  maltreated, and providing services to protect them.
The purpose of CPS is to provide a prompt, effective response to children who are in need of protection. We must have the capacity to serve children and families who clearly require attention. Patricia Schene Child Welfare Consultant
While there is considerable literature on the etiology, conditions, and consequences of child maltreatment, the literature on the organization and functions of the agencies that deliver CPS is sparse. The 2-year National Study of Child Protective Services Systems and Reform Efforts project aimed at addressing this gap in knowledge. The National Study was conducted to establish a snapshot of CPS throughout the country as of 2001.(2) Special attention was given to newly emerging or improved services for abused and neglected children and their families. In addition to a literature review, the National Study conducted an analysis of written CPS policy in all States and the District of Columbia, a survey of the practices of 300 randomly selected local CPS agencies, and site visits to some of the agencies that had reported innovative practices in the local agency survey.  The three reports  Literature Review, Review of State CPS Policy, and Findings on Local CPS Practices  are available on the Internet.(3)
This paper summarizes key findings on practice and policy, and changes being undertaken, which were identified during the National Study. Topics include background information, screening and triage, investigation, collaboration with law enforcement, alternatives to investigation, collaboration in providing services, and looking toward the future. These findings were discussed at a symposium of persons knowledgeable of CPS policies and practices and their observations are included in this paper.
Symposium Attendees
David Berns, CO Elizabeth Brandes, NC Zeinab Chahine, NY Jim Clark, FL Betty Wade Coyle, VA Mary Dibble, WI Denise Gonzales, IL David Heaton, IA Elizabeth Humphrey, CA
Rita Katzman, VA Rosalyn Oreskovich, WA Frances Rembert, OH Nancy Rollins, NH David Sanders, MN Patricia Schene, CO Kathryn Simms, OK Esther Wattenberg, MN Rhonda Wheeler, GA
Organizations Represented at the Symposium
American Humane American Public Human Services Association American Bar Association Child Welfare League of America National Clearinghouse on Child Abuse and Neglect Information National Council of Juvenile and Family Court Judges National Conference of State Legislatures National Resource Center on Child Maltreatment
Background
Tommy Thompson, Secretary of the U.S. Department of Health and Human Services, declared The number of children who are being abused and neglected in this country is a daily tragedy.(4) During 2001, there were approximately 2.7 million referrals concerning 5 million children to CPS agencies by professionals and the public. Almost two-thirds of the calls were accepted for investigation or further assessment, while the remaining calls were screened-out as being inappropriate or better served by other agencies. CPS agencies conducted investigations or assessments for more than 3 million children, and 29 percent  approximately 900,000  children were found to be victims of maltreatment.(5) (See figure 1.)
Figure 1 Dispositions of Children Who Received an Investigation or Assessment in 2001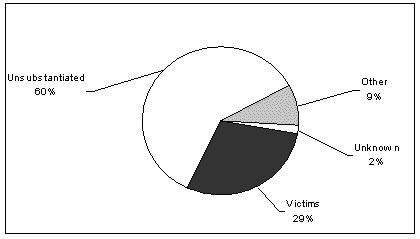 Source: Child Maltreatment 2001
The survey of local agencies indicated that there are approximately 2,610 CPS public agencies. Every county in the United States is served by its own local CPS agency or shares an agency with one or more other counties. During 2001, there were an estimated 42,600 CPS caseworkers and supervisors (including part-time staff) in these agencies. Agencies ranged in size from less than 4 caseworkers to more than 17 caseworkers. Most caseworkers had a bachelors degree; some had advanced degrees such as a Masters of Social Work.
The local agency survey indicated that for approximately one-quarter of agencies, recent changes focused on infrastructure. Such changes included how staff are organized to provide services, the implementation of information systems, and the development of new training. These are important tools to address tensions between public expectations and available resources. Particularly in large agencies, issues of efficiency and attention to management information systems can be viewed as strategies to address workload constraints and the improvement of services.
[Go To Contents]
Screening and Triage
More than 25 years ago, the passage of the Child Abuse Prevention and Treatment Act (CAPTA) resulted in most States implementing legislation that requires citizens and professionals to report cases of suspected child abuse and neglect to a designated public agency. Screening and triage of these referrals is the first core function of CPS because the process determines if the agency will conduct an investigation or assessment of the allegation (screened-in referrals) or not (screened-out referrals) and what type of response should be offered (triage). Decisions related to screened-in referrals are concerned with the type and urgency of investigation or assessment that will be conducted; decisions related to screened-out referrals consider if other appropriate agencies should be notified.Almost all State policies specifically referred to the statutory definitions of child abuse and neglect when identifying what types of referrals should be screened in.
In addition to the four major types of maltreatment  neglect, physical abuse, sexual abuse, and emotional maltreatment  some State policies identified other specific conditions that would be screened in.  Such conditions included children younger than 13 years with sexually transmitted diseases, families who had another child removed by the child welfare agency and had a new baby, sexually aggressive youth, a referral by specific mandated reporters, and women who used drugs during pregnancy.
The role of screening is to decide if it is an appropriate case for CPS. David Sanders, Director of Los Angeles Department of Children and Families
The survey of local agencies found that referrals were received from statewide or local hotlines. The screening process included additional activities. Automated information systems enabled local agencies to review existing CPS records on either the child or the perpetrator. In some cases, additional information may be sought from other persons. (See Figure 2.)
Figure 2. Screening Activities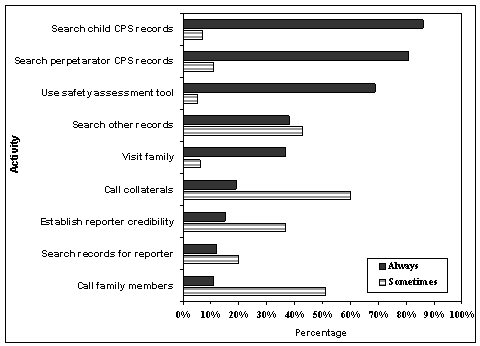 Source: Local Agency Survey
There was significant variation among States as to how quickly workers were required to make a response to a screened-in referral. Eighteen States specified one timeframe, most within 1 or 3 days. Twelve States specified two timeframes  one for high-priority referrals and one for low-priority referrals. Twenty-one States made finer distinctions. For example, one States policies specified that the response to high-priority referrals should commence within 124 hours of receipt of the referral, within 272 hours for intermediate referrals, and within 37 calendar days for low-priority referrals. The actual determination of priority was commonly made by the local agency.
States policies also considered conditions that would not be appropriate to address through CPS. Families seeking housing, concerns about animals, some types of health issues, and issues related to adults, would be eligible for screening out. Other common reasons for screening out calls were that the allegation did not meet the State definition of abuse or neglect, the perpetrator was not a caregiver, or the child could not be located. Some States had policies for screening out children who had a low-risk of maltreatment. States differed greatly in their definitions of what was considered low-risk, and the methods for assessing low-risk during the screening process.
The majority of State and local agencies had policies and procedures for referring screened-out reports to the police or sheriffs office, another part of the child welfare agency, or to a local community agency based upon the nature of the allegation. For some States, diverting a referral to a local community agency meant that an offer of services would be made to the family, which the family could accept or not.
Several local agencies indicated that they had made recent changes or were planning to make changes to screening practices by increasing the use of additional tools by screening workers and by increasing training of potential reporters of abuse or neglect.
Innovations in Screening Practices
Using additional tools during screening process.
Increasing consistency of screening by centralizing screening or using specialized staff.
Conducting internal audits of questionable screen-outs.
Educating reporters as to how to report, what criteria to consider, and what other options are available to reporters.
Analyzing data on screened-out referrals to determine patterns of reporting or re-reporting.
Improving cross-agency and cross-jurisdictional relationships.
Screening practices are important to many advocates for an improved CPS system. Some suggest that more restrictive screening protocols will result in some cases being overlooked and ultimately in poorer outcomes for children. Others maintain that given the high proportions of screened-in referrals that are found not be substantiated, screening should be more stringent. While this study could not determine whether or not screening was being appropriately conducted, it did find that:
All State CPS agencies had policies on screening;
Significant resources were being applied to this activity;
There was considerable variation across States and at the local level in the specificity of which cases would require an investigation or assessment by the CPS agency;
Some experts find that the variation in screening practices may be appropriate because local conditions, resources, and policies vary; and
Many agencies were attempting to connect children and families with other agencies, even if CPS did not accept the referral.
[Go To Contents]
Investigation
It is difficult to make an assessment when workers cannot talk to the principal parties directly or at the time of referral because it is a potential criminal case situation. Fran Rembert Section Chief, Protective Services, Ohio Department of Job and Family Services
Traditionally, CPS agencies have responded to screened-in allegations of abuse and neglect by conducting an investigation of the childs family environment. The goals of conducting an investigation are ambitious  to determine if a child can safely live with his or her family, whether abuse or neglect has occurred, whether other children in the family are also victims of abuse or neglect, and whether there is a risk for future abuse or neglect. In other words, CPS workers have the difficult tasks of figuring out what has happened and predicting what will happen.
The majority of State policies specified that investigations require a determination of whether abuse or neglect has occurred or the child is at risk of maltreatment; a plan to assess and protect the child; and a determination of the need for services. Very few States identified that investigations were intended to maintain the family.
The focus of the investigation policy in most States was on whether or not abuse or neglect had occurred  with some State investigation policies also explicitly addressing whether the child was at risk of abuse or neglect in the future. Assessments of imminent safety and risk of harm in the future were commonly included in policy directives. About one-half of the States also specified that determining the need for services was a purpose of the investigation or assessment.
States used different criteria for accepting that an allegation can be founded or substantiated. (See figure 3.) Almost one-half of the States used relatively high standards of evidence, such as preponderance or clear and convincing. Other States use lower standards such ascredible, reasonable, or probable cause. About one-fifth of the State policies did not explicitly provide the standard of evidence.
Figure 3Standards of Evidence for Substantiation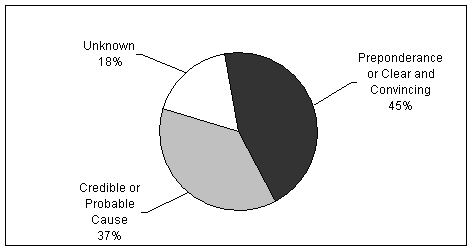 Source: Review of State CPS Policy
State policies also differed in the timeframes for completing an investigation. (See figure 4.) Four States (8%) required investigations to be completed within 2 weeks; 20 States (39%) required investigations be completed within a 24 week timeframe; and 23 States (45%) allowed for longer timeframes.
Figure 4 Timeframes for Completing Investigations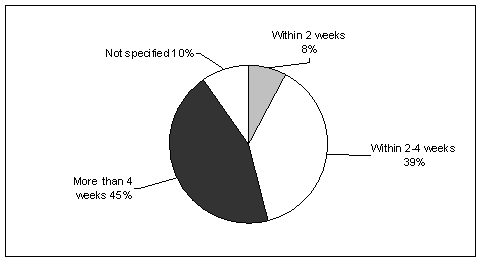 Source: Review of State CPS Policy
There was a great deal of commonality among local agencies in investigation activities. When asked whether procedures would always, sometimes, rarely, or never be followed, more than two-thirds of agencies in the Nation were estimated to always include the following activities during an investigation:
Consider the severity the case;
Consider required standards of evidence;
Review prior CPS records;
Interview or formally observe children;
Interview caregivers;
Consult with available clinicians, domestic violence specialists, substance abuse specialists, and child fatality teams;
Notify the perpetrator, if abuse or neglect was founded; and
Add the perpetrators name to the Central Registry.
There was, however, less commonality on other critical investigation parameters. Between 34 to 65 percent of agencies agreed that the following activities were always conducted:
Consider the service needs of the family;
Consider the willingness of the parent to cooperate;
Interview additional family members;
Interview witnesses;
Interview reporters;
Visit family without an appointment;
Interview professionals known to the family;
Obtain and preserve physical evidence;
Remove the child if harmed or in danger of harm; and
Access forensic specialists, child advocacy centers, hospital-based, sexual abuse trauma centers, and citizen CPS review teams.
Agency surveys indicated that there were many barriers to completing investigations. More than two-thirds of agencies always or sometimes had difficulties in the following areas:
Locating the family;
Spending sufficient time with the family;
Determining what has happened or what might happen;
Having sufficient time to make a good determination; and
Obtaining the necessary expertise from professionals.
Many local agencies reported recent changes in investigation practices including revising their interagency protocols, clarifying parental rights concerns, and changes to the collaboration with law enforcement.
Innovations in Investigation Practices
Revising interagency child abuse protocols to clarify the roles and responsibilities of the different agencies.
Including analysis of critical incidents, such as fatalities, in training of workers.
Using community-based review teams to provide investigation feedback and to determine system-related issues. 
Resolving parental rights issues with hospitals concerned about testing newborns for drugs.
Improving collaboration with law enforcement.
[Go To Contents]
Collaboration with Law Enforcement
The survey of local agencies found that for certain forms of maltreatment  such as being at-risk of physical abuse, sexual abuse, neglect, or emotional maltreatment; moderate neglect; moderate or severe emotional maltreatment; and lack of supervision, abandonment, or drug- exposed infants  the CPS agency was usually the lead agency. However, CPS agencies shared responsibility for the more severe forms of maltreatment.  Less than one-third of CPS agencies shared responsibility or were the lead agency for investigating moderate or severe sexual abuse, severe physical abuse, and child fatalities with other agencies, primarily law enforcement. (See figure 5.)
Figure 5 CPS as the Lead Agency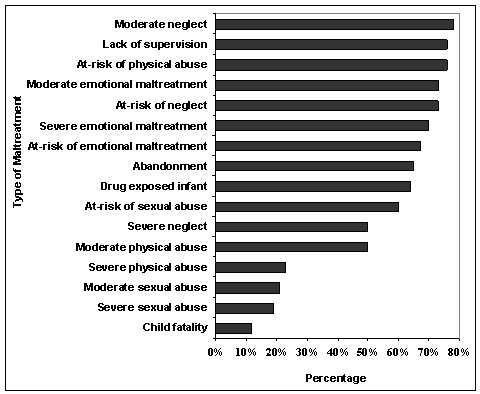 Source: Local Agency Survey
Social workers are driven by the needs of families; law enforcement and others place greater evidence on gathering evidence of maltreatment by caretakers. Esther Wattenberg, Professor, School of Social Work and Center for Advanced Studies in Child Welfare, University of Minnesota
Law enforcement has traditionally assisted with the removal of children from the home during an investigation. Indeed, policies in most localities stipulated that only members of the police or sheriffs office could remove children. Nationally, it is estimated that during 2001, 21 percent of victims were removed during or as an immediate result of an investigation, with State-level percentages ranging from 6 percent to 49 percent.(6) Thus, law enforcement may be involved often with CPS. In addition, there are emerging areas of cooperation between the two agencies including cases involving domestic violence and substance abuse.
Sixteen percent of agencies were either considering implementing changes or had implemented changes in working with law enforcement agencies. This may be a reflection of the increased attention to family privacy concerns, due process issues, and the rehabilitation versus deterrence continuum. It may involve a recognition that law enforcement is better able than CPS to address the issue of evidence gathering especially for certain forms of maltreatment, or that law enforcement has an increasing investment in community protection issues that involve maltreatment. Finally, a more precise specification of the arrangement between law enforcement and CPS may help CPS agencies to clarify and reemphasize their role in providing services to support families.
Agencies reported that they have made recent changes in how they work with law enforcement aimed at improving the sharing of information, colocation, and increasing training opportunities.
Changes in Working with Law Enforcement
Colocating of law enforcement and CPS staff to improve communication and shared responsibilities.
Sharing of information between law enforcement and CPS.
Increasing joint training with law enforcement.
Increasing training opportunities for law enforcement agencies.
Providing specialized skills to law enforcement agencies on cases of noncaregiver abuse.
Seeking legal counsel in addressing issues of    conflicting ethical values between social work practice and law enforcement practice.
Testing new ways of assigning cases, i.e., by precinct, to facilitate working with law enforcement.
Holding joint forensic interviews with children.
Developing multidisciplinary teams with law enforcement to address child sexual abuse cases.
Cross training with local juvenile and family court judges to develop protocols.
During the symposium, several experts stated that standards of due process rights of parents are being addressed with increased attention in the States. For example, families may receive written documentation that outlines their rights and explains why an investigation is being conducted, how information will be used, with whom the information will be shared, and the notification process. To support family rights, interviews may also be taped and the families provided with written transcripts.
There was general agreement among the symposium participants that due process is an important area, because of the potential for removing a child from his or her parents. However, there was also a concern that this process will result in a more adversarial investigations. Potentially, there may be a negative impact on building relationships with families, which would increase the difficulty of gathering information on the status of the child. The involvement of law enforcement in protection of children has been called a collision of two cultures.
During the symposium discussion that focused on the legal procedural aspects of investigation, a few participants raised an issue central to the future reform of CPS. This concern was discussed in terms of whether it is necessary to make a determination if an allegation is substantiated or not. One participant stated that workers should not substantiate cases if the family cooperated with the agency. She suggested that there may be little value in establishing that the allegation can be substantiated because it might alienate the family from the worker, who is trying to help the family. Some suggested that the role of CPS should be to return to conducting good social work and documenting what happened instead of focusing on reaching a disposition. Another participant asked Should we not be assessing for needs instead of assessing to determine disposition?
[Go To Contents]
Alternatives to Investigation
While most policies indicated that conducting a formal investigation as to whether a child has been or is at risk of being maltreated is a core function of CPS agencies, 20 States reported that they also had policies providing for an alternative response. Although the policy review indicated that in some States these program options were available only in demonstration or pilot sites, the local agency survey indicated that approximately two-thirds of local agencies (1,660 agencies) were conducting investigations and some alternative to investigation. Smaller agencies were more likely to be providing an alternative response than larger agencies.(See figure 6.)
Figure 6. States with Alternative Response Options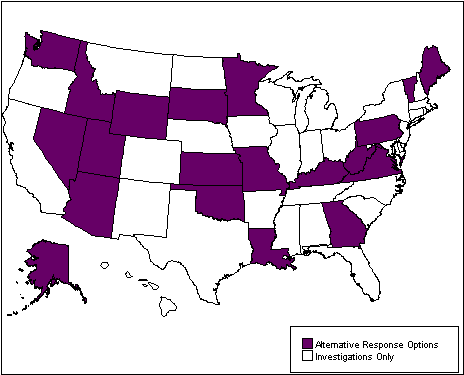 Source: State Policy Review
States policies indicated that these alternative response approaches were used with families who were at lower risk of harming their children or whose situations were less severe. Findings from the local agency survey indicated that more than half of the agencies would not provide alternative responses to cases of moderate or severe physical abuse, moderate or severe sexual abuse, severe neglect, status offenses, or child fatalities.
Most policy statements emphasized that the alternative response should be more family-oriented, less threatening or coercive, and more focused on services. Just under half of the States identified family preservation or family strengthening as a purpose. Some descriptions of alternative response objectives include the following:
To provide a response to physical abuse that is unfettered from criminal investigation and allows for services;
To provide a modified approach for families with low-risk conditions through community-based assessments;
To facilitate appropriate service responses for families who are not within the required mandate of CPS, but who would benefit from services;
To provide services without assigning blame; and
To provide preventive services before a CPS investigation is required.
In one site visit, the local agency had recently implemented an alternative response, which was used for children who were not in immediate danger. Three factors were used in determining whether an investigation or alternative response would be provided-the severity of the alleged maltreatment, the immediacy of child safety concerns, and overall family needs.
I am optimistic that this approach will look at and help families earlier. Rita Katzman CPS Program Manage, Virginia Department of Social Services
Alternative response options varied considerably among agencies that provided them. In some instances, policies allowed for more than one option, as discussed below.
Prevention, Investigation, and Assessment  State policies described a prevention track, which responded to cases with identified risk of child abuse or neglect factors. The investigation track was used to determine if abuse or neglect had occurred and promote the safety of the child. The assessment track was used for cases of less imminent danger and would evaluate family strengths and needs; it might also provide services to increase a familys ability to minimize risk to the child.
Resource Linkage, Investigation, Families in Need of Services, and Law Enforcement  This paradigm is somewhat similar. The resource linkage track would link families who did not meet the screening criteria to community resources. The investigation track would address moderate- or high-risk referrals with an emphasis on obtaining evidentiary information to support a disposition of founded or unfounded maltreatment. The family in need of services track would emphasize partnering the low risk families to develop a support network. The law enforcement track would accept cases of abuse that did not involve caregivers.
Among agencies with alternative response options, only one-fifth of the agencies had specialized workers conducting the alternative response. In 42 percent of agencies, workers who conducted an alternative response also conducted screening; in 59 percent of agencies, alternative response workers also conducted investigations. However, agencies conducted fewer alternative responses than investigations. Compared to an average of 43 investigations a month, agencies typically completed 16 alternative responses a month. Because of the overlap in workers, the numbers and qualifications of workers were not very different from the numbers and qualifications of investigation workers.
The survey of local agencies detected very little difference in the overall set of procedures that workers used to complete an alternative response compared to an investigation. Virtually any procedure that was required for investigations could also be conducted as part of an alternative response. However, workers had more autonomy in deciding what activities to conduct as part of the alternative response compared to the investigation response. The local agency survey found that more than two-thirds of agencies that provided an alternative response option had a shorter list of basic requirements. The list included:
Review prior CPS records;
Interview or formally observe child(ren);
Interview the caregiver(s); and
Consult with clinicians, domestic violence specialists, or substance abuse specialists, as needed.
The alternative response option was less focused on determining whether maltreatment had occurred, arranging for legal action, or recording information on perpetrators.
Less than one-half of the agencies would always notify a perpetrator of the results of an alternative response, compared to 85 percent of agencies conducting an investigation.
Approximately one-quarter of agencies would always obtain or preserve physical evidence during an alternative response, compared to 50 percent of agencies conducting an investigation.
About one-fifth of agencies would always conduct a criminal background check as part of an alternative response, compared to about one-third of agencies that would conduct such a check as part of an investigation. (See figure 7.)
Figure 7 Always-Conducted Activities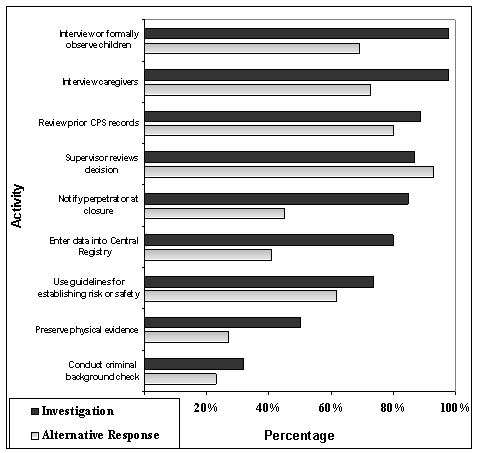 Source: Local Agency Survey
CPS agencies tended not to assume primary responsibility for maltreatment that was addressed under the alternative response. For example, less than 10 percent of agencies always had the lead responsibility for all types of maltreatment under alternative response, compared to 17 percent of agencies that always took the lead responsibility for investigation. Law enforcement was also less involved in the alternative response option than it was for investigation. Approximately 39 percent of agencies shared responsibilities with law enforcement under alternative response, compared to 84 percent of agencies that shared responsibility with law enforcement for investigation.
In general, fewer agencies identified specific barriers they faced when conducting an alternative response. Only predicting what might happen to a child was found to be an obstacle for completing an alternative response in a timely manner by more than two-thirds of agencies.
Many agencies with an alternative response indicated that improvements to their alternative response approach  including the possibility that cases can be transferred from alternative response to investigation and back, training workers to engage families, and assessing the community capacity to provide services  have been made recently.
Improvements to Alternative Response Practices
Ensuring that cases can move from investigation to alternative response or from alternative response to investigation after initial assignment.
Reviewing integrating CPS with other services, especially economic support services.
Assessing community capacity to support alternative response services.
Training workers on engaging families.
Reviewing workload of staff.
Recognizing that domestic violence may also be a safety issue.
Identifying specific and limited goals.
As noted above, almost two-thirds of all agencies have implemented some form of alternative response to a CPS investigation. The number of agencies engaged in alternative response exceeded most expectations. What is also clear is that alternative response is not one approach, nor does it emphasize only one goal. For some agencies, it means a less formal alternative with consequently less attention to the formalities of the investigation process, including due process and the role of law enforcement. For many agencies, it serves as an opportunity to engage families more openly and to introduce more prevention services.
The alternative response utilized assessments that focused on family needs and family strengths. (See the below listed references of evaluations of alternative response.) Services were provided under this family empowerment model.
Evaluations of Alternative Response
Institute of Applied Research. (2003, February). Minnesota Alternative Response Evaluation Second Annual Report: Executive Summary. St. Louis, MO: Author.
Institute of Applied Research. (1998, January). Missouri Child Protection Services Family Assessment and Response Demonstration Impact Evaluation: Digest of Findings and Conclusions. St. Louis, MO: Author.
Texas Department of Protective and Regulatory Services. (1999). Flexible Response Evaluation. Austin, TX: Author.
Virginia Department of Social Services. (1999). Final Report on the Multiple Response System for Child Protective Services in Virginia. Richmond, VA: Author.
[Go To Contents]
Collaboration in Providing Services
Approximately three-quarters of the States had policies requiring investigation workers to plan or assist with planning ongoing services. In 29 percent of agencies, the worker assisted a services worker with developing a service plan; in another 25 percent of agencies, the worker was a resource to the services worker. In 20 percent of agencies, workers would transfer cases for services with minimal involvement.
Twenty percent of agencies with alternative response required workers to assist with developing a service plan; in 16 percent of agencies the alternative response worker would be a resource for a service worker; and in 13 percent of agencies the worker would transfer the case with minimal involvement.
Agencies varied as to who would receive such services. (See figure 8.) Almost three-quarters of CPS agencies offered services regardless of the determination of the investigation; 15 percent of agencies offered services only if the referral was substantiated; and 11 percent of agencies did not offer any services at the conclusion of the investigation.
Figure 8 Provision of Services by CPS Agencies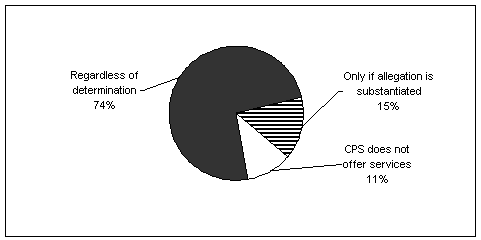 Source: Local Agency Survey
In spite of this variation, there was some consistency in the services that were offered by CPS agencies. At least two-thirds of agencies providing either the investigation response or the alternative response were able to provide or arrange for parenting classes, grief counseling, marital counseling, family systems therapy, substance abuse programs, advocacy services, child care, and domestic violence services. Symposium participants also emphasized that at the postinvestigation phase, community partners could also include Medicaid, public health departments, and health care providers.
"Community collaboration occurs at different levels-the worker level, the community level, the system level, and at the State and National levels." Susan Christie Deputy Executive Director, American Public Human Services Association
Based on the local agency survey, more than one-half of the agencies had some type of arrangement to provide services via other agencies. Usually these arrangements were available with several agencies, including mental health providers, substance abuse treatment providers, and others.
About 20 to 30 percent of CPS agencies reported increased collaboration efforts with domestic violence, substance abuse agencies, and other agencies. Domestic violence and substance abuse have been recognized concerns among families whose children were maltreated, but difficult for CPS to address because of differences in philosophy and service approach. To engage other agencies in the process of defining and redefining needs and interventions requires that the CPS system suspend at least some of its philosophy and orientation. Furthermore, successful interaction with external agencies requires sustained efforts. This direction of change may indicate that CPS agencies are expanding their mandates within the community and recognizing that the needs of children and families cannot be addressed by CPS alone.
Local agencies reported many efforts directed at improving community collaboration. Types of improvement included using service needs data, focusing on outcomes, and introducing performance-based contracting.
Improvements in Community Collaboration
Using services need data in planning collaboration in service delivery.
Stipulating requirements for matching funds to be made available as part of the contract.
Requiring training on CPS of local community professionals.
Reducing the number of meetings to address collaboration.
Introducing performance based contracting setting measurable standards that must be achieved by the contracting agency.
Focusing on outcomes.
The site visits also revealed emphases on developing new patterns of collaboration for addressing domestic violence and substance abuse. One-half of the sites were working with specialized programs to assist domestic violence victims. Shelters were involved in developing safety plans for children and families. Memoranda of understanding were developed in a number of the sites. CPS agencies also were developing working relationships with drug courts to assure that families received services and complied with case plans.
One concern identified during the site visits was that community organizations may limit their involvement due to the high-risk nature of CPS (i.e., where the safety of children is at stake). In one mid-sized community, when the community raised concerns about the effectiveness of CPS, the CPS director directly challenged the community to become involved in delivery of services. Collaboration was explored in a series of forums that revealed many organizations were reluctant to get involved with cases in which children were severely maltreated or were at high-risk of future abuse. By working together for a number of years, concerns about delivering services related to safety and security were allayed and the community decided to play an active role in the CPS process.
CPS has a pivotal role in impacting the well-being of children and their families. We want a Nation in which every child can pursue his goals and dreams without fear of want or abuse. Our national priority is the prevention of child abuse and neglect. Joan Ohl,Commissioner of ACYF
[Go To Contents]
Looking Toward the Future
Child protective services is often described as the gateway to child welfare, because the majority of children who are served by child welfare are first identified through CPS referrals and assessed by CPS workers. The National Study demonstrated that CPS is more than a gateway. Rather, CPS is the bridge between child welfare and the public as it receives referrals from the public, is answerable to public opinion, and collaborates with community agencies either through diverting families in need to the community or by relying upon the expertise of other professionals. It is also tasked with addressing prevention of child abuse and neglect before cases are referred to the agency.
In functioning as a bridge, tensions that permeate child welfare services are first visible in the delivery of CPS. These tensions or competing interests include the following.
Different Visions of CPS Functions
There are competing ideas of whether CPS should primarily function as a service to assist families in meeting the needs of their children or as an agency assisting law enforcement to gather the evidence to punish parents who do not meet societal norms of caring for their children. While this may be seen as a continuum of response, certain points along the continuum are highly problematical for all parties. This tension is reflected in the concerns over the due process rights of caregivers and children. Furthermore, concerns regarding legal rights extend not only to families, perpetrators, and children, but also to workers and agencies. This concern is being met, in part, by the instituting of alternative responses, which are focused clearly on helping families to meet their responsibilities towards their children.
Competing Core Issues
While the mandate for CPS is to ensure the safety of the child, there are competing core issues at the local level. Some consider that because most of the several thousand families who need services in this county are poor, the challenge to CPS is to be fundamentally integrated with antipoverty programs. Others suggest that an emphasis on poverty alone cannot meet the psychological and social needs of children who have been maltreated. Another set of opposing views is that CPS should be an emergency response to crises facing children versus the view that many families cannot be patched up quickly and that CPS needs to work more closely with other service providers because of its expertise in the needs of children. A third perspective is that because of limited resources CPS agencies cannot widen the net and meet the needs of more families, but must consider whether it will be the agency of last resort. These tensions have not yet been resolved. However, the movement to increase collaboration with other agencies and to share responsibilities may improve the balancing act facing CPS.
Tension Between Public Expectations and Agency Mandate and Resources
Several participants identified a chasm between public expectations and the mandate and resources of child protective services agencies. Although there may be an expectation of an immediate response, the resources may not exist to provide a thorough and effective response for all children who are at-risk of being harmed. Addressing how the clarity of expectations can be improved was of central concern to many symposium participants. These experts suggested that improvement in this domain would require new approaches to communication and public relations, as well as increased dialogue with all collaborating agencies, State legislatures, and the public.
Desire for Consistency of Response While Meeting Community Standards
It is generally recognized that it would be desirable if CPS agencies operate consistently. However, there are barriers to consistency including differences in the level of resources, lack of clear laws and policy, and the competing desire for local autonomy of government functions. The outreach to additional panels and review teams, whether it be fatality review teams, citizen review panels, or external case reviews, is one means by which CPS agencies try to understand the standards of the community that they serve.
Based on the symposium discussion, there appears to be a new awareness of evidence-based input as a pathway for change. For example, the Childrens Bureau included two outcomes related to child protective services in the Child and Family Services Review (CFSR) Safety Assessment Profile. Two outcomes that are used for the CFSR are:
Reduce recurrence of maltreatment of victims of child abuse and neglect; and
Reduce the incidence of child abuse and neglect in foster care.
Nevertheless, based on the site visits, there appears to be only limited efforts at applying such a framework to a wide range of changes. The question can be raised as to whether the tests of effective change and reform should be based on outcomes and also whether such tests are feasible. Can the CPS system shift from a reliance on philosophy and begin to routinely consider whether changes in policies and practices make a difference in terms of outcomes? Participants at the symposium suggested that perhaps the future challenge of CPS will be to determine if the variations among local agencies result in different outcomes. For example, if there is no observable difference in outcomes, flexibility and variation may be embraced; if there is a difference and some resulting outcomes are not acceptable, then the evidence-based approach may offer a strong impetus for more consistent reform efforts.
[Go To Contents]
Endnotes
1.  The Child Abuse Prevention and Treatment Act (CAPTA) [42 U.S.C. 5101 et seq.].
2.  The National Study of Child Protective Services Systems and Reform Efforts was conducted for the Childrens Bureau in the Administration for Children and Families and the Office of the Assistant Secretary for Planning and Evaluation, both in the U.S. Department of Health and Human Services. Staff of Walter R. McDonald & Associates, Inc., in conjunction with staff of the American Humane Association, KRA Corporation, and Westat, Inc., comprised the Study Team, under contract number HHS-100-00-0017.
3.  The reports from this study are available from the Child Welfare Information Gateway and on the Internet at http://aspe.hhs.gov/hsp/CPS-status03. Unless otherwise noted all data cited in this paper are from the National Study.
4.  Press release from the U.S. Department of Health and Human Services. April 1, 2003.
5.  U.S. Department of Health and Human Services, Administration on Children, Youth and Families. Child Maltreatment 2001. (Washington, D. C.: U. S. Government Printing Office, 2003).
6.  Ibid.