Friday, October 19, 2018
Printer Friendly Version in PDF Format (31 PDF pages)
Integrating Clinical and Home and Community Based Services
Presenters
Becky A. Kurtz, J.D., Moderator

NAPA Advisory Committee Member
Director, Area Agency on Aging, Atlanta Regional Commission

Tim Engelhardt

Director, CMS Office of Medicare and Medicaid Coordination

Debra L. Cherry, PhD

NAPA Advisory Committee Member
Executive Vice President, Alzheimer's LA

Kathy Velsey

President/CEO, Bay Aging dba VAAACares

Marisa Scala-Foley

Director, Aging and Disability Business Institute, n4a
Public Policy Framework for Improving Population Health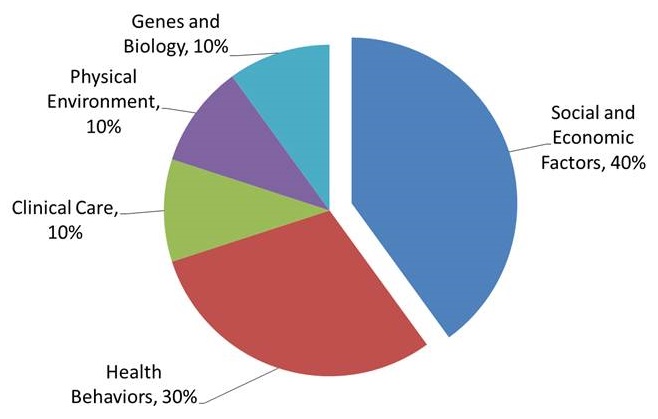 Tarlov AR. Public policy frameworks for improving population health. Ann N Y Acad Sci 1999; 896: 281-93.
Elizbeth H. Bradley and Lauren A. Taylor
"The United States is spending an extraordinary amount on health care as defined by the OECD. But the United States is not spending as much as other industrialized countries on fortifying crucial social services that help make people healthy."
The American Health Care Paradox: Why Spending More is Getting Us Less (2013) at p. 14
Older Americans Act Funding, Medicare Spending, And Older Adult Population Growth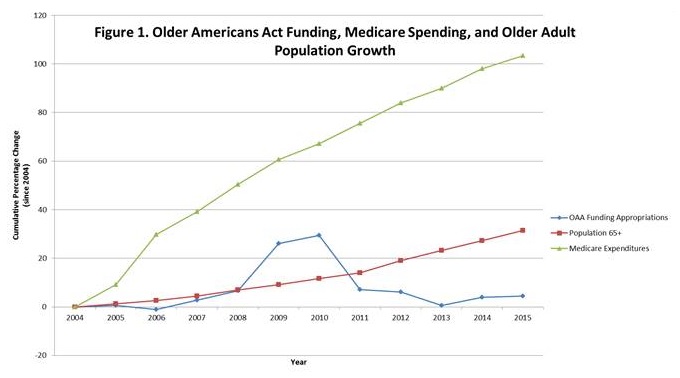 Source: Adapted from Parikh RB, Montgomery A, Lynn J. The Older Americans Act at 50--community-based care in a value-driven era. N Engl J Med. 2015;373(5):399-401. Values have not been adjusted for inflation.
Health Affairs
The National Plan
Released by HHS Secretary Sebelius on May 15, 2012 during International Research Summit at NIH
Balance work on treatments with care needed by people with the disease and their families now
National Plan, not just a federal plan: Requires engagement of public and private sector stakeholders
Long-term goals, strategies to achieve those goals, and immediate actions
Transparent reporting on progress:

Implementation timeline is appendix
Bi-annual reporting on progress to Advisory Council

Plan Iterations occur annually
Panel Discussion
Tim Engelhardt, Director, CMS Office of Medicare and Medicaid Coordination
Debra Cherry, PhD, Advisory Council Member
Kathy Vesley-Massey, CEO, VAAA Cares
Marisa Scala-Foley, Dir., Aging and Disability Business Institute, n4a
Moderator: Becky Kurtz
Better Serving Dually Eligible Individuals with Dementia through Integrated Care
Tim Engelhardt, Director
Medicare-Medicaid Coordination Office
Centers for Medicare & Medicaid Services
Dually eligible beneficiaries
12 million individuals are simultaneously enrolled in Medicare and Medicaid
The dually eligible population

Higher incidence of chronic conditions, disability

41% have at least one mental health dx
41% eligible for Medicare due to disability (vs. 8% for non-dual Medicare beneficiaries)
About half use long term services and supports
19% have Alzheimer's or related dementia

How it works

Duals navigate two separate programs:

Medicare for the coverage of most preventive, primary, and acute health care services and drugs.
Medicaid for the coverage of long-term care supports and services, certain behavioral health services, and for help with Medicare premiums and cost-sharing.
Where benefits overlap, Medicare is primary payer.
Dually eligible beneficiaries as a share of Medicare and Medicaid enrollment and spending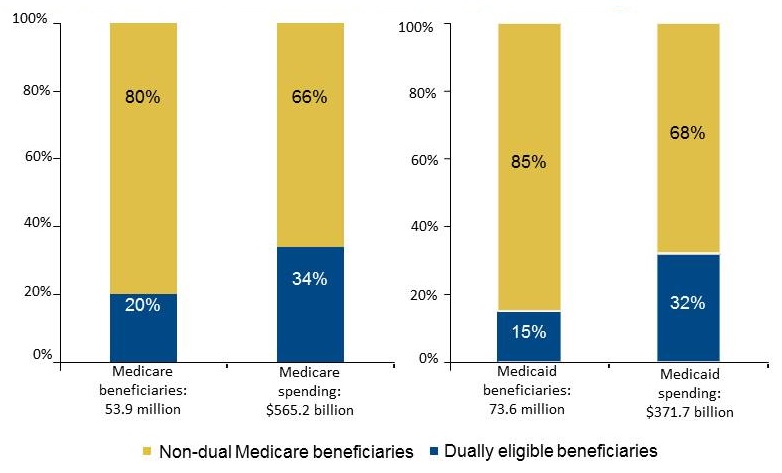 Note: Charts include all dually eligible beneficiaries (FFS, managed care, and ESRD). Medicaid spending amounts exclude Medicaid payments of Medicare premiums. Exhibit excludes administrative spending. Source: MedPAC-MACPAC Data Book 2018
Dual eligibility correlates to poorer outcomes in Medicare programs
Program
ASPE findings for dually-enrolled vs. non-dually-enrolled beneficiaries
Hospital Readmissions Reduction Program
- 10-31% higher risk-adjusted odds of readmission
Hospital-Acquired Conditions Reduction Program
- Higher safety event rates for 4/8 individual events; lower for 2/8
Hospital Value-Based Purchasing Program
- 5-14% lower risk-adjusted odds of mortality
- 4% higher risk-adjusted spending per episode
Medicare Advantage
- Performance worse on 17/20 quality measures
Medicare Shared Savings Program
- 18% higher risk-adjusted odds of readmission
- 16% higher age/gender-adjusted odds of COPD admission
- 14% lower age/gender-adjusted odds of HF admission
Physician Value-Based Payment Modifier
- 11-20% higher risk-adjusted odds of readmission
- 80-230% higher risk-adjusted odds of preventable admission
- $725-$2,979 higher risk-adjusted costs
ESRD Quality Incentive Program
- Performance worse on 5/5 quality measures
Skilled Nursing Facility Readmissions
- 4% lower risk-adjusted odds of readmission
Home Health Readmissions and ED Use
- 9% higher risk-adjusted readmission rates
- 18% higher risk-adjusted ED use rates
ASPE Report to Congress: Social Risk Factors and Performance Under Medicare's Value-Based Purchasing Programs. December 2016. https://aspe.hhs.gov/pdf-report/report-congress-social-risk-factors-and-performance-under-medicares-value-based-purchasing-programs.
Misaligned incentives
Critical point: Misaligned incentives across states and CMS

State investments in Medicaid services to improve care for dually eligible beneficiaries (e.g. enhanced behavioral health, LTSS) may result in savings that accrue to Medicare from lower acute care utilization -- or vice versa.
Historically, states have either:

Shouldered the burden of such investments without sharing in the acute care savings,
Carved out dually eligible beneficiaries of their care management programs, and/or
Passively (and sometimes actively) shifted costs to Medicare.

Integrated care holds promise for realigning incentives.
Current Approaches to Integrated Care
Programs of All-Inclusive Care for the Elderly (PACE)

PACE is a unique capitated managed care benefit for the frail elderly.
PACE features a comprehensive medical and social service delivery system using an interdisciplinary team approach in an adult day health center that is supplemented by in-home and referral services in accordance with participants' needs.

Dual Eligible Special Needs Programs (D-SNPs)

Dual Eligible Special Needs Plans (D-SNPs) enroll individuals who are entitled to both Medicare and Medicaid. D-SNPs are Medicare Advantage plans that are specifically designed to provide targeted care and limit enrollment to special needs individuals. When paired with a Medicaid MCO operated by the same organization, a beneficiary can receive all of her services from one place.
Overview of the Financial Alignment Initiative
Background

A longstanding barrier to coordinating care for the dually eligible population is the financial misalignment between Medicare and Medicaid. That is, investments or disinvestments in one program may result in savings or costs to the other program.

Individuals with Alzheimer's and related dementias among populations that may feel that financial misalignment most acutely

CMS is testing models to integrate the service delivery and financing of both Medicare and Medicaid through federal-state demonstrations to better serve the population.

Goal

Reduce expenditures while preserving or enhancing quality of care
Increase access to quality, seamlessly integrated services for the dually eligible population.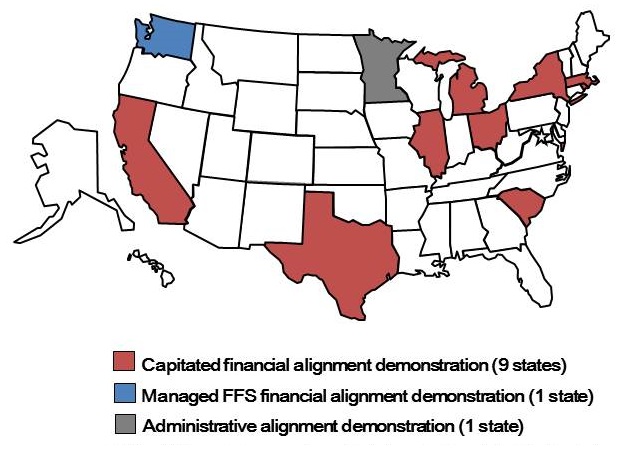 1 CMS and NY operate two separate capitated demonstrations, both in the New York City area.
Cal MediConnect
Financial Alignment Initiative demonstration in California
10 Medicare-Medicaid plans serving 115,000 beneficiaries
Leverage three-way contract provisions to identify, document, and support beneficiaries with dementia diagnosis

Health risk assessments and care plans
Caregivers
Dementia care specialists

Alzheimer's of Greater Los Angeles estimates almost 200,000 dually eligible beneficiaries in California and 71,000 in Los Angeles county have Alzheimer's or a related dementia.
The Dementia Cal MediConnect Project
Debra L Cherry, PhD
Funding
This project was supported, in part, by grant numbers 90DS2002-01-00 and 90DS2017-01-00, from the Administration on Aging, U.S. Administration for Community Living, Department of Health and Human Services and the California Department of Aging.
Additional funding was provided by:

The Change AGEnts Initiative Dementia Caregiving Network, funded by The John A. Hartford Foundation through a multi-year grant to The Gerontological Society of America
The Harry and Jeanette Weinberg Foundation
The Ralph M. Parsons Foundation
The Allergan Foundation
The Rosalinde and Arthur Gilbert Foundation
Policy Levers for DCMC Project
3 Way Contracts -- Dementia Care Specialists
Guidance on Identifying a Caregiver
Informational Bulletin on Dementia
Dementia Cal MediConnect Project Goal: Creating Dementia-Capable Systems of Care
Better detection & documentation of patients with dementia
Better identification, assessment, support and engagement of family/friend caregivers
Better partnerships with community-based organizations
The Dementia Cal MediConnect Project: Key Compon
Advocacy with health plans, state and CMS - Making the case for focusing on dementia care
Care manager training and support
Health plan technical assistance
Support services for patients and caregivers through the health plans and/or through referrals to local Alzheimer's organizations for:

Disease education
Caregiver support
Care planning
I & R
Respite
Indicators of a Dementia Capable System
Better detection of patients with dementia

Include cognitive impairment questions in the HRA and other assessments
Adopt a validated screening tool
Document cognitive assessment in the e-medical record
Establish a follow-up protocol if the cognitive screen is positive

Better identification, assessment, support and engagement of family/friend caregivers

Identify caregiver and document him/her/them in the eMR
Assess the caregiver's needs
Provide or arrange for disease education and support
Engage the patient, as appropriate, and the caregiver in care planning
Develop a care plan based on person- and family-centered needs

Better partnership with Community-Based Organizations Adoption of a proactive referral tool to connect families to LTSS like:

Respite
Meals on Wheels
Support groups
Caregiver education
Care counseling
Disease education
Care Manager Training
Care manager training (8 hours)

10 health plans plus PPGs and contracted LTSS organizations
Nearly 500 care managers

Dementia Care Specialist trainings (12 hours)
9 health plans
109 specialists trained to date
Dementia Care Manager Training Content
Fundamentals of Cognitive Impairment, Alzheimer's Disease and Related Dementias
Practical Dementia Care Management

IDEA! Behavior Management Approach
Caregiver Tip Sheets on Behaviors
Best Practice Care Plans

Caring for the Caregiver
Resources/Support Services
Tool to Facilitate Warm Referrals
Plain Language Caregiver Tip Sheets
Anger and Fighting
Bathing
Getting Lost
Medications
Hallucinations
Paranoia
Sundowning
And more...
Alzheimer's Greater Los Angeles
Sample HRA Questions
Training Curricula for Care Managers
ALZ Direct Connect Form (for adaptation)
Dementia Care Management Toolkit
AD8 Dementia Screening Tool and others
Caregiver Identification Tool
Benjamin Rose Caregiver Stress and Strain Scale and others
Care Needs Assessment Tool
IDEA! Strategy for Managing Challenging Behaviors
Best Practice Care Plans
Plain Language Caregiver Tip Sheet
Tools Available
Evaluation
Insitute for Health & Aging
Evaluation Design
Care Manager training outcomes

Knowledge of ADRD
Practice change
Systems change
Pre-, post- and 6-months post surveys

Systems Change Tracking

Tracking indicators of dementia capable systems of care
Staff report and key informant validation
What can we say about CM practice change?
When working with a member who may have ADRD...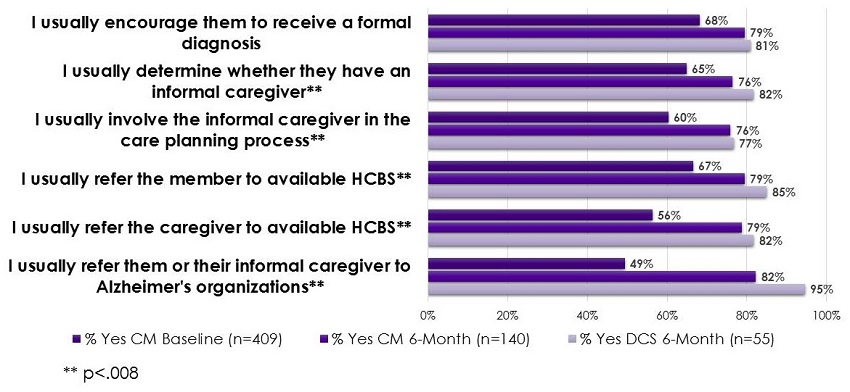 Health Plan Systems Change Results (n=10)
Screening and Diagnosis

10 have at least one question in HRA regarding cognitive issues
6 have adopted a validated screening tool into their assessment processes
5 have protocols to refer members to PCP if screen is positive

Caregiver Identification, Assessment, and Involvement

9 report documentation of caregivers in EHR
10 plans report engaging caregivers in care planning and ICTs
4 adopted validated measure of caregiver stress and strain, and 2 integrated into EHR
7 offer or arrange for respite
10 plans offer or arrange for caregiver education (group or 1:1)

Referrals to HCBS

7 plans encourage the use of ALZ Direct Connect
10 plans make referrals to local Alzheimer's organizations
Dementia Cal MediConnect Project Team
Project Co-Directors

Lora Connolly, MSG Director California Department of Aging
Debra L Cherry, PhD Executive Vice President Alzheimer's Los Angeles

Project Manager

Jennifer Schlesinger, MPH, CHES Director, Professional Training and Healthcare Services Alzheimer's Los Angeles

Project Evaluator: UCSF Institute for Health and Aging

Brooke Hollister, PhD
Leslie Ross, PhD
Jarmin Yeh, PhD

Alzheimer's Los Angeles

Barbra McLendon, MSW
Kelly Honda
Sergio Calderon, MPH
Terry Garay
Juan Saavedra, MSW

Alzheimer's Association

Elizabeth Edgerly, PhD
Ruth Gay, MS, Team Lead
Pauline Martinez, MA
Alexandra Morris, MA
Angie Pratt, MAS
Susan DeMarois
Claire Day

Alzheimer's San Diego

Jessica Empeño, MSW
Amy Abrams, MSW, MPH
Integrating Clinical Care and Social Supports: An Area Agency on Aging Model
Kathy Vesley
President/CEO
Bay Aging dba VAAACares®
P.O. Box 610
Urbanna, VA 23175
804-758-2386
VAAACares® is
A Statewide collaboration of the Virginia Network of Area Agencies on Aging (AAAs).
A subsidiary of Bay Aging; it serves as the 'one-stop-shop' for healthcare providers and payers to access community-based services.
AAAs are Aging & Disability Resource Centers (ADRCs) for persons 18 and older.
Previously the Eastern Virginia Care Transitions Partnership, it serves as the Hub for care transitions, chronic care management, and behavioral health integration across the State of Virginia.
Evolution of the EVCTP to VAAACares®
2013

EVCTP's full launch under the CMS CCTP demo for CTI with 5 health systems, 69 skilled nursing facilities, and 5 Area Agencies on Aging -- covering 20% of the state

2015

Bay Aging Initiated development of VAAACares® statewide for contract opportunities with Duals Demonstration - CTI and Care Coordination.

2016

Based on Medicare savings and improved health outcomes, the VA General Assembly awarded funding to Bay Aging/EVCTP to demonstrate impact in Medicaid.

2017

Success in Duals Demo led to MLTSS contracts for CTI and Care Coordination

2018

VAAACares® emphasizes services for MCOs and ACOs, and is working to leverage new Medicare Advantage opportunities.
VAAACares® Evidence-Based, Care Transitions Intervention (CTI)©
30 - 90 Day intervention targeted to patients with one or more acute hospital admissions -- based on a modified Coleman CTI model
VAAACares® places embedded care coordination staff at participating hospitals.

Participants are targeted based on high utilization rates
The intervention becomes part of the hospital discharge process

A person-centered intervention plan is developed based on assessment findings.

Discharge Planning Assessment
In-Home Assessment
Medication / Reconciliation post-discharge /Management Plan
Caregiver needs are high priority with some interventions geared to them.
Past Performance
CMS -- CMMI funded Community Care Transitions Provider: Eastern Virginia Care Transitions Partnership (EVCTP)
EVCTP: Year 2 Performance Analysis:

Visited 90% of chronically ill target group (high utilizer) patients from partner hospitals in their homes
Total Home Visits to all Hospital Patients 25,655
Target Group Readmission Reductions (Hospital Data)

2010 Baseline 23.4%
Enrollee Readmission Rate 9.1%
Reduced ED Utilization of "Self Insured"
Increased PCP Utilization
Eastern Virginia Care Transitions Partnership (now d/b/a VAAACares®) Outcomes and Cost Savings
CMS Medicare Demonstration
2/2013 - 1/2016
Other Medicare
2/2016 - 12/2017
General Assembly Funded Medicaid Pilot
7/2016 - 6/2017
Managed Care Organization Duals Demo
4/2016 - 12/2017
VAAACares Patient Empowerment
When given the opportunity to gain insight and skills, engaged patients are better equipped to manage their conditions, remain at home longer, and are more likely to use fewer healthcare services, thereby reducing healthcare costs.

Confidence Question: On a scale of 1 to 10, with 1 being not at all confident and 10 being completely confident, consider the following:
I am confident that I can manage and control most of my health problems.
Value Adds from AAAs
Assessment and home stabilization strategy Available to Caregiver and Patient
Components

Assessment
Medication Reconciliation and Self-Management
PCP Appointment Adherence
Red Flags
Patient Centered Record

Incorporate

Chronic Disease Self-Management Education
Fall Prevention
Diabetes Self-Management Education
Healthy Ideas / PHQ9
Advance Care Planning
Telehealth / Tele-education

Other Services

Information about ADRC services
Transportation
Nutrition / Meals on Wheels
Personal and Companion Care
Emergency Services i.e. fuel assistance
Environment Home Modifications & Repair
Adult Day Services
Caregiver Support
Customizable: 30-Day Traditional Intervention
Inclusion Criteria-Examples

Patient with one or more chronic conditions and/or a recent hospital admission or ED encounter
CHF, COPD, Diabetes, Septicemia, AMI, Pneumonia, and other high utilizers
Patients with "social" needs for community based services

Other Inclusion Criteria -- Examples

Individuals with dementia or Alzheimer's Disease or serious mental health issues with an active caregiver
Usually patients in hospice or living in long term care facilities are not included.
Customizable: Extended 90-Day Model for Higher-Risk Populations
Blended Care Transitions and Case Management
Inclusion Criteria-Examples are the same as 30-Day Model but patients have more complex needs
Some payers include:

Medicare Advantage
Medicare high-risk
Dual-Eligible

Support from Administration for Community Living (ACL) for the opportunity to develop and participate in demonstrations and third-party payer models
Third-Party Payer

Utilizing TCM and CCM codes ordered by physician group and/or hospitalist
Success Story: The Millers
About:

82 year old male discharged from the hospital with a diagnosis of pneumonia. Prior recent diagnosis of dementia.
Mrs. Miller, his caregiver, had no local support or knowledge of how to care for Mr. Miller given his current condition and how his dementia would progress.
Mr. Miller was in denial of his condition and did not want to discuss what might happen if his wife fell ill and could no longer care for him.
His dementia progressed rapidly and other physical conditions surfaced:

Incontinence
Wandering off
No caution of situations that should be considered frightening
Constant intolerance and agitation.

Outcomes:

Enrollment in our Care Transitions Intervention program and participation in the telehealth patient monitoring program to assist Mrs. Miller in tracking her husband's vital signs for 90 days.
Frequent visits with a VAAACares® Health Coach to determine needs and support.
Referred Mrs. Miller to an Alzheimer's support group and set up respite care during her absence.
The coach was able to build a relationship with Mr. Miller during these sessions providing Mrs. Miller the necessary time to focus on herself.
Enrollment in a pilot program called FAMILIES (Family Access to Memory Impairment and Loss Information, Engagement and Supports), which connected Mrs. Miller to a Clinical Psychologist who provided counseling services via a WebEx connection that the coach provided.

These sessions helped her:

Increase her knowledge for managing her husband's dementia and how it may progress
Develop a care plan that works for her
Identify coping strategies to reduce stress and the changes in her husband's personality and behavior

The Millers are able to live in their home and frequent hospitalizations subsided
Thank you!
Questions?
Kathy Vesley
President/CEO
Bay Aging dba VAAACares®
P.O. Box 610
Urbanna, VA 23175
804-758-2386
Integrating Clinical Care with Home & Community-Based Care: New Opportunities under Medicare Advantage
Marisa Scala-Foley
Director, Aging and Disability Business Institute
n4a
The "Business Institute"
The mission of the Aging and Disability Business Institute (Business Institute) is to successfully build and strengthen partnerships between community-based organizations (CBOs) and the health care system so older adults and people with disabilities will have access to services and supports that will enable them to live with dignity and independence in their homes and communities as long as possible.
www.aginganddisabilitybusinessinstitute.org
n4a Aging and Disability Business Institute
Our Funders

The John A. Hartford Foundation
Administration for Community Living
The SCAN Foundation
Gary & Mary West Foundation
The Colorado Health Foundation
The Buck Family Fund of MCF

Our Partners

ILRU
American Society on Aging
Partners in Care Foundation
National Council on Aging, Center for Healthy Aging
Meals on Wheels America
Evidence-Based Leadership Council
Bipartisan Budget Act of 2018 & CHRONIC Care Act
New tools and strategies to address the needs of people with Medicare who have complex care needs
Permanently authorizes Special Needs Plans (SNPs) which target high-need/high-risk Medicare beneficiaries (i.e., dual eligibles [D-SNPs], people with chronic health conditions [C-SNPs], people living in institutions [I-SNPs])
Promotes integration in D-SNPs, and reduces barriers to care coordination in ACOs
Extended and expanded the Independence at Home Demonstration, through which comprehensive primary care services are delivered at home to Medicare beneficiaries with multiple chronic conditions
Expanded access to telehealth in Medicare Advantage plans and ACOs
Opportunities -- Medicare Advantage (MA)
Expansion of Medicare Advantage supplemental benefits

Includes flexibility to offer some types of long-term supports and services (LTSS)

Changes in the following areas:

Uniformity requirements
Targeting of beneficiaries
Definition of "primarily health-related"
Changes for 2019
 
Old Rules
New Rules
Benefit uniformity
Plans must offer the same benefits to all enrollees of the same plan
Now allowed to target benefits to groups of enrollees who share
Supplemental benefits
Supplemental must be "primarily health-related" which means, in part, not for the purpose of "daily maintenance"
Broader definition of the term "primarily health-related"
Source: Tumlinson & Johnson. (2018). CHRONIC Care Act: Making the Case for LTSS in Medicare Advantage Supplemental Benefits. LTSS Summit, Sacramento, CA, The SCAN Foundation, 2018.
Defining "primarily health-related"
Benefits must:

Diagnose, prevent or treat an injury;
Compensate for physical impairments;
Act to ameliorate the functional/psychological impacts of injuries or health conditions; OR
Reduce avoidable emergency or health care utilization
Cannot be "solely or primarily used for cosmetic, comfort, general use, or social determinant" purposes
Benefits must be recommended by a licensed professional as part of a care plan
Examples of allowable types of supplemental benefits
Adult day care services
Home-based palliative care
In-home support services
Respite care
Transportation (to doctor's visits)
Home modification (e.g., safety devices and modifications like grab bars, shower stools, stair treads)
Support for caregivers
(Meals excluded for 2019)
Further changes in 2020
Expands supplemental benefits to allow benefits that "with respect to a chronically ill enrollee, have a reasonable expectation of improving or maintaining the health or overall function of the chronically ill enrollee and may not be limited to being primarily health related benefits."
The Secretary may waive uniformity requirement for supplemental benefits to chronically ill enrollees
Opportunities (and Advice) for Community-Based Organizations
Define your value proposition in terms of how the services you offer address the plan's pain points
Results, results, results
Think about approaching MA plans with your existing health care partners
If you have contracts with Medicaid/duals plans, approach their MA plans
Don't underestimate the value of retention
Resources
Questions?
For more information:
www.aginganddisabilitybusinessinstitute.org
Marisa Scala-Foley
202-580-6021
Discussion