Friday, October 19, 2018
Printer Friendly Version in PDF Format (11 PDF pages)
Together We Make the Difference National Strategy for Recruitment and Participation in Alzheimer's & Related Dementias Clinical Research
Marie A. Bernard, MD
Deputy Director, National Institute on Aging
National Institutes of Health
Urgent mission
National Alzheimer's Plan goal 1: "To effectively treat or prevent Alzheimer's by 2025"
Public funding is increasing, research is accelerating
Drugs and other interventions in rapid development, moving to clinical trials to be tested
200+ trials currently underway, seeking 100,000+ participants
The number of people with Alzheimer's disease is rapidly growing

2018 = 5.5 million; 2050 = 13.8 million
More than 200 Alzheimer's and related clinical trials in the U.S. need at least
100,000 people with Alzheimer's, healthy volunteers, and caregivers. However, recruitment and retention of diverse participants is a challenge.
But, more studies competing for volunteers
Many research sites are slow to meet volunteer recruitment targets, while others do not reach their targets at all

Delays in time to complete studies
Increases research costs

Precision medicine -- right treatment, right person, right time -- means representation of all is critical
Recruitment challenges for AD/ADRD studies
Participant burden:

Study partner requirements
Invasive and time-consuming procedures

Strict eligibility criteria
Lack of capacity, awareness, and resources among primary care physicians
Need for cognitively unimpaired volunteers
NIA analysis of inclusion in AD/ADRD trials
Older adults are included
Representation of non-white populations is variable
Trial exclusion criteria may negatively impact participation of underrepresented groups:

Multiple medications
Neurological, cardiovascular, diabetes, cancer, other co-morbidities
% by Race of participants in NIH-funded AD trial publications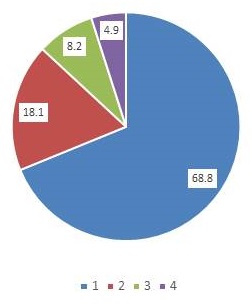 Overcoming challenges, opening doors
What is NIA doing in collaboration with others to overcome inclusion and recruitment challenges?

Developing national recruitment strategy
Funding opportunities and infrastructure
Outreach and education

Will require a wide variety of stakeholders: industry, clinicians, public, researchers, advocates
National Strategy for Recruitment and Participation in Alzheimer's & Related Dementias Research
GOAL:

Engage broad segments of the public in Alzheimer's and related dementias research
Focus on underrepresented communities
Assist studies in successfully and more quickly enrolling and retaining people in studies to better understand and eventually cure these disorders.
4 areas of focus
Increase awareness and engagement
Build and improve infrastructure
Engage local communities and support participants
Develop an applied science of recruitment
1. Increase Awareness and Engagement
Strategic Priorities:

Identify diverse audiences needing tailored messages and best locations and modes of outreach at the national and community levels.
Develop and disseminate culturally and linguistically appropriate content for outreach and awareness.
2. Build and Improve Infrastructure
Strategic Priorities:

Leverage and improve existing registry infrastructure.
Develop and adapt information technologies to support recruitment.
Structure staffing and organizational incentives to support and reward successful recruitment.
Support study site capacity building.
Improve efficiency and effectiveness of screening.
Facilitate collaborative networks of study sites.
3. Engage Local Communities & Support Participants
Strategic Priorities:

Develop equitable and sustainable community partnerships to build trust and shared ownership of research mission.
Promote health and science literacy in the community with a focus on cognitive health.
Expand trial design to encourage participation of more diverse communities.
Facilitate diverse participation by providing support and audience-specific recruitment and retention strategies.
Identify and prioritize available resources to develop community partnerships and support participants.
4. Develop an Applied Science of Recruitment
Strategic Priorities:

Develop baseline measures and evaluate and optimize effectiveness of outreach and recruitment strategies.
Create, disseminate, and continuously improve evidence-based recruitment resources.
Roles for Stakeholders -- Gov Agencies
Signal priorities in funding opportunity announcements or procedures
Shape application submission and review requirements
Work directly with investigators in cooperative agreements
Collect and disseminate evidence-based resources in a central location
Support evaluation efforts and compilation of the evidence base
Provide a national voice to communicate priorities
Roles for Stakeholders -- Advocacy Organizations
Organize national, regional, and local awareness campaigns
Build and maintain relationships with other stakeholder groups
Create and adapt materials and resources for study site use
Collect and disseminate evidence-based resources
Support or conduct community needs assessments and evaluations
Provide a national voice to communicate and reinforce priorities.
Roles for Stakeholders -- Researchers, Study Sites, Institutions
Plan and budget for the priorities outlined in the Strategy
Prioritize and implement improvements in study site capacity and workforce to support diverse recruitment
Develop local-level community partnerships, build trust, involve community in the research enterprise
Develop referral networks with primary care providers and other study sites
Implement trial designs and organizational incentive structures that maximize diverse participation.
Roles for Stakeholders -- Community Orgs
Participate in community advisory boards
Build relationships with researchers and study sites
Host community events or offer locations for study outreach
Become involved in the research enterprise
Roles for Stakeholders -- People with Dementia, Caregivers, Families
Share their experiences with others
Ask primary care physicians for screening or referrals to clinical research opportunities
Participate in clinical research
Become peer mentors for others considering research participation
Provide input and feedback to researchers and study sites
Help study sites build community partnerships
NIA's Role in Implementation
Convene and facilitate

Continue to convene and facilitate stakeholders to implement tactics outlined in the National Strategy

Targeted outreach

Continue to increase awareness, conduct targeted outreach efforts

Enhance and share the evidence base

Support evaluation of and disseminate research on effective recruitment strategies

Funding and policy

Address recruitment challenges through funding initiatives and policies Support research infrastructure enhancements
Funding opportunity for community engagement
Examining Diversity, Recruitment and Retention in Aging Research (PAR-18-749) https://grants.nih.gov/grants/guide/pa-files/PAR-18-749.html
Encourages building new, collaborative teams to target gaps in recruitment and retention methods and outcomes
Support for establishing community infrastructure needed to accelerate studies
Social Media Outreach
Join us on Twitter Tuesday October 23 to celebrate #ResearchDiversity
We've only just begun... We're all in this together
What can each of us do to move Alzheimer's & related dementias research forward?