Friday, July 30, 2018
Printer Friendly Version in PDF Format (19 PDF pages)
HEALTHY BRAIN INITIATIVE
State and Local Partnerships to Address Dementia: The 2018-2023 Road Map
Lisa C. McGuire, PhD
Alzheimer's Disease and Healthy Aging Program
Centers for Disease Control and Prevention
Robert Egge
Chief Public Policy Officer
Alzheimer's Association
Alzheimer's Prevalence and Costs
In Millions of People; In Billions of 2018 Dollars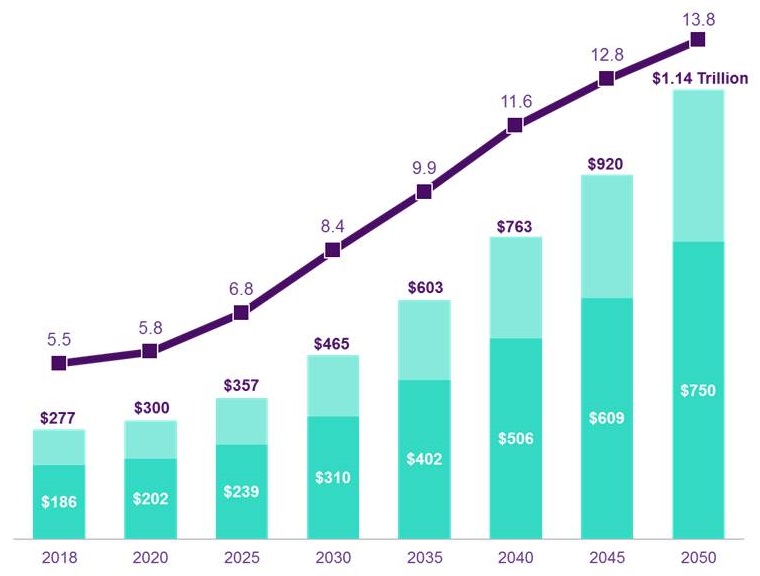 Healthy Brain Initiative
2005: Originating Partners

Centers for Disease Control and Prevention
Alzheimer's Association

Purpose

Advance cognitive health as an central part of public health practice
History: Healthy Brain Initiative
2005

Healthy Brain Initiative
Established with Congressional Support

2007

A National Public Health Road Map to Maintaining Cognitive Health
Published

2010

Healthy People 2020
Includes "Dementia" Objectives

2011

National Alzheimer's Project Act (NAPA)
Signed in to Law
(Public Law 111-375)

2012

National Plan to Address Alzheimer's Disease
Published

2013

The Public Health Road Map for State and National Partnerships, 2013-2018
Published

2018

State and Local Public Health Partnerships to Address Dementia, the 2018-2023 Road Map
To be published in fall 2018
HBI Road Maps
Practical and expert-guided actions for state and local public health leaders

Flexible agenda
Grounded in public health approaches
Surveillance Accomplishments
Subjective Cognitive Decline
49 states, DC and Puerto Rico (in 2015 or 2016)
Caregiver
47 states, DC and Puerto Rico (in 2015, 2016, or 2017)
Data for Action
Growth in Road Map Implementation Actions
Number of Road Map Actions Implemented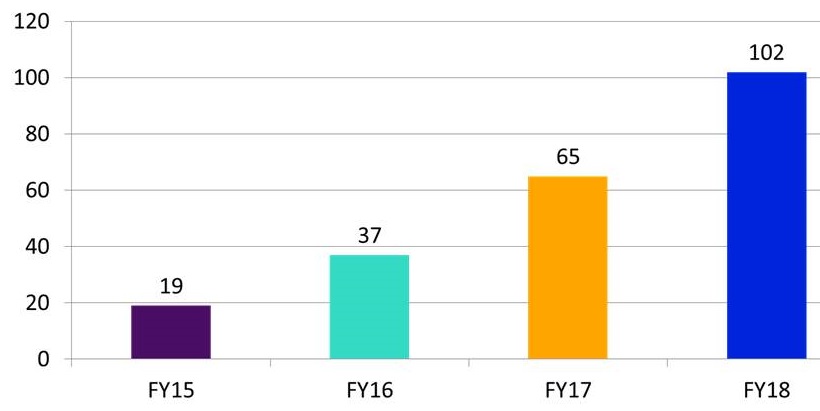 State Public Health: Locus of Activity, 2015-17
Time for an Update!
Road Map Leadership Committee

Examine progress with current Road Map
Identify leading public health issues for 2018-2023
Obtain subject matter, practitioner, and stakeholder expertise on top issues
Propose and review actions for next Road Map
Thank You
143 practitioners, subject matter experts, and researchers
5 virtual consultations with stakeholders
5 workgroups established by Leadership Committee
Key Decisions
Focus on state and local public health agencies

Collaborating partners = aging, health care, academia, and other sectors

Keep public health framework
Reduce actions, but elevate impact

Emphasize policies, systems, and environments

Integrate dementia caregiving and generating evidence for action
State and Local Public Health Partnerships to Address Dementia, the 2018-2023 Road Map
Framework: Essential Services of Public Health
Life-Course Perspective and Public Health Roles
Core Topic Areas
Risk identification and risk reduction
Early detection and diagnosis, and quality of care
Dementia caregiving
Education and training for professionals
Data and evidence for action
Priority Actions
Educate and Empower

Educate the public about brain health and cognitive aging, changes that should be discussed with a health professional, and benefits of early detection and diagnosis. (E-1)
Integrate the best available evidence about brain health and cognitive decline risk factors into existing health communications that promote health and chronic condition management for people across the life span. (E-2)
Increase messaging that emphasizes both the important role of caregivers in supporting people with dementia and the importance of maintaining caregivers' health and well-being. (E-3)
Improve access to and use of evidence-informed interventions, services, and supports for people with dementia and their caregivers to enhance their health, well-being, and independence. (E-7)

Develop Policies and Mobilize Partnerships

Promote the use of effective interventions and best practices to protect brain health, address cognitive impairment, and help meet the needs of caregivers for people with dementia. (P-1)
Support better informed decisions by educating policy makers on the basics of cognitive health and impairment, the impact of dementia on caregivers and communities, and the role of public health in addressing this priority problem. (P-3)

Assure a Competent Workforce

Educate public health and healthcare professionals on sources of reliable information about brain health and ways to use the information to inform those they serve. (W-1)
Educate public health professionals about the best available evidence on dementia (including detection) and dementia caregiving, the role of public health, and sources of information, tools, and assistance to support public health action. (W-3)
Foster continuing education to improve healthcare professionals' ability and willingness to support early diagnoses and disclosure of dementia, provide effective care planning at all stages of dementia, offer counseling and referral, and engage caregivers, as appropriate, in care management. (W-4)

Monitor and Evaluate

Implement the Behavioral Risk Factor Surveillance System (BRFSS) optional module for Cognitive Decline in 2019 or 2020, and the BRFSS optional module for Caregiving in 2021 or 2022. (M-1)
Use data gleaned through available surveillance strategies and other sources to inform the public health program and policy response to cognitive health, impairment, and caregiving. (M-3)
Road Map for Indian Country
American Indians and Alaska Natives: gains in longevity, but Elders with higher risks for dementia and heart disease

Available in Fall 2018
Tailored for Tribal and Native health leaders to engage their communities on Alzheimer's and other dementias
Suggest public health responses to

Reduce risk for cognitive decline
Advance early detection
Support caregivers
Monitor and evaluate
Now --> October Release
Get Ready

Sharing previews (July-Aug.)
Establish marketing partners (July-Sept.)
Prepare marketing partners (Sept.-Oct.)

Road Map Surge (Oct.-Nov.)

Extensive promotion over a week
Events in states and at national conferences to mobilize Road Map implementation
What You Can Do
Public Health

National Organizations

Raise awareness
Educate your members, constituents

State and Local Public Health

Review Road Map
Prioritize and implement actions
Evaluate
Share your successes

Aging Network

National Organizations

Raise awareness
Educate your members, constituents

State and Local Aging and Disability

Share Road Map with public health
Establish shared goals
Partner to implement

Other Partners

As appropriate:

Promote the Road Map
Inform policy makers
Integrate into existing community benefit and other plans
Collaborate on implementation
Conduct applied research and translation
Summary
New HBI Road Map

Helps state and local public health agencies and their partners chart a course for a dementia-prepared future
Prioritizes applied research and translation to help advance the field
For More Information
Healthy Brain Initiative
Dr. Lisa McGuire,LMcGuire@cdc.gov
For more information, contact CDC, 1-800-CDC-INFO (232-4636), TTY: 1-888-232-6348, http://www.cdc.gov
The findings and conclusions in this report are those of the authors and do not necessarily represent the official position of the Centers for Disease Control and Prevention.
Alzheimer's Impact Movement
Building Our Largest Dementia (BOLD) Infrastructure for Alzheimer's Act
(S. 2076/H.R. 4256)
What Makes Alzheimer's a Public Health Concern?
The burden is LARGE
The impact is MAJOR
There are ways to INTERVENE
Senate Sponsors
Senator Susan Collins (R-ME)
Senator Catherine Cortez Masto (D-NV)
Senator Shelley Moore Capito (R-WV)
Senator Tim Kaine (D-VA)
House Sponsors
Representative Brett Guthrie (R-KY)
Representative Paul Tonko (D-NY)
Representative Chris Smith (R-NJ)
Representative Maxine Waters (D-CA)
BOLD Infrastructure for Alzheimer's Act
Establishes Alzheimer's Centers of Excellence
Provides funding for public health departments across the country
Increases data collection, analysis and timely reporting
The BOLD Infrastructure for Alzheimer's Act Directs CDC to:
Establish Alzheimer's Centers of Excellence (CoEs)

Increasing education of public health officials, health care professionals & the public on Alzheimer's
Implementing strategies to improve early detection and diagnosis, reduce risk, and prevent avoidable hospitalizations
* Authorizes $12 million to be appropriated for purposes of establishing the CoEs.

Award cooperative agreements to public health departments

Helping public health departments implement effective Alzheimer's interventions and strategic action items identified in the Public Health Road Map
*Authorizes $20 million to be appropriated for purposes of awarding cooperative agreements.

Increase data collection, analysis and timely reporting

Data helps stakeholders track public health response progress and identify opportunities for public health interventions
Data is collected using tools like Behavioral Risk Factor Surveillance System (BRFSS)
*Authorizes $5 million to be appropriated for purposes of data collection, analysis and reporting
Questions?