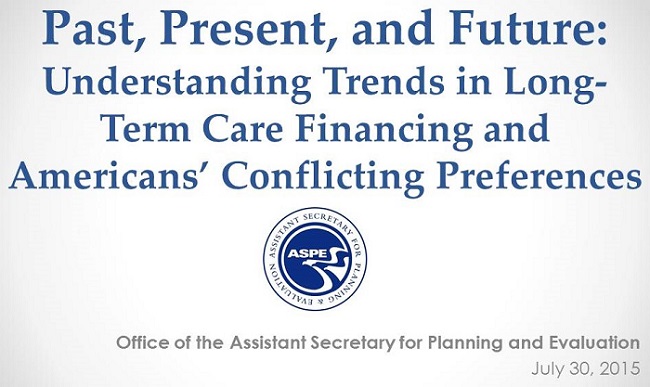 ASPE is hosting a long-term care financing colloquium entitled: "Past, Present, and Future: Understanding Trends in Long-Term Care Financing and Americans' Conflicting Preferences." The colloquium is scheduled for July 30, 2015, from 1:00 PM to 4:30 PM. The webinar will be available starting from 12:45 PM. We will hear about ASPE-sponsored projects by RTI International and the Urban Institute that challenge many longstanding beliefs around long-term care planning and financing. The colloquium will include a series of presentations followed by an ASPE-led panel discussion. Specifically, RTI staff will present findings from the 2014 Survey of Long-Term Care Awareness and Planning and discrete choice experiment; and staff from the Urban Institute will present new data on the risk of long-term care and Medicaid spend down. Following the presentations, a panel discussion will take place with some of the country's leading long-term care financing experts who are currently thinking about how our system could be reformed.
The webinar can be accessed here:
  Topic: ASPE LTC Financing Colloquium
  Host: Aspe Mailbox
  Event number: 624 067 516
  Event password: health
  Registration password: This event does not require a password for registration
To join the online event
  Go to hhs-osaspe.webex.com/hhs-osaspe/onstage/g.php?d=624067516&t=a
To join the audio conference only
  Call-in toll number (US/Canada): 1-650-479-3208
  Access code: 624 067 516
For assistance
  You can contact Aspe Mailbox at: aspe1@hhs.gov
TABLE OF CONTENTS
Agenda
PDF [1 PDF page]
List of Participants
PDF [2 PDF page]
Presentation Slides
Long-Term Care Awareness and Planning: What Do Americans Want?
PDF [43 PDF page]
The Risk of Needing LTSS: DYNASIM Projections
PDF [22 PDF page]
Beyond Spend-down: The Prevalence and Process of Transitions to Medicaid
PDF [12 PDF page]
Related Material
The Affordable Care Act and Caregivers Research Brief (July 2015)
PDF (4 PDF pages)
Findings from the Survey of Long-Term Care Awareness and Planning Research Brief (July 2015)
PDF (8 PDF pages)
Long-Term Services and Supports for Older Americans: Risks and Financing Research Brief (July 2015)
PDF (17 PDF pages)
Measuring the Need for Long-Term Services and Supports Research Brief (July 2015)
PDF (11 PDF pages)
---
Last Updated: 07/31/2015