Monday, October 27, 2014
Long-Term Services and Supports:An Overview
Helen Lamont, Ph.D.
Office of Disability, Aging, and Long-Term Care Policy
Office of the Assistant Secretary for Planning and Evaluation
Long-Term Services and Supports
aka "long-term care"
Assistance with routine daily activities provided to people with functional limitations because of physical, cognitive or mental disability
Measured with ADLs and IADLs
Most prevalent among 65+ population, but not exclusive
LTSS includes services like personal care, homemaker services meal assistance, transportation assistance, case management, etc.
Who uses LTSS?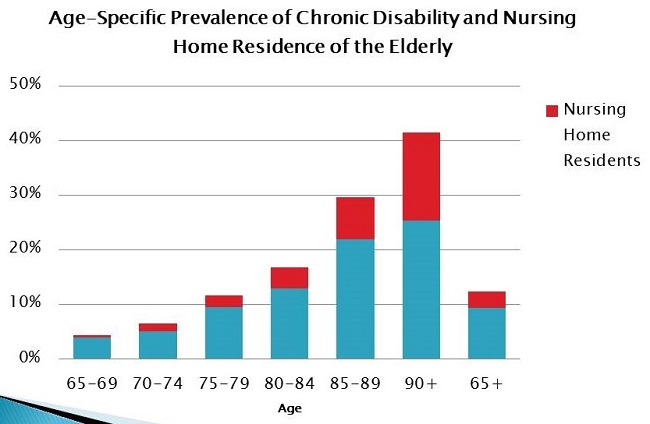 Source: 2011 National Health and Aging Trends Study
Likelihood of needing LTSS
Source: Kemper, Komisar and Alecxih (2005)
Who provides LTSS?
95% of people get help from family and friends
65% rely exclusively on family and friends
Only 1/3 use formal (paid) services and very few (5%) only use paid services As needs increase, paid care is more likely to be added
Source: 2011 National Study of Caregiving; Supplement to the National Health and Aging Trends Study
Informal caregivers
Estimated 17.9 million caregivers providing 1.3 billion unpaid hours annually
Most chronically disabled older adults have at least 2 people providing care-- increases with disability level
More likely to be women (62%)
Half are middle-aged (45-64)
29% daughters, 21.2% spouses, 18% sons, 22% other relatives like grandchildren and daughters-in-law
Average 75 hours of help per month-- but lots of variability
Source: 2011 National Study of Caregiving; Supplement to the National Health and Aging Trends Study
Impacts of informal caregiving
Almost 70% of caregivers report substantial positive aspects of caregiving
15% of caregivers report significant negative aspects like financial difficulties, stress, or physical strain-- higher among dementia caregivers
Caregiver stress associated with poor health and increased likelihood of nursing home placement for care recipient
Source: 2011 National Study of Caregiving; Supplement to the National Health and Aging Trends Study
LTSS settings
Provided in home, community settings, residential settings (assisted living), or nursing homes.
Nursing facilities

Compensatory, rehabilitative, psychosocial and social services to residents.
Regulated by states with federal rules because payment sources are largely Medicare and Medicaid
2012: 1.4 million residents

Residential care

24 hour supervision, assistance with ADLs, but not skilled nursing
Regulated at state level-- payment sources are mostly private pay and some Medicaid
2012: 713,300 residents
Paid workforce
Direct care workers-- staff who deliver formal LTSS
Include nurse aides and home health aides
Estimated 1.9 million direct care workers
Demanding profession with low wages and limited benefits
Challenges with recruitment and retention
Sources of LTSS payments
In 2011, expenditures estimated at $425 billion.

$291 billion care in home and community
$134 billion institutional care
Figure 2. Percentage Share of Spending on Long-Term Care for the Elderly, 2011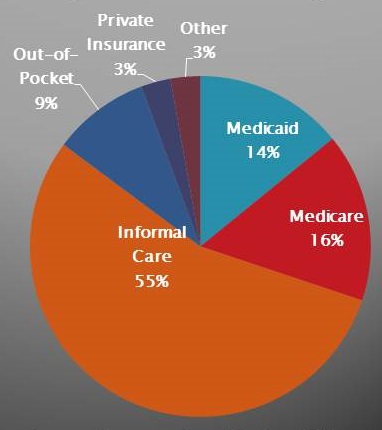 Source: Congressional Budget Office, 2013
Financing
Medicare*
Medicaid
Private out-of-pocket and long-term care insurance
Clarifying Medicare and LTSS
Medicare designed to cover post-acute care
Medicare does cover limited services

Up to 100 days in a skilled nursing or rehabilitation facility after a hospitalization
Home-health to the homebound meeting certain need requirements (recertified every 60 days)1

But Medicare does not cover most long-term services and supports!
Medicaid
Health care coverage for the poor and LTSS for disabled persons with limited financial resources
Many older Americans with income and assets above poverty "spend down" their resources by paying out-of-pocket for LTSS
Nursing home care is a required benefit
States can choose to cover home and community-based services (HCBS) through "waivers," but states can also limit number and type of beneficiaries who receive these services
Medicaid financed by states and federal government; roughly 50:50
Out-of-pocket costs
Average annual costs

Nursing home: $85,235 single occupancy, $78,110 double occupancy
Assisted living: $41,724
Home care: $20/hr

10hrs/week=$11,400
8hrs/day=$58,240
Long-term care insurance
Policies mostly purchased by middle-aged and older adults

Healthy enough to pass underwriting
Higher than average incomes

7.7 million policies in force
Insurance payments account for 3.3% of spending on LTSS annually
The Aging Network
Under Older Americans Act (OAA) through the Administration on Aging (part of ACL)
Formula grant funding to states, distributed to network of regional Area Agencies on Aging (AAAs) or Aging and Disability Resource Centers (ADRCs) to provide LTSS
Provide information & referral, HCBS, caregiver supports, congregate and home-delivered meals
Funding levels in FY2014:

HCBS: $347 million
Meals: $811 million
Caregiver supports: $146 million
Recent trends and developments
1999: Supreme Court Olmstead decision
CLASS Act and Long-Term Care Commission
Planning for LTSS
HCBS Quality Measurement
Potential for technological solutions
Questions???