Monday, October 27, 2014
Institutional and Community-Based Long-Term Care for Persons with Dementia
Janet O'Keeffe, Dr.P.H., RN
RTI International
Three Care Settings
Nursing Homes / Levels of Care
Residential Care Facilities/Assisted Living, including Dementia Special Care Units
Adult Day Services--Social, Medical, Combined, and Specialized Models
Prevalence of Dementia in Care Settings
Figure 23. Percent distribution of users of long-term care services with a diagnosis of Alzhiemer's disease or other dementias, and with a diagnosis of depression, by provider type: United States, 2011 and 2012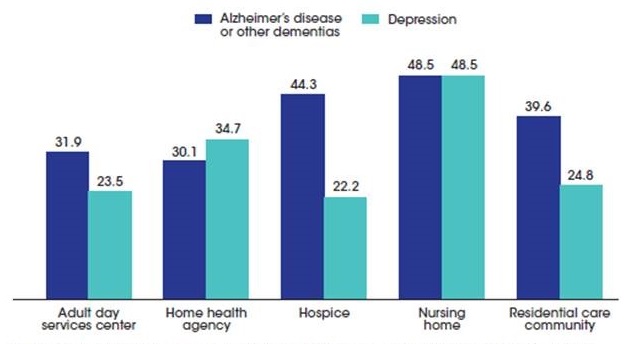 NOTES: Denominators used to calculate percentages for adult day services centers, nursing homes, and residential care communities were the number of participants enrolled in adult day services centers, the number of residents in nursing homes, and the number of residents in residential care communities on a given day in 2012. Denominators used to calculate percentages for home health agencies and hospices were the number of patients whose episode of care in a home health agency ended at any time in 2011, and the number of patients who received care from Medicare-certified hospices at any time in 2011. See Appendix A and Technical Notes for more information on the data sources used for each provider type. Percentages are based on the unrounded numbers.
SOURCES: CDC/NCHS, National Study of Long-Term Care Providers and Table 4 in Appendix B.
Payment for Services in Community-Based Settings
Private payment
Medicaid--several authorities/programs
Non-Medicaid state programs, funded through multiple sources, including state general revenues, Older Americans Act funds, and Social Services Block Grant funds.
Publicly-funded services have financial eligibility requirements, i.e., income and asset limits.
Nursing Homes -- Levels of Care
Services and the level of care provided are linked closely to Medicare and Medicaid reimbursement.

Skilled level of care
Intermediate /minimum level of care

Skilled level of care is similar across states because of Medicare requirements.
Intermediate/minimum level of care varies because it has no federal requirements; states decide how it is defined.This level is very important for people with dementia.
Nursing Homes and Dementia
Persons with dementia who do not have skilled nursing most often need an intermediate/minimum level of care
The intermediate level generally provides protective supervision, assistance with ADLs and medication management/assistance/administration, nursing oversight, and interventions to manage behaviors.
Policy issue: because states vary in their Medicaid eligibility criteria for the intermediate level--from liberal to stringent--people with the same deficits may meet the criteria one state but not the other.
Residential Care Settings
Governed by state law & regulation, which varies greatly across states --and sometimes within states.
Two general types: Foster Care (1 to 6 residents) & Residential Care Facility (7 to 100+ residents)
States require licensure for virtually all settings.
Viewed as an alternative to an intermediate level of nursing home care for individuals who need considerable supervision and little or no nursing care.
Generally choose to serve a specific population and tailor services to their needs (Aged, ID/DD, SMI).
Multiple terms for settings are confusing to consumers & families (e.g., 31 different names for adult foster care.)
Provide housing, services, supervision.
Medicaid pays only for services provided in these settings, not room and board.
Services in Residential Care Settings
Services vary according to licensure provisions
Some allow these settings to serve people who need an intermediate level of nursing home care.
Virtually all provide the following services:

24 hour oversight /supervision for safety
Assistance with ADLs / Personal care
Houskeeping/laundry/transportation
Social/recreational activities
Medication management/assistance or administration--to the extent permitted under state law.
Adult Day Services -- Models
SOCIAL -- Provides a secure environment, assistance with some activities of daily living (ADLs), and therapeutic activities aimed at helping participants to achieve optimal physical and mental functioning.
MEDICAL --provides skilled nursing and rehabilitation.
COMBINED -- provides both social and medical services.
SPECIALIZED -- targeted to specific groups--e.g., dementia, SMI, TBI, HIV/AIDS, multiple sclerosis.
Adult Day Services
Governed by state law & regulation; varies across states.
A non-residential service provided outside an individual's home for less than a full day.
Meets caregivers' need for respite in order to work, fulfill other obligations, and recover from the demands of continuous caregiving.
Funded by states through Medicaid and non-Medicaid programs.
Adult Day Services / Adult Day Health Services
Services vary according to licensure provisions
Virtually all provide all of the following services:

Socialization, social activities, nutrition services, and supervision to ensure safety;
Monitor health and functioning at a basic level to determine if the program can continue to meet participants' health and functional needs;
ADL assistance; health education and counseling;
Social services; Transportation;
Health monitoring-basic and advanced; medication assistance.

Some provide nursing & skilled nursing services; physical, occupational, & speech therapies; medication administration.
Importance of Health Monitoring
Persons with dementia have higher rates of hospitalizations for avoidable reasons--twice as often as peers without dementia.
For conditions that are preventable or treatable in outpatient settings--such as urinary tract infections and bacterial pneumonia--admission rates were 78 percent higher in people with dementia.
Research suggests that hospital stays can worsen cognitive decline in dementia patients.
Higher rates of hospitalization may occur because persons with dementia have trouble managing existing medical conditions, e.g., taking medications on schedule, alerting caregivers and physicians to new symptoms.
Adult day services that see participants a few times a week and monitor health and medications can identify problems early so they can be treated on an outpatient basis.
Adult Day Services
Have the potential to delay or prevent nursing home placement, primarily by supporting informal caregiving.
Can reduce health care costs by providing health monitoring, preventive health care, and ensuring the timely provision of primary care, particularly for individuals at risk for incurring high medical costs.