Monday, October 27, 2014
Clinical Services Update
Shari M. Ling M.D.
Deputy Chief Medical Officer
Centers for Medicare & Medicaid Services (CMS)
Center for Clinical Standards & Quality
Enhance Care Quality and Efficiency
Build a Workforce with the Skills to Provide High-Quality Care

HRSA update
Patient & Family Engagement Campaign

Identify High-Quality Dementia Care Guidelines and Measures Across Care Settings
Explore the Effectiveness of New Models of Care for People with Alzheimer's Disease
Ensure that People with Alzheimer's Disease Experience Safe and Effective Transitions between Care Settings and Systems
Health Resources and Services Administrations (HRSA)
Geriatric Education Centers (GECs) are continuing to provide interprofessional continuing education to the healthcare workforce
During FY 2012 and 2013, GECs trained nearly 81,500 health care providers
As of September 26, over 42,800 healthcare providers have participated in the Medscape training on "Case Challenges in Early Alzheimer's Disease"
Unified Alzheimer's Disease curriculum contract was awarded in September, 2014
Patient and Family Engagement Campaign (PFEC) through the Quality Improvement Organizations (QIO)
Five QIOs committed to projects that focus on patient and family behaviors in care for persons with a dementia diagnosis
Goals
To increase patient and family involvement in decisions regarding health and health care
To promote patient and family empowerment to take action for their own health care and in an effort to improve quality of life
Focus: The QIO shall design its PFEC work to target behaviors among beneficiaries that address Care for Individuals Diagnosed with Dementia
Generate processes designed to increase awareness and engagement by providing decisive tools, so patients and families make better decisions related to health care services they receive;
Enable patients, their families, care givers and the public in general to interact among themselves and obtain information related to health care services they receive related to Dementia / Alzheimer's Disease.
QIO Patient & Family Engagement Campaign February 2013 to July 2014
State
Topic
Title
Topic
CA
Care for Individuals Diagnosed with Dementia
"Assisting Caregivers with Dementia Care (ACDC)"
Design and develop a web-based support system to engage caregivers of Medicare dementia patients to use the Internet for knowledge, education, and skill advancement; and use Social marketing techniques throughout the PFEC.
KY
Care for Individuals Diagnosed with Dementia
"Improving Quality of Life for Beneficiaries with Dementia through Patient and Family Engagement"
Implement messaging through stakeholder, partner, and provider communication streams, and to primarily work through communication streams of our stakeholders and partners, while using the QIO's Web site as a springboard to partners' Web sites and social marketing pages.
MI
Care for Individuals Diagnosed with Dementia
"Dementia, Patient and Family Partnerships in Care, Health Literacy, entitled: "Online Resource Center: A Unique Approach to Engaging Medicare Beneficiaries with Dementia and their Families in their Care"
Develop a comprehensive, user-friendly, interactive Online Resource Center (ORC), which will provide easily accessible and usable information about dementia to assist beneficiaries, their families and caregivers in becoming partners in care, and also to use a multi-tiered, cross-cutting model to ensure a consumer-centric approach.
MO
Care for Individuals Diagnosed with Dementia
"Partners for Dementia Care"
The purpose of this PFEC is to ameliorate problems dementia patients face in the acute care setting by engaging family and consumer involvement in healthcare decision-making through two approaches, by educating family members to advocate for appropriate care of family members with dementia in the hospital, and; by educating acute care professionals on proven methods for dealing with unique problems encountered when treating dementia patients.
NY
Care for Individuals Diagnosed with Dementia
"Self-Management and Empowerment Program for Caregivers/Medicare Beneficiaries with Dementia/Alzheimer's Disease"
Use a "train-th-trainer" model to provide evidence-based self-management education and materials for dementia patients and their caregivers to community health workers (CHWs) and pair them with community-based organizations (CBOs), e.g., senior and community centers, and faith based organizations (FBOs); and to use evidence-based self-management techniques, depression-screening tools (Medicare Patient Health Questionnaire), and principles of adult-learning methodologies.

The QIO proposed to target caregivers caring for dementia patients CCDPs within Hispanic/Latino communities in downstate New York via partnerships with CBOs and FBOs.
IPRO (New York)
Project: "Self-Management and Empowerment Program for Caregivers/Medicare Beneficiaries with Dementia/Alzheimer's Disease"
Goal: develop a 6 week workshop to teach caregivers how to cope with the five major stressors of caring for dementia patients
Target Group: family caregivers, Hispanic/Latino Council of Certified Dementia Practitioners
Data Collection/Results
Train the Trainers
(Total 117)
Workshop Participants
(Total 994)
Bronx
  14  
Bronx
70
Brooklyn
73
Brooklyn
  529  
  Manhattan  
18
  Manhattan  
303
Queens
12
Queens
92
Gender:

Females: 72%

Males: 28%

  24 % of Participants Hispanic/Latino:  

Insurance

Medicare: 37%

Medicare and Medicaid: 10%

Medicaid: 4%

Other: 9%

I don't have insurance: 2%

Unknown: 38%

Average age of participants:

Female: 69 years

Male: 75 years

Participant Race Percentages:

White: 17%

Black/African American: 62%

Asian: 7%

  Native Hawaiian/Pacific Islander: 0%  

American Indian/Alaska Native: 0%

Other : 9%

Unknown: 5%
Primaris (Missouri)
Project: "Partners for Dementia Care,"
Goal: decrease problems dementia patients face in the acute care setting by directly engaging family and consumer involvement in healthcare decision-making
Target: (1) Individuals with diagnosed early dementias and their families, (2) Multi-disciplinary acute care staff, (3) Physicians treating persons at risk for dementia
Data Collection/Results
Hospital Onsite Education
Staff: 230
Physicians: 121 attended Grand Rounds; 87 participated in webinars.
Community Education: 363
Website hits: 150,141
Training triggered downstream contacts and outreach via media. CR refresher training, script, used in select caregiver encounters.
Tools & Resources
HSAG -- California
Michigan MPRO -- Dementia PFEC
Twitter @MPROCares #dementia
NOTE: Access to PFEC Reports will be published at a location TBD
National Quality Forum Project:Dementia Including Alzheimer's Disease
How this Effort Relates to the NAPA Plan
Plan Action Number Strategy 2.D

Identify high-quality dementia care guidelines and measures across care settings:

Updated/identified 85 care guidelines
Identified/reviewed 125 existing quality measures

Goal 2: Enhance Care Quality and Efficiency
Recommendations for Performance Measure Development:Overarching Themes
Importance of connection to community-based services
Need for accountability at the community level
Person- and family-centeredness
Diagnostic accuracy
Safety
Recommendations:Highest Priority for Future Measure Development
Comprehensive diagnostic evaluation and needs assessment
Strategy 2.B (ensure timely and accurate diagnosis)
Strategy 2.C (educate and support people with Alzheimer's disease and their families upon diagnosis)
Goal #3 (expand supports for people with Alzheimer's disease and their families)
Establish an accurate diagnosis of dementia
Determine functional status, living arrangements, and impact on family
Assess needs of person with dementia
Assess resources of the person with dementia
Evaluate driving status and other safety concerns
Identify a proxy/spokesperson for decisions that the person with dementia cannot or will not be able to make in the future
Facilitate use of advance directives
Identify caregiver needs (at baseline)
Composite measure of caregiver support
Goal #3 (expand supports for people with Alzheimer's disease and their families)
Assessment of needs and expectations
Timeliness of communication
Training and education
Responsiveness to caregiver input
Need for family caregiver advocacy when the system is nonresponsive to needs/expectations
Capacity for providing care
Confidence in providing care
Burden and strain associated with caregiving roles and activities
Participation in decision making
Access to and efficacy of support services
Quality and usefulness of the communication to and from the caregiver
Measures to reflect a dementia-capable health care and community care system
Goal #3 (expand supports for people with Alzheimer's disease and their families)
Increasing the awareness of signs and symptoms of dementia
Identifying people with signs or symptoms of dementia
Treating those with dementia & family caregivers with respect
Reducing the stigma associated w/ dementia
Providing information, referral, support, and counseling
Considering cognitive impairment, in addition to other functional impairments, when making eligibility determinations
Ensuring that the health workforce is trained to care for people w/ dementia & assist family caregivers
Ensuring access to financially, geographically, and culturally accessible services that provide care and support to optimize the physical, cognitive, emotional, and spiritual health and well-being of those w/ dementia & family caregivers
Additional Priority Areas For Measure Development
Early detection of signs and symptoms of dementia

Strategy 4.A (educate the public about Alzheimer's disease)

Shared decision-making

Strategy 4.A (educate the public about Alzheimer's disease)

Care transitions

Strategy 2.F (ensure that people with Alzheimer's disease experience safe and effective transitions between care settings and systems)
Additional Recommendations
Recommendations for performance measurement
Recommendations for dementia research
Recommendations for policy
HCIA Round 1 Projects Serving People with Dementia
| Awardee | Brief Description |
| --- | --- |
| Regents of the University of California, Los Angeles | Coordinated, comprehensive, patient and family-centered program. Five key components: (1) patient recruitment and a dementia registry; (2) structured needs assessments of patients and their caregivers; (3) creation and implementation of individualized dementia care plans; (4) monitoring and revising care plans as needed; and (5) providing access 24/7, 365 days a year for assistance and advice. |
| Trustees of Indiana University | The Aging Brain Care program incorporates the common features of several evidence-based collaborative care models into one program designed to deliver high quality, efficient medical care to older adults suffering from dementia and or depression. |
| University of Rhode Island | The Living Rite Innovations project is delivering holistic coordinated care through the project's two Living Rite Centers. The Centers provide comprehensive chronic care management in order to coordinate services between multiple community providers, improve health and decrease unnecessary hospitalizations and ER visits. |
| University of Arkansas for Medical Sciences | Project is providing enhanced training of both family caregivers and the direct-care workforce in order to improve care for elderly patients requiring long-term care services, including Medicare beneficiaries qualifying for home healthcare services and Medicaid beneficiaries who receive homemaker and personal care assistant services. |
| Suttercare Corporation | Project is expanding the pilot of Sutter Health's Advanced Illness Management program (AIM) across the entire Sutter Health (Sutter) system. AIM is essentially a complex medical home model that deploys interdisciplinary teams to deliver care that adheres to patient goals and preferences, improves patient self management of chronic illness and provides concurrent disease modifying and palliative care. |
| University of North Texas Health Science Center | The awardee in partnership with Brookdale Senior Living (BSL), is developing and testing the Brookdale Senior Living Transitions of Care Program, which is based on an evidenced-based assessment tool called Interventions to Reduce Acute Care Transfers (INTERACT) for residents living in independent living, assisted living and skilled nursing facilities. The goal of the program is to prevent the progress of disease, thereby reducing complications, improving care, and reducing the rate of avoidable hospital admissions for older adults. |
Health Care Innovation AwardRound 2
In May 2013, the Innovation Center announced a 2nd round of Health Care Innovation Awards, specifically soliciting proposals in 4 specific categories of care:

Models that are designed to rapidly reduce Medicare, Medicaid, and/or CHIP costs in outpatient and/or post-acute settings.
Models that improve care for populations with specialized needs.
Models that test approaches for specific types of providers to transform their financial and clinical models.
Models that improve the health of populations -- defined geographically (health of a community), clinically (health of those with specific diseases), or by socioeconomic class -- through activities focused on engaging beneficiaries, prevention (for example, a diabetes prevention program or a hypertension prevention program), wellness, and comprehensive care that extend beyond the clinical service delivery setting.

In May 2013, the Innovation Center announced a 2nd round of Health Care Innovation Awards, specifically soliciting proposals in 4 specific categories of care:

One of the four categories, "improve care for populations with specialized needs," designates proposals that target care for persons with AD as a priority population for funding.
Prospective recipients have been announced and will receive Notice of Awards in the summer of 2014.
Healthcare Innovation Awards Round 2
Awardee
Brief Description
Regents of the University of California San Francisco
"The UCSF and UNMC Dementia Care Ecosystem: Using Innovative Technologies to Personalize and Deliver Coordinated Dementia Care" Project to implement a clinical program to offer dementia care while providing specialized expertise in functional monitoring and rural dementia care. Target population is Medicare-Medicaid dual eligibles. By supporting family caregivers, keeping patients healthy, and helping them prepare for advancing illness, model aims to improve care satisfaction and prevent emergency-related health care costs.
Johns Hopkins University
"Comprehensive home-based dementia care coordination for Medicare-Medicaid Dual Eligibles in Maryland" Project will test implementation of an Alzheimer's disease/ Dementia (AD) –targeted care coordination model that addresses critical barriers to adults with AD in home. Model creates link between community health agencies, medical providers and community resources.
CareChoice Cooperative
"Person Centered Care Connections" This project will use tests to reduce unnecessary hospitalizations and total cost of care to address problems in nursing home post-acute and long term care. Aim to create an efficient system for nursing home staff to do comprehensive education and prep to promote successful patient transition to home.
Avera Health
"Avera Virtual Care Center: Improving Care & Reducing Costs for the Vulnerable Elderly Population" Project will test virtual wrapping of comprehensive set of resident-centered, geriatric care services around long term care population. Project will operate in SD, MN, IA, and NE.
Yale University
"Paramedic Referrals for Increased Independence and Decreased Disability in the Elderly (PRIDE)" Test model for elders and those with impaired mobility. Project to expand paramedic workforce as a community-based resource to improve care coordination and health outcomes for elders staying at home.
http://innovation.cms.gov/initiatives/Health-Care-Innovation-Awards/Round-2.html
Ensure that People with Alzheimer's Disease Experience Safe and Effective Transitions between Care Settings and Systems Care Transitions
National Inpatient and Alzheimer's/Dementia Hospitalizations per 1,000 Beneficiaries
National Inpatient and Alzheimer's/Dementia Rehospitalizations Per 1,000 Beneficiaries
Community Tools
Dementia Capable Communities Toolkit
What's Missing
There are not any specific tools to help patients and families with cognitive disorders manage care transitions safely.
More studies regarding care transitions for individuals with dementia will help support the development of needed tools and resources
National Partnership to Improve Dementia Care
National Target Refinement
By quarter 4, 2014, the national goal was met with a 15.1% reduction
September 19, 2014 announcement with several key Stakeholders
Further reduce the national prevalence of antipsychotic medication use in long-stay nursing home residents

By 25 percent by the end of 2015
By 30 percent by the end of 2016

Add the antipsychotic measure to the calculations for each nursing home's rating on the Five Star Quality Rating System
Quarterly Prevalence of Antipsychotic Use for Long-Stay Nursing Home Residents, 2011Q2 to 2014Q1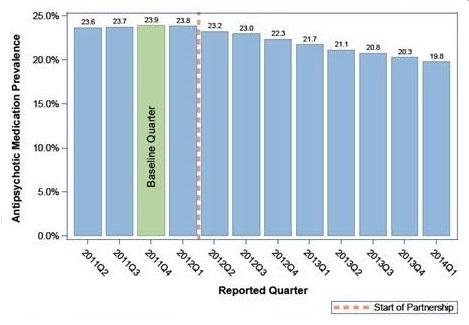 CMS Hand-in-Hand Training Materials Dissemination
U.S. Dept. Veterans Affairs (VA) Dissemination
VA has formed a workgroup to disseminate & evaluate use of CMS Hand-in-Hand dementia staff training modules in VA Community Living Centers (formerly known as VA Nursing Home Care Units).
Series of presentations will be held with CLC leadership at VA Medical Centers

Content of training modules & processes for implementing training
Alignment with performance indicators
Evaluation processes
Global Dissemination
Workgroup co-chair Dr. Eleanor McConnell presented video-clips from modules as part of an invited workshop at Huadong Hospital in Shanghai, China. Despite language and cultural differences, video clips were well-received by workshop participants.
Report Screen Shot