Tuesday, September 27, 2011
Inventories of Federal Efforts
Advisory Council Members
Interagency Group on ADRD formed in April
Tasked with NAPA requirement to examine all efforts to address ADRD
First step: Inventory of activities
Divided into three subgroups: Research, Clinical Care, Long-Term Services and Supports
Advisory Council Members
Research

NIH*
VA
CDC
FDA
AoA
ASPE
NSF
AHRQ

Clinical Care

CMS*
HRSA
ASPE
VA
IHS
SAMHSA
NIH

LTSS

AoA*
CMS*
ASPE
VA
NIH
NSF
SAMHSA
Dr. Richard J. Hodes, M.D.
Director, National Institute on Aging/
NIH Lead ADRD Research Subgroup
  Alzheimer's Disease and Related Dementias Federal Research Continuum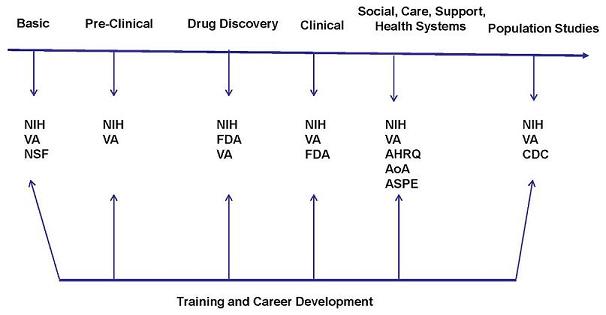 Development of FY 2010 ADRD Federal Research Inventory
Agreement on search terms: "Alzheimer's Disease," "Dementia," "Frontotemporal Dementia", "Mild Cognitive Impairment"
Used information from Centralized Databases: NIH Project RePORTER
ADRD Ontology Selected and Populated
Alzheimer's Disease and Related Dementias Research Ontology
Biology and pathophysiology
Diagnosis, assessment and disease monitoring
Drug discovery, preclinical drug development, clinical interventions
Epidemiology
Social-behavioral, care, support, health systems
Research resources (training, infrastructure, technology)
  FY2011 ADRD Federal Research Funding by Category  
For NIH, VA, CDC, AHRQ
Research Category
  Funding Amount  
A. Biology and Pathophysiology
$187,054,063
B. Disease Diagnosis and Assessment
$82,954,009
C. Drug Development, Pre-Clinical Development, and Clinical Research  
$67,259,878
D. Epidemiological and Longitudinal Studies
$52,745,309
E. Socio-behavioral ,Care, Support, and Health Systems
$29,249,374
F. Research Resources
$83,260,797
 
Total
$502,523,430
  FY2011 ADRD Federal Research Funding  
by Category and Agency
 
Biology &
Patho-
  physiology  
Diagnosis &
  Assessment  
  Drug Dev., Pre-  
Clinical Dev. &
Clinical
Research
  Epidemiological  
& Longitudinal
Studies
Socio-
behavioral,
Care, Support
&
  Health Systems
Research
  Resources  
NIH
578
233
120
75
23
228
 
176,827,511
76,788,041
61,738,806
49,357,507
10,129,460
82,769,638
CDC
0
0
0
5
0
0
 
$0
$0
$0
$1,175,437
$0
$0
VA
44
22
16
10
19
0
 
$10,227,172
$6,128,168
$5,021,863
$1,771,057
$4,809,867
$0
AHRQ
0
1
1
2
10
1
 
$0
$37,800
$499,209
$441,308
$14,310,047
$491,159
Total
622
256
137
92
52
229
 
  $187,054,683
  $82,954,009
  $67,259,878
  $52,745,309
  $29,249,374
  $83,260,797
Dr. Shari Ling
Medical Officer, Office of Clinical Standards and Quality
Centers for Medicare and Medicaid Services/
Lead ADRD Clinical Care Subgroup
Scope and Assumptions
Dementia

Alzheimer's disease, dementia of other etiologies

Focus

Patients rather than the disease itself

Dual eligible 22% with dementia includes 11% with 5+ chronic conditions

Caregivers

All services and all settings

"all of places where people with Alzheimer's disease (and caregivers) interact with the service system"
Relevant but not necessarily specific to dementia?
Across the disease continuum
Process
Broad environmental scan of existing services and programs
Clinical services provided in long-term care settings were excluded to avoid duplication with Long-Term Care workgroup
Services and programs reviewed and discussed over telephone conferences
Inventory created across the care settings by disease stage
Identified gaps in services
Relevant Clinical Care Topics
Clinical Focus
Prevention (primarily of vascular dementia- related to cardiovascular disease)
Detection
Diagnosis
Treatments (Pharmacological, behavioral)
Care Coordination

Transitions between providers/settings
Coordination with LTSS

Advanced Care Planning
System Focus
Professional Workforce:

Physician (primary care, geriatricians, etc)
Nurses
Social Work/Care Managers  and Home Health Aides/Home Care Providers
Training

Social/Legal Issues

Competency/independence/autonomy/driving
Financial management
Elder abuse (coordinate with LTSS group)
  Patient- & Family-Centeredness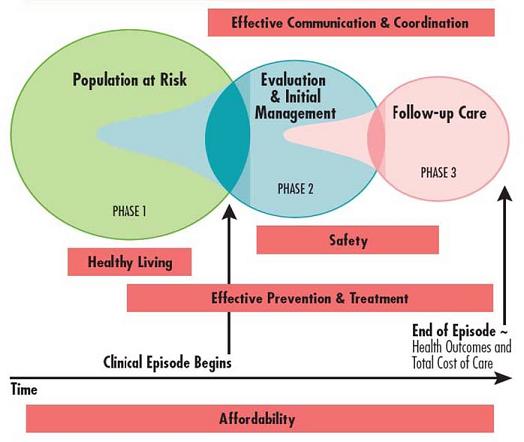 Health System Functions  
 
  Prevention  
  Diagnosis  
  Management  
Acute
  Events  
Care
  Transitions  
Patient
Effective CVD management
Detection & Assessment of Cognitive Impairment
Medicinal
Behavioral
Safety
Abuse
Care Coordination & Planning
Caregivers
Burden management
Stress
Behavioral
Social
Driving
Abuse
System
Workforce training
Case management
Existing Clinical Programs and Services for Persons with Dementia
Ambulatory Care
Hospital Care
Geriatric Evaluation and Management (GEM)
Geriatric Primary Care
Home Hospice Care  
Hospice and Palliative Care Consultation Team
Geriatric Research, Education, and Clinical Centers (GRECCs)
Mental Illness Research, Education, and Clinical Centers (MIRECCs)
Older Adult Targeted Capacity Expansion (TCE)
KIT on Evidence Based Practices to Address Depression in Older Adults
Reducing Adverse Drug Events:  Patient Safety and Clinical Pharmacy Services Collaborative (PSPC)
  Affordable Care Act Programs  
ACA
  Provision  
  Provision Name  
  Provision Description  
3021
Establishment of Center for Medicare and Medicaid Innovation within CMS
Utilizing geriatric assessments and comprehensive care plans to coordinate the care (including through interdisciplinary teams) of applicable individuals with multiple chronic conditions and at least one of the following:
''(I) An inability to perform 2 or more activities of daily living.
''(II) Cognitive impairment, including dementia
3024
Independence at home demonstration program
Creates a new demonstration program for chronically ill Medicare beneficiaries to test a payment incentive program
3026
Community-based care transitions program
Requires the Secretary establish a community-based transitions program that provides funding to hospitals and community-based entities that furnish evidence-based care transition services to Medicare beneficiaries at high risk for readmission.
4103
Medicare coverage of annual wellness visit providing a personalized prevention plan
Provides coverage under Medicare, with no co-payment or deductible, for an annual wellness visit and personalized prevention plan services. Such services would include a comprehensive health risk assessment. The personalized prevention plan would take into account the findings of the health risk assessment and include elements such as: a five- to ten-year screening schedule; a list of identified risk factors and conditions and a strategy to address them; health advice and referral to education and preventive counseling community-based interventions to address modifiable risk factors such as physical activity, smoking, and nutrition.
5305
Geriatric education and training; career awards; comprehensive geriatric education -
All family caregiver and direct care provider training programs shallinclude instruction on the management of psychologicaland behavioral aspects of dementia, communication techniques for working with individuals who have dementia, and the appropriate, safe, and effective use of medications for older adults.
5507
Demonstration project to address health professions workforce needs; extension of family-to-family health information centers
Training specific to an individual consumer's needs (including older individuals, younger individualswith disabilities, individuals with developmental disabilities, individuals with dementia, and individuals with mental and behavioral health needs)
6114
National demonstration projects on culture change and use of information technology in nursing homes
Each demonstration project conducted under this section shall take into consideration the special needs of residents of skilled nursing facilities and nursing facilities who have cognitive impairment, including dementia.
6121
Dementia and abuse prevention training
Requires facilities to include dementia management and abuse prevention training as part of pre-employment initial training for permanent and contract or agency staff, and if the Secretary determines appropriate, as part of ongoing in-service training.
  National Quality Forum Measure Appolication Partnership, 2011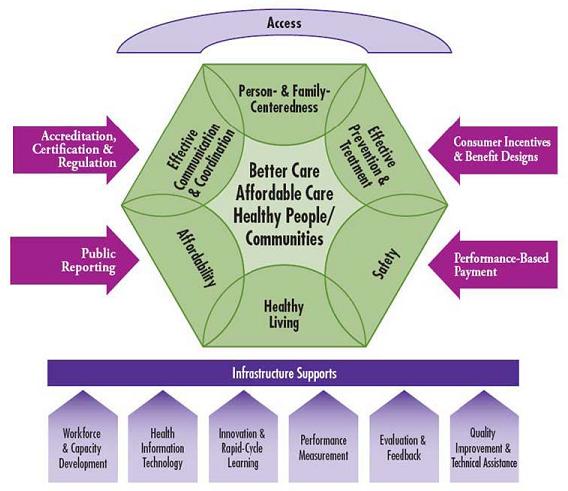 Cindy Padilla
Principal Deputy Assistant Secretary for Aging/
Co-Lead ADRD LTSS Subgroup
Workgroup Primary Tasks
Develop an inventory of programs serving persons with Alzheimer's disease and their caregivers.
Begin an analysis of gaps/opportunities within and among these programs.
  LTSS Inventory Categories  
Category
Subsections
Planning for Long Term Care
LTC Financing (CLASS, LTC insurance) [global and individual]; LTC Planning (Hospice, End of Life); Care Coordination (Care Transitions, Consumer Direction)
Long Term Services and Supports
Home Care/Personal Care; Caregiver Support (Formal, Informal); Health, Function and Social Issues (Mental Health, Daily Tasks, Driving, Independence); Special Populations (Intellectual Disabilities, Mental Health, Younger Onset)
Residential Care Settings
Nursing Home; Assisted Living
Work Force
Staff Education/Training; Dementia-Capability
Quality and Safety
Elder Abuse; LTC Ombudsmen; Guardianship; Advocacy for Individuals
LTSS Inventory
Using these five categories, each participating agency (AoA, CMS, NIH and VA) supplied basic descriptive information about their programs, including participants, funding, and a brief description.
Analysis of the Inventory by AoA and CMS is underway.
  LTSS Inventory: Examples  
Program
Profile
Alzheimer's Disease Supportive Services Program

Administered by AoA
Services for persons w/dementia or their caregivers
Awarded to entities of state government (e.g. State Unit on Aging, University)

National Alzheimer's Call Center

Administered by AoA
Information and counseling service for persons with Alzheimer's, family members and unpaid caregivers
Available to people in 56 states and territories, 24 hours a day, 7 days a week, 365 days a year

Medicaid Nursing Home Benefit

Administered by CMS
55.8 % of nursing home residents have mild to very severe cognitive impairments
Federal reimbursement for eligible services provided to Medicaid beneficiaries

Medicaid Home and Community Based Services

Administered by CMS
States have several opportunities, including new ones under the Affordable Care Act to offer home and community based services to persons with Alzheimer's disease.

VA Employee Education System

Education and training for VA staff (e.g. physicians, nurses, social workers, pharmacists, occupational and physical therapists, dieticians)
Dementia recognition and diagnosis, challenging behaviors, safety, communication strategies, emergency preparedness

VA Interdisciplinary Planning Committee

Continuous quality improvement effort
Veterans Health Administration Dementia Steering Committee, Veterans Integrated Service Network Dementia Committees, and Veterans Affairs Medical Center Dementia Committees.