ADVISORY COUNCIL ON ALZHEIMER'S RESEARCH, CARE, AND SERVICES
Friday, July 19, 2013
Research Subcommittee Update
Richard Hodes
NAPA Goal #1: Research Update
NAPA Advisory Council Meeting
Richard J. Hodes, M.D.
Chair, Federal Research Subcommittee
July 19, 2013
Alzheimer's Disease-Related Dementias: Research Challenges and Opportunities
May 1-2, 2013
Sponsored by the National Institute of Neurological Disorders and Stroke
in cooperation with:
National Institute on Aging
Alliance for Aging Research, ACT-AD
Alzheimer's Association
Association for Frontotemporal Degeneration
USAgainst Alzheimer's
http://www.ninds.nih.gov/ADRelatedDementias2013
Alzheimer's Disease-Related Dementias: Research Challenges and Opportunities
May 1-2, 2013
Natcher Auditorium, NIH Campus. Bethesda, MD
May 1, 2013
 
8:00 a.m.
Welcoming Remarks: Story Landix, PhD, Director, NINDS
 
8:05 a.m.
Introduction: Ronald Petersen, PhD, MD, Mayo Clinic
 
8:25 a.m.
Developing Research Recommendations and Timelines for the AD-Related Dementias
Thomas Montine, MD, PhD, Scientific Chair
 
8:30 a.m.
Session 1: Non-AD and Multiple Etiology Dementias
Chairs: Bruce Miller, MD, and David Knopman, MD
 
9:30 a.m.
Session 2: Lewy Body Dementias (LBD, PDD)
Chairs: Denis W. Dickson, MD and Karen S. Marder, MD, MPH
 
1:15 p.m.
Session 3: FTD and AD-Related Tauopathies
Chairs: Michael Hutton, William Seeley
 
May 2, 2013
 
8:30 a.m.
Session 4: Vascular Contributions to AD-Related Dementias
Chairs: Steven Greenberg, Berislav Zlokovic
 
12:30 p.m.
Session 5: Health Disparities in AD-Related Dementias
Chairs: Maria Glymour, ScD and Jennifer Manly, PhD
 
2:45 p.m.
Final Panel Discussion and Questions
 
4:00 p.m.
Closed Session: Session Chairs, NIH Leads, Steering Committee
 
Alzheimer's Disease-Related Dementias: Research Challenges and Opportunities
May 1-2, 2013
Draft recommendations were prioritized, assigned timelines and distributed for presentation.
Attendance: 567 registered, 322 attended, ~200 watched the webcast.
Recommendations revised with input from conference attendees.
Dr. Tom Montine will present ADRD research recommendations to the NINDS Council on September 12th, 2013.
ADRD recommendations will be presented to the NAPA Council and shared publically at the October 2013 meeting.
The Alzheimer's Disease Sequencing Project (ADSP) -- Background
Presidential Initiative: February 7, 2012 to fight AD

NIA and NHGRI to develop and execute a large scale sequencing project
Identify AD risk and protective gene variants

Long-term objective: Facilitate identification of new pathways for therapeutic approaches and prevention
Support: $25M already committed to NHGRI's Large-Scale Sequencing Centers (LSSC) for genomic studies (no new dollars)
Infrastructure:
ADSP
PARTICIPANTS:

2 NIA funded AD Genetics Consortia,
3 NHGRI Large Scale Sequencing Centers, NIH staff Memorandum of Understanding in place

PUBLICATION: Immediate release of data.
TIMING: Three year plan.
COMPONENTS:

Family-based: Whole genome sequencing (WGS), ~100 multiplex families; at least two members per family.
Case-control: Whole exome sequencing (WES) on 5,000 cases and 5,000 controls. WES on 1,000 additional cases from families multiply affected by AD.
Replication and validation of regions identified from the case- control and family based sample sets: target ~50,000 subjects.
Deep targeted re-sequencing of candidate AD regions.
FY 2013 Alzheimer's Disease Funding Opportunity Announcements
Research Update
HHSignite. Recruiting Older Adults into Research (ROAR)

one of the 13 awarded HHSignite projects
Strengthens a cross-departmental partnership of ACL/NIA/CDC
Goal" To improve the recruitment of older adults for clinical research, beginning with Alzheimer's

June 20-21, 2013 - National Institute of Neurological Disorders and Stroke Workshop: Improving Neurology Subject (and Provider) Participation in the Research Enterprise

Follow up reports will suggest concrete action steps for stepped up recruitment

National Institute for Nursing Research Grants: RFA-NR-13-001:

Addressing Needs of Informal Caregivers of Individuals with Alzheimer's Disease (R01)
Two grants awarded and focus on diverse and minority caregiver interventions.
Launch of Cognitive Impairment Detection Instruments Searchable Database
SAVE THE DATE
Alzheimer's Disease Research Summit 2015
February 9-10, 2015
National Institutes of Health
U.S. Department of Health and Human Services
Bethesda, MD
Clincal Care Subcommittee Update
Shari Ling
National Medicare 30 Day Readmissions
Clinical Care (cont)
QIO Patient and Family Engagement Campaign (PFEC): The Campaign supports person-centeredness and family engagement.
Five projects received funding related to dementia:

Assisting Caregivers with Dementia Care (CA)
Improving Quality of Life for Beneficiaries with Dementia through Patient and Family Engagement
Online Resource Center (KY): A Unique Approach to Engaging Medicare Beneficiaries with Dementia and their Families in their Care
Partners for Dementia Care (MI)
Self-Management and Empowerment Program for Caregivers/Medicare Beneficiaries with Dementia/Alzheimer's Disease
Health Care Innovation AwardsRound 2 Proposal Categories
Will support public and private organizations in four defined areas that have a high likelihood of driving health care system transformation and delivering better outcomes.

Models that are designed to rapidly reduce Medicare, Medicaid, and/or CHIP costs in outpatient and/or post-acute settings.
Models that improve care for populations with specialized needs.
Models that test approaches for specific types of providers to transform their financial and clinical models.
Models that improve the health of populations -- defined geographically (health of a community), clinically (health of those with specific diseases), or by socioeconomic class -- through activities focused on engaging beneficiaries, prevention, wellness, and comprehensive care that extend beyond the clinical service delivery setting.

CMS specifically seeks new payment models to support the service delivery models funded by this initiative.
Clinical Care
National Alzheimer's Call Center: The ACL/AoA Funding Opportunity Announcement for the nationwide, 24/7 call center was released.
Nursing and Indian Health: IHS made a presentation to the Nurse Leadership in Indian Care Conference outlining a strategic approach to improving care for persons with Alzheimer's disease and related dementias.
NIA-HRSA collaboration: Teleconference for HRSA Geriatric Education Center network involved staff from NIA, University of Pittsburgh, and the Pittsburgh Alzheimer's Disease Center. Staff presented information on collaboration opportunities using NIH Alzheimer's Disease and Education and Referral Center resources.
Long Term Services and Supports-Related ActivitiesApril - June 2013
Jane Tilly
Long Term Services & Supports (LTSS)
ACL/AoA ADSSP Funding Opportunity Announcement Creating and Sustaining Dementia-Capable Service Systems for People with Dementia and their Family Caregivers: This set of grants will provide up to 6 states with funds to implement dementia-capable, home and community-based services systems. Each grantee will have to designate a lead state agency for dementia capability.
ACL/AoA & VA webinars:  Two webinars occurred: 1.ACL/AoA webinar for the VA network -- Partnering to Serve Veterans and Family Caregivers:  Collaborative Opportunities with the Aging and Disability Services Network; and 2) VA Webinar for the Aging Network -- Partnering to Serve Veterans and Family Caregivers: Collaborative Opportunities with the Caregiver and Geriatrics and Extended Care Programs. The goal of these webinars was to promote cross-program collaboration between the VA and the Aging and Disability Services Networks at state and local levels. Webinar attendance totaled about 600.
ADEAR publications: Tip Sheets for Alzheimer's Caregivers are now available for mobile devices. Topics range from managing behavior changes to disaster preparedness. The tip sheets can help caregivers of people at any stage of the disease—mild, moderate, or severe. People can download tip sheets for their mobile devices from the ADEAR website:
American Indian activities:

Periodic updates and webinars about Alzheimer's disease are targeted to American Indians through ACL's website.
Tribal LTSS webinar series jointly sponsored by IHS, CMS, and AoA/ACL featured presentations by a Standing Rock Sioux Tribal program using targeted case management services to support aging in place for older persons with dementia and other disabilities and a presentation by the Gila River Indian Community on their Adult Day Program, featuring services for persons with dementia.
IHS began its solicitation for pilot testing of the REACH VA in Indian Country.
The National Indigenous Elder Justice Initiative is addressing the lack of culturally appropriate information and community education materials on elder abuse, neglect and exploitation in Indian Country. Persons with dementia are at particularly high risk of such mistreatment.
National Partnership to Improve Dementia Care in Nursing Homes: Project Overview
CMS works closely with its partners to improve behavioral health and safeguard nursing home residents from unnecessary antipsychotic drug use.
National goal of reducing antipsychotic use in long-stay nursing home residents by 15%.
Tactics:

rethink our approach to dementia care
reconnect with people using person-centered care approaches
restore good health and quality of life in nursing homes across the country.
National Partnership to Improve Dementia Care in Nursing Homes: Recently completed actions
Release of revised interpretative guidance released related to quality of care and unnecessary drugs in nursing homes
Training & education

Three new mandatory surveyor training videos completed and launched in January & May 2013
Major presentations to various public and private partners around the country

Outreach calls by CMS core team to various public and private partners to providers that have a high rate of antipsychotic medication use
Research

200 case studies from 25 nursing home in five states
Focused on how decisions to use or not to use antipsychotic medications were made
Antipsychotic Use by CMS Region and Quarter
Percent of long-stay residents receiving an antipsychotic mdeication
Region
2011Q1
2011Q2
2011Q3
2011Q4
2012Q1
2
3
4
2013Q1
Percentage
Point
Difference
2011Q4 to 2013Q1
Percent
Change
National
23.50
23.64
23.74
23.87
23.82
23.21
22.98
22.33
21.71
2.16
9.06%
Region 01
25.88
25.94
26.16
25.22
26.02
25.10
24.49
23.66
22.41
-3.82
-14.55%
Region 02
20.07
20.12
20.27
20.10
20.00
19.52
19.42
18.71
18.44
-1.66
-8.24%
Region 03
21.60
21.31
21.64
21.81
21.80
21.08
20.98
20.62
20.10
-1.71
-7.84%
Region 04
25.05
25.20
25.21
25.51
25.42
24.88
24.20
22.90
21.70
-3.81
-14.92%
Region 05
22.19
22.40
22.45
22.71
22.65
22.14
22.22
21.78
21.34
1.37
6.05%
Region 06
27.69
27.83
28.05
28.19
28.27
27.59
27.62
27.22
26.61
-1.58
-5.60%
Region 07
23.98
24.27
24.50
24.47
24.42
23.82
23.62
23.36
22.93
-1.53
-6.27%
Region 08
21.20
21.47
21.30
21.44
21.45
21.40
20.87
20.45
19.84
-1.61
-7.50%
Region 09
21.33
21.48
21.36
21.34
21.19
20.40
20.05
19.16
18.92
-2.42
-11.33%
Region 10
22.03
22.54
22.60
22.30
22.14
21.47
21.28
20.44
20.07
-2.23
-9.99%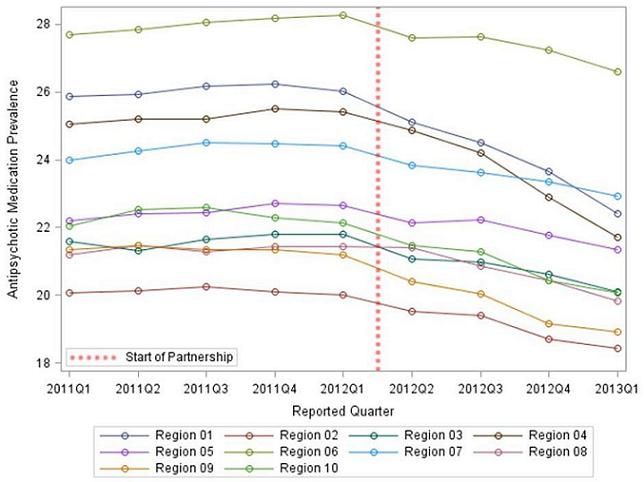 ---
Return to
National Alzheimer's Project Act Home Page
Advisory Council on Alzheimer's Research, Care, and Services Page
Advisory Council on Alzheimer's Research, Care, and Services Meetings Page