ADVISORY COUNCIL ON ALZHEIMER'S RESEARCH, CARE, AND SERVICES
Monday, December 2, 2013
Update: Clinical Services
Shari M. Ling M.D.
Deputy Chief Medical Officer
Centers for Medicare & Medicaid Services (CMS)
Center for Clinical Standards & Quality
Outline
Center for Medicare & Medicaid Innovation (CMMI) Health Care Innovation Projects
Patient & Family Engagement Campaign (PFEC)
National Quality Form (NQF)
Health Resources and Services Administration(HRSA)
Implementation Milestones
  February 2013  
  September 2014  
  July 2015  

Patient and Family Engagement Campaign (PFEC) (12-18 months)

Implement and evaluate new care models to support effective care transitions for people with AD

Evaluate the effectiveness of medical home models for people with AD
Evaluate the effectiveness of the Independence at Home Demonstration
Explore the effects of new payment models on AD care and costs
Consider test of new payment or deliver model to promote the quality of AD care while reducing costs
QIO -- Patient and Family Engagement Campaign (PFEC)
Focus: The QIO shall design its PFEC work to target behaviors among beneficiaries that will address at least one topic below

Care for Individuals Diagnosed with Dementia
Prevention of Avoidable Readmissions
Preventions of Falls
Improvements of Cardiac Health

Five (5) out of 25 QIOs involved with PFEC are targeting clinical diagnosis of dementia/Alzheimer's
End July 2014
PFEC Summary Description
  State  
  Topic  
  Title  
  Topic  
CA
Care for Individuals Diagnosed with Dementia
"Assisting Caregivers with Dementia Care (ACDC)".
Design and develop a web-based support system to engage caregivers of Medicare dementia patients to use the Internet for knowledge, education, and skill advancement; and use Social marking techniques throughout the PFEC.
KY
Care for Individuals Diagnosed with Dementia
"Improving Quality of Life for Beneficiaries with Dementia through Patient and Family Engagement".
Implement messaging through stakeholder, partner, and provider communication streams, and to primarily work through communication streams of our stakeholders and partners, while using the QIO's Web site as a springboard to partners' Web sites and social marketing pages.
MI
Care for Individuals Diagnosed with Dementia
"Dementia, Patient and Family Partnerships in Care, Health Literacy, entitled: "Online Resource Center: A Unique Approach to Engaging Medicare Beneficiaries with Dementia and their Families in their Care"
Develop a comprehensive, user-friendly, interactive Online Resource Center (ORC), which will provide easily accessible and usable information about dementia to assist beneficiaries, their families and caregivers in becoming partners in care, and also to use a multi-tiered, cross-cutting model to ensure a consumer-centric approach.
MO
Care for Individuals Diagnosed with Dementia
"Partners for Dementia Care"
The purpose of this PFEC is to ameliorate problems dementia patients face in the acute care setting by engaging family and consumer involvement in healthcare decision-making through two approaches, by educating family members to advocate for appropriate care of family members with dementia in the hospital, and; by educating acute care professionals on proven methods for dealing with unique problems encountered when treating dementia patients.
NY
Care for Individuals Diagnosed with Dementia
"Self-Management and Empowerment Program for Caregivers/Medicare Beneficiaries with Dementia/Alzheimer's Disease"
Use of "train-the-trainer" model to provide evidenced-based self-management education and materials for dementia patients and their caregivers to community health workers (CHWs) and pair them with community-based organizations (CBOs), e.g., senior and community centers, and faith based organizations (FBOs); and to use evidence-based self-management techniques, depression-screening tools (Medicare Patient Health Questionniare), and principles of adult-learning methodologies.

The QIO proposed to target caregivers caring for dementia patients CCDPs within Hispanic/Latino communities in downstate New York via partnerships with CBOs and FBOs.
CMMI: Health Care Innovation Project (Dementia/Alzheimer's Relevant)
Congress created the Innovation Center for the purpose of testing "innovative payment and service delivery models to reduce program expenditures …while preserving or enhancing the quality of care" for those individuals who receive Medicare, Medicaid, or Children's Health Insurance Program (CHIP) benefits.
Authority to expand the scope and duration of a model being tested through rulemaking, including the option of testing on a nationwide basis.

A model must either reduce spending without reducing the quality of care, or improve the quality of care without increasing spending, and must not deny or limit the coverage or provision of any benefits.
These determinations are made based on evaluations performed by the Centers for Medicare & Medicaid Services (CMS) and the certification of CMS's Chief Actuary with respect to spending.

Six (6) Dementia/Alzheimer's Relevant Projects
HCIA Round 1 Projects Serving People with Dementia
|   Awardee   |   Brief Description   |
| --- | --- |
| Regents of the University of California, Los Angeles | Coordinated, comprehensive, patient and family-centered program. Five key components: (1) patient recruitment and a dementia registry; (2) structured needs assessments of patients and their caregivers; (3) creation and implementation of individualized dementia care plans; (4) monitoring and revising care plans as needed; and (5) providing access 24/7, 365 days a year for assistance and advice. |
| Trustees of Indiana University | The Aging Brain Care program incorporates the common features of several evidence-based collaborative care models into one program designed to deliver high quality, efficient medical care to older adults suffering from dementia and or depression. |
| University of Rhode Island | The Living Rite Innovations project is delivering holistic coordinated care through the project's two Living Rite Centers. The Centers provide comprehensive chronic care management in order to coordinate services between multiple community providers, improve health and decrease unnecessary hospitalizations and ER visits. |
| University of Arkansas for Medical Sciences | Project is providing enhanced training of both family caregivers and the direct-care workforce in order to improve care for elderly patients requiring long-term care services, including Medicare beneficiaries qualifying for home healthcare services and Medicaid beneficiaries who receive homemaker and personal care assistant services. |
| Suttercare Corporation | Project is expanding the pilot of Sutter Health's Advanced Illness Management program (AIM) across the entire Sutter Health (Sutter) system. AIM is essentially a complex medical home model that deploys interdisciplinary teams to deliver care that adheres to patient goals and preferences, improves patient self management of chronic illness and provides concurrent disease modifying and palliative care. |
| University of North Texas Health Science Center | The awardee in partnership with Brookdale Senior Living (BSL), is developing and testing the Brookdale Senior Living Transitions of Care Program, which is based on an evidence-based assessment tool called Interventions to Reduce Acute Care Transfers (INTERACT) for residents living in independent living, assisted living and skilled nursing facilities. The goal of the program is to prevent the progress of disease, thereby reducing complications, improving care, and reducing the rate of avoidable hospital admissions for older adults. |
HCIA Projects Serving People with Dementia
  Awardee  
  Project Launch  
  Cumulative Direct Program Participants  
(July 2012 - June 2013)
  Indirect Program Participants  
(April - June 2013)
  Cumulative Trainees  
(Individual may have participated in more than one training course, and thus can be counted more than once)
Regents of the University of California, Los Angeles
7/1/2012
307
327
4
Trustees of Indiana University
10/1/2012
2,159
-
83
University of Rhode Island
5/1/2013
349
-
37
University of Arkansas for Medical Sciences
3/25/2013
-
-
64
Suttercare Corporation
7/1/2012
27,384
-
948
University of North Texas Health Science Center
11/30/2012
-
3,640
779
Health Care Innovation AwardsRound 2 Proposal Categories
Will support public and private organizations in four defined areas that have a high likelihood of driving health care system transformation and delivering better outcomes.

Models that are designed to rapidly reduce Medicare, Medicaid, and/or CHIP costs in outpatient and/or post-acute settings.
Models that improve care for populations with specialized needs.
Models that test approaches for specific types of providers to transform their financial and clinical models.
Models that improve the health of populations -- defined geographically (health of a community), clinically (health of those with specific diseases), or by socioeconomic class -- through activities focused on engaging beneficiaries, prevention, wellness, and comprehensive care that extend beyond the clinical service delivery setting.

CMS specifically seeks new payment models to support the service delivery models funded by this initiative.
Identify and Review Measures of High-Quality Dementia Care
Contract awarded to the National Quality Form (NQF) to:

Develop conceptual framework for measurement of dementia care quality
Conduct environment scan of measures & measure concepts

Web meeting Feb. 25, 2014, 3:00-05:00 PM

Use multi-stakeholder consensus process to provide HHS w/ recommendations for prioritizing performance measurement

All day in-person meeting June 2-3, 2014, DC area
Project Web Page at NQF
www.qualityforum.org/projects/prioritizing_measures/alzheimers_disease/#t=2&s=&p=7%7C1%7C
Screenshot #1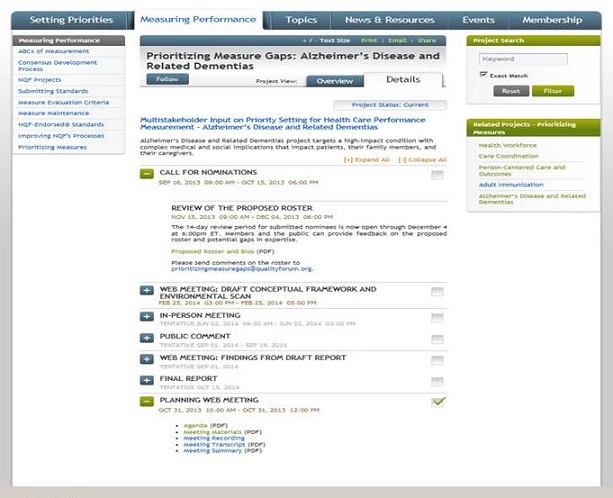 Screenshot #2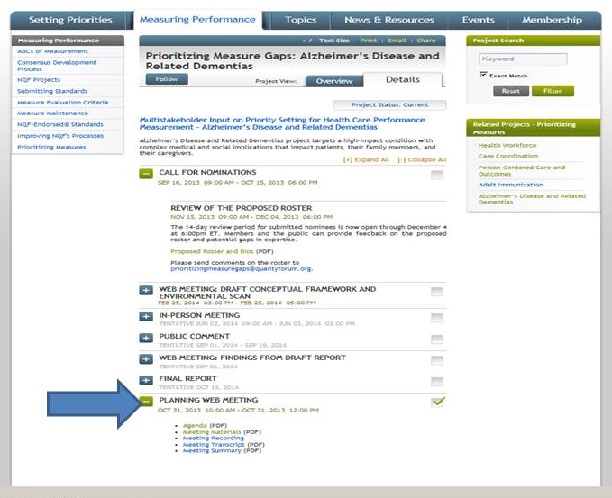 Screenshot #3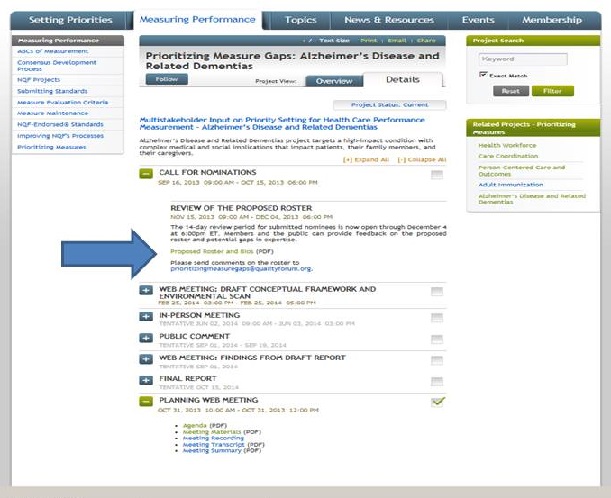 Screenshot #4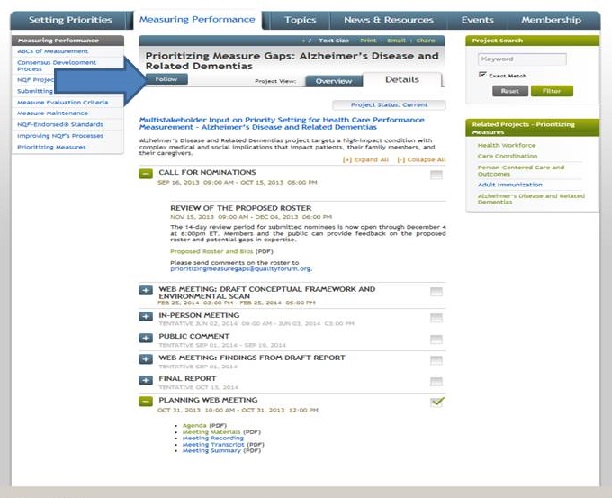 Health Resources and Services Administration (HRSA)
The Health Resources and Services Administration's (HRSA) 45 Geriatric Education Centers Program grantees partnered with 376 different organizations to provide 653 inter-professional continuing education programs on Alzheimer's disease to 34,412 health professionals from 25 health professions. 
HRSA, in collaboration with the Office of the Assistant Secretary for Planning and Evaluation, released a continuing education course on Medscape entitled "Case Challenges in Early Alzheimer's Disease."  The course was posted on September 23, 2013.  During the first two weeks of the posting 18,000 health practitioners completed the course.
---
Return to
National Alzheimer's Project Act Home Page
Advisory Council on Alzheimer's Research, Care, and Services Page
Advisory Council on Alzheimer's Research, Care, and Services Meetings Page