Monday, July 21, 2014
NAPA Research Progress Report
Richard J. Hodes, M.D.
Director
National Institute on Aging
Informal Caregiving
What contributions has research made?
Resources for Enhancing Alzheimer's Caregiver Health (REACH II)
Objective of Intervention

Improve quality of life and reduce clinical depression in caregivers.
Reduce the rate of institutional placement of care recipients.

Intervention addressed

Caregiver depression, burden, self-care and social support, and care recipient's problem behaviors.
Resources for Enhancing Alzheimer's Caregiver Health (REACH II) Study Design
Randomized Clinical Trial

Active treatment and control implemented in five sites: (Birmingham, Memphis, Miami, Palo Alto, and Philadelphia)
Stratified by spouse and non-spouse caregivers
Recruited equal numbers of African Americans, whites, and Hispanic Americans (N=200 each group)

Dissemination

Veterans Health Administration in 29 sites from 24 facilities in 15 States, with a total of 127 caregiving dyads participating, and was implemented by 2 Area Agencies on Aging in Kentucky and Illinois.
Translated in Spanish.
The JAMA Network
From: Translation of a Dementia Caregiver Support Program in a Health Care System—REACH VA
Arch Intern Med. 2011;171(4):353-359. doi:10.1001/archinternmed.2010.548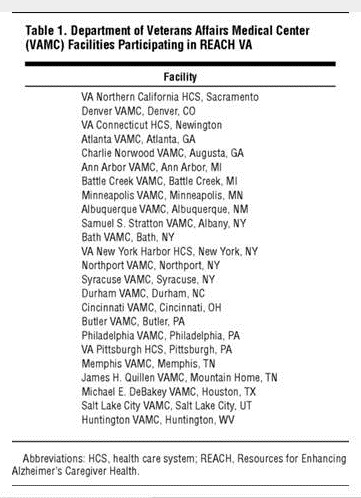 Figure Legend: Department of Veterans Affairs Medical Center (VAMC) Facilities Participating in REACH VA
Copyright © 2014 American Medical Association. All rights reserved.
Date of download: 7/9/2014
Translation Studies of REACH II
State
  Funding Source  
Year
Alabama
AoA/ADSSP  
2004
Florida
AoA/ADSSP
2008
Georgia
AoA/ADSSP
2008, 2010  
Hawaii
RCI and J&J
2012
Nevada
RCI and J&J
2012
New York
RCI and J&J
2012
North Carolina  
AoA/ADSSP
2008, 2010
Texas
RCI and J&J
2007, 2012
Administration on Aging (AoA); Alzheimer's Disease Supportive Services Program (ADSSP); Rosalynn Carter Institute for Caregiving (RCI); Johnson & Johnson (J&J)
Alleviating Stress for Caregivers:Benefits of Adult Day Services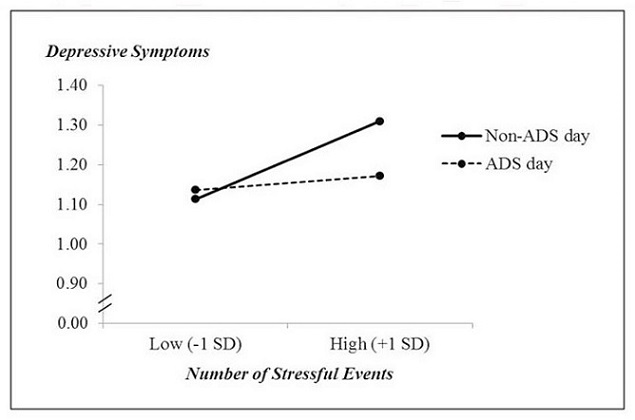 Zarit, SH et al. (2013) Gerontologist Epub Jun 19.
© The Author 2013. Published by Oxford University Press on behalf of The Gerontological Society of America. All rights reserved.
Making Caregiving Easier:Improving Mobility for Older Individuals
The ability to walk without assistance is critical for older people to live in a community and function well.
The study showed that a regular, balanced and moderate exercise program followed for an average of 2.6 years reduced the risk of major mobility disability by 18 percent in an elderly, vulnerable population.
Exercises included walking, and strength, flexibility, and balance training activities.
Pahor, M et al. (2014) JAMA 2014 May 27 [Epub ahead of print].
Making Caregiving Easier: Reducing Risks for Caregivers and Those Receiving Care
NIA & Patient Centered Outcomes Research Institute (PCORI) Collaboration on Falls-Injury Prevention

Falls are a common and serious problem among the elderly

The best prevention strategy is not known
Funds a large clinical trial on prevention of fall-related injuries in non-institutionalized older adults
Meaningful involvement of patients and stakeholders as partners with researchers

$30 million, 5-year study supported with funds from PCORI and led by NIA and team of investigators: "Randomized Trial of a Multifactorial Fall Injury Prevention Strategy"
Investigators at Brigham and Women's/Harvard, Yale, and UCLA
Award announced June 4th
Generating/Collating Data on Population Impact
Findings from the newly-released "65+ in the United States: 2010" Report:

Fewer than 1/5 of older people have enough personal resources to live in a nursing home for more than 3 years, and nearly 2/3 cannot afford 1 year
Home and community-based services for long-term care are becoming increasingly popular; Medicaid funding for these services increased from 13% of total funding in 1990 to 43% in 2007
NIA-funded Health and Retirement Study data suggest that a significant percentage of older Americans engage in caregiving:

Among individuals aged 65-74, 37.8 percent provided caregiving
Among individuals aged 75 and older, 19.2 percent provided caregiving
An estimated value of these unpaid activities was $83.4 billion in 2002
Alzheimer's Disease Research Summit 2015
February 9-10, 2015
National Institutes of Health
U.S. Department of Health & Human Services Bethesda, MD
2015 Summit Features
An agenda reflecting input from the Trans-NIH AD Working Group and National Advisory Council on Aging
International involvement, including representatives from G7 countries
Expanded international perspective in the plenaries
A presentation from the World Health Organization on its international research plan analysis (tentative)
Updated Draft Summit Agenda Outline
NAPA Research Milestones: Process and Progress
Plenary Lecture(s):

Socioeconomic Burden of AD: Update on National and International Trends
Socioeconomic Burden of AD: Global Trends with a Focus on Developing and Under-Developed Countries
Deconstructing the Complexity of AD

Session I: Interdisciplinary Research to Understand the Heterogeneity and Multifactorial Etiology of AD
Session II: Transforming AD Therapy Development: from Targets to Trials
Session III: New Strategies for Prevention
Session IV: Innovating disease monitoring, assessment and care
Session V: Enabling Partnerships
Session VI: Empowering Patients, Engaging Citizens
G8 UK
United Kingdom 2013
G8 Dementia Summit Declaration and Communique

Identify a cure, or a disease-modifying therapy, for dementia by 2025
Significantly increase the amount spent on dementia research
Increase the number of people involved in clinical trials and studies

G7/8 Summit Legacy Meetings 2014-2015

Social impact investment -- United Kingdom
New care and prevention models -- Japan
Academia-industry partnerships -- Canada and France
International research coordination -- treatment, cure, and prevention -- USA

G7/8 Legacy Wrap-Up

Tentatively to be organized by the World Health Organization, in Geneva in March 2015
http://dementiachallenge.dh.gov.uk/2013/12/12/g8-dementia-summit-agreements/
NIH Conference on Small Vessel Disease
Two-day workshop to be held on the NIH Main Campus -- September 18-19, 2014.
Sponsored by NINDS, in collaboration with NHLBI and other NIH ICs
Focus will be on sharing discoveries, identifying challenges, and fostering collaboration
Topics include: basic biology of small vessels, vascular dynamics, vessel-cellular interactions, small vessels and disease, effects of the environment, research tools and innovation
This workshop will inform research on the basic mechanisms of and experimental models for Vascular Cognitive Impairment/Dementia, which are among the recommendations from the ADRD 2013 workshop.
https://meetings.ninds.nih.gov/meetings/small-vessel-workshop2014/
International Alzheimer's Disease Research Portfolio (IADRP)
Web-based portal developed by NIA and the Alzheimer's Association: Alzheimer's and related dementias research funded projects since 2008
Enables funders to coordinate planning, leverage resources, avoid duplication, and identify new opportunities
Currently includes: U.S. federal agencies, state agencies, not-for-profit organizations, foundations, and international funders from the public and private sectors
Summer 2014: 2013 data will be available
http://iadrp.nia.nih.gov/cadro-web/
IADRP – Current Members
US Organizations

US Federal Government (6 agencies)
Alzheimer's Association
Alzheimer's Drug Discovery Foundation
Ellison Medical Foundation
Cure Alzheimer's Fund
Geoffrey Beene Foundation
Patient-Centered Outcomes Research Institute
State of Texas
State of California
State of Wisconsin
State of Oregon
State of Virginia

International Organizations

Government of Poland
Government of Australia
Alzheimer's Society of Canada
Alzheimer's Research UK
Alzheimer's Society of UK
Alzheimer's Australia Dementia Research Foundation

Currently in discussion with:

UK MRC
Canada
Brazil
Brain Canada
Italy
Other US States
2013-2014 Alzheimer's Disease Progress Report: Insights and Challenges